By Nick Harris
2 March 2010
England face Egypt tomorrow at Wembley in a fixture with only two previous meetings – a 4-0 friendly win for England in 1986 in Cairo and a 1-0 World Cup victory at Italia 90. But the Anglo-Egyptian football relationship goes further back than Howard Carter's discovery of the tomb of Tutankhamun in 1923.
By that time, the English football league had already had its first two Egyptian imports, one of whom had been embroiled in a contract controversy, while the other had become a cover star of what was effectively the best sports magazine around.
Hassan (aka Hussein) Hegazi (pictured left) was born on the Nile delta in September 1891, the spoilt son of a wealthy aristocrat. He loved football from boyhood, played against British soldiers as a teenager, and when he moved to London in 1911 to study engineering, he joined non-league Dulwich Hamlet FC as a forward.
His approach to the game was revelatory. Central attacking players at the time were burly goal-hangers; finesse was an affliction and bundled conversions the norm. Hegazi was different, agile and quick. He was a sprinter, playmaker and dribbler. His ball control was superb, his passing second to none. He had an inclination, on occasion, to wander around and indulge himself. In modern parlance, he was 'a luxury player', a Le Tissier perhaps, or a Gascoigne (who, incidentally, provided the assist for Mark Wright's goal against Egypt in 1990).
Hegazi would appear to be doing nothing until a shimmy, a flick and a shot ended with a bulge in the net. He ran the show. His goals were sweet, and plentiful. The South London Press wrote: "The way he makes openings for himself and his wing men shows much brain work. He should make quite a name for himself."
He did. The fans soon dubbed him 'Nebuchadnezzar', and it wasn't long before Fulham of the Second Division saw his potential as an architect of their own Babylon. Their manager, Phil Kelso, asked him to play in a League match against Stockport County. The date could not have been more auspicious: 11-11-11. Hegazi opened the scoring in a 3–1 win and was asked to play at Leeds the following week.
The authorities at Dulwich, not pleased at potentially losing their man, went to see Hegazi at his lodgings in Gower Street, Bloomsbury.
"I was in a difficulty," Hegazi said. "For I wanted to play very much in League football, and at the same time I did not want to leave Dulwich Hamlet who have been very good to me. So I have decided to play for the Hamlet. I am sorry if Fulham are disappointed."
Pa Wilson, the esteemed Dulwich manager, said Hegazi's decision made him "as honourable a man as ever stepped onto a football field". And with that his League career was over.
Two days after his solitary outing for Fulham, a report on the match, with a photograph of the player and a few biographical details appeared in the Athletic News under the headline 'An Egyptian Centre Forward'. His goals were lauded as 'brilliant'. By the following week, the same publication's resident bard had been moved to write a long poem in dedication. It began:
.
Hussein Hegazi, by birth an Egyptian,
Djinn of the leather and wizard of wiles,
Do not imagine, though, by this description,
That he is fictive, and not in these isles …
.
Hegazi remained with Dulwich until 1913 and also represented Middlesex county five times. He toured in The Netherlands with Dulwich, and played in France and Bohemia for his University. He subsequently enrolled at St Catherine's College, Cambridge, where he won a Blue on 7 January 1914 as Oxford University were defeated 2–1. He returned to Egypt in the summer of 1914.
Within weeks of his departure, Lord Kitchener, the Proconsul of Egypt, returned to London to take up his role as Secretary of State for War, in which he masterminded the recruitment drive with his 'Your Country Needs You!' campaign.
Virtually every one of Hegazi's British male friends – students and fellow footballers – were to be involved in the Great War. Many lost their lives, including some of his team-mates from Dulwich.
Hegazi himself continued his football career at home, going on to play for his country in the Olympic Games of 1920 and 1924. In 1932, at the age of 40, he hung up his boots, his reputation as a sportsman beyond doubt. In his latter years, when married with five children, he developed a new reputation as a socialite and ladies' man, providing early evidence that you can take a maverick out of football, but you can't remove the maverick from the man. Hegazi died in Egypt in 1958 and has a street named after him, Sharia Hassan Hegazi, in the Garden City area of Cairo.
.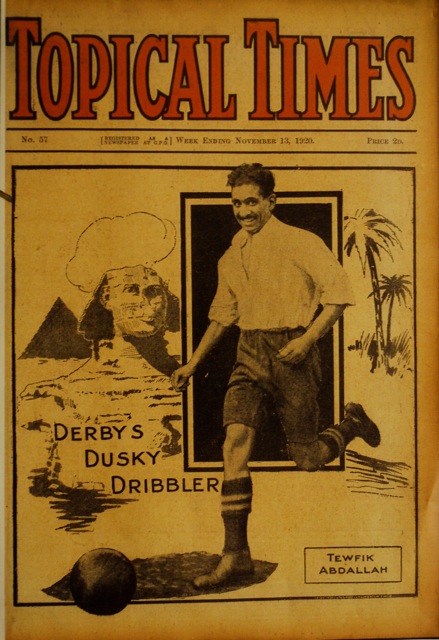 The second Egyptian arrived in Britain in the 1920s. He was Tewfik Abdallah (aka Abdullah) and he was the last international from his country to sign for an English league club before Ibrahim Said briefly joined Everton of the Premier League in 2003.
Born in Cairo, Tewfik moved to Derby, aged 23, in 1920, probably as a result of knowing the club's Scottish full-back, Tommy Barbour, who had served in Egypt, where Tewfik had played against the British Army. Tewfik's main aim in migrating was to find experience in the engineering trade but his arrival caused a stir.
The front cover of the Topical Times in November 1920 (left) featured a photograph of him grinning as he ran with a ball. This cheery-looking chap was set against a line-drawn backdrop complete with a pyramid, the Sphinx and palm trees. 'Derby's Dusky Dribbler' said the billing. There was a brief mention of him inside, but only in passing in a news item about the 'new fashion' of 'going far afield for players'.
Tewfik, an inside-right, made his Derby debut at home to Manchester City in October 1920. He was the subject of numerous jibes about his trademark chewing – which earned him the nickname 'Toothpick' – not to mention his struggles with the language. One probably apocryphal tale of his first game saw him take to the field asking: "Where's me camel?". Mick Hamill, it transpired, was an Irishman making his City debut and Tewfik had been assigned to mark him.
Derby won the game 3–0, with Tewfik scoring. It was first of 15 appearances for Derby but his first and only goal. The club were relegated and although he was retained, he fell out of favour and was sent on loan to Cowdenbeath in the Scottish Second Division. The fans took him to their hearts, nicknaming him 'Abe'. According to local legend, he also won the ultimate accolade when a prominent local miner named his greyhound 'Abe' in his honour. Hampered by injury, he lasted a season before moving to non-league football in Wales with Bridgend Town.
His last spell in Britain was at Hartlepools (as they were then called) at the end of the 1923–24 season. He played 11 league games and scored once for them in a brief, exotic cameo for the club.  In the summer of 1924, Tewfik left England for the American Soccer League, where he played for the fantastically named Providence Clamdiggers, then the Fall River Marksmen, the Hartford Americans and the New York Nationals.
Tewfik was later a coach, in the US, although it is thought he finally left America after becoming disaffected at the racial divide where he, being black, was often not allowed to stay in 'white hotels' with his team. It is thought Tewfik returned to Egypt, although the Football Association there has been unable to confirm what became of him.
.
Extracted from Nick Harris's 2003 history of foreign players, 'England, Their England', updated and republished as 'The Foreign Revolution' in 2006
.
Have a look at sportingintelligence's front page today