By Nick Harris
17 June 2013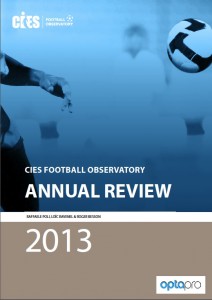 There are 60 footballers in the 'Big 5' leagues of Europe who each carry a market value of £20m-plus this summer.
The world's best and most expensive player is Barcelona's Lionel Messi, whose 'guide price' is between €217m and €253m (£185m-£215m).
Next comes Real Madrid's Cristiano Ronaldo (£87m-£101m), then Napoli's Edison Cavani (£50m-£58m), Chelsea's Eden Hazard (£47m-£55m) and Manchester City's Sergio Aguero (£41m-£48m).
The 'market value' takes into account each player's age and position, their contract situation, international experience, the 'sporting' strength of the club for whom they play and a range of specific performance criteria relating to the 2012-13 season.
The calculations have been made by the academic team at the CIES Football Observatory in Switzerland, with an 'objective' market value given to each of 3,032 players across the 98 clubs who played their league football in the Premier League, Bundesliga, La Liga, Serie A and Ligue 1 in 2012-13.
An illustrative range of the CIES team's valuations have been published in their annual review (cover above left), which is a wide-ranging comparative analysis of the clubs and players in the Big 5 leagues. More details are here and the full report as well as a free downloadable extract are available here.
The four chapters look at different areas. The first chapter explains how the leagues are becoming less competitively balanced, and warns of the growing disparity between the richest and the rest.
The second chapter compares clubs according to the age structure of their players, length of contracts remaining and different attacking and defensive strategies and success rates.
The third uses performance analytics to rate the most productive players on five 'key performance indicators': shooting, chance creation, take on, distribution and recovery. As well as rating the household names, this chapter flags up a number of promising 'breakthrough' young players such as Mauro Icardi, Henri Saivet, Florian Thauvin, Son Heung-Min, Wahbi Khazri, Sebastian Rode, Koke Resurrección, Alhassane Bangoura, Ricardo Rodríguez, Serge Aurier, Allan Marques and Roberto Firmino.
The fourth chapter is the debut presentation of the results of the Observatory's statistical economic model to value players using objective criteria, 'benchmarked' against some 1,000 actual transfers since summer 2009.
The model allows for a player valuation at any point in time, and as player's situations change, including their on-pitch performance or the lengths of their contracts, so their values will change.
For the purposes of the annual review, the valuations have been calculated at 1 June 2013.
The combined market value this summer of the 60 players in the graphic below is just above £2 billion.
For the avoidance of doubt: these are 'guide prices' for players on a like-for-like basis for the summer transfer window of 2013. These are 'real' prices that clubs might actually expect to sell or buy a player for this summer – all other things being equal.
Two players of the same age in the same position with similar experience and talent will have different values if one only has a year remaining on the contract and other has four years.
Any player who is out of contract this summer, and therefore of no economic value to their club in the transfer window, such as Arsenal's Andrei Arshavin, has a market value of zero – because he is worth zero to Arsenal in the market.
The report's lead author, Raffaele Poli, says: 'One of the reasons that we have designed this model is because there is always immense interest in the transfer market, not least from the various parties who operate within it, and yet there has been an absence of any kind of objective benchmark for prices, until now.
'Football clubs consider all kinds of information when making decisions, and this should help them to make more informed decisions, at a glance.
'While there is no "right" price for any given footballer, our data can assist in objectively identifying a player's value in the market place having considered a range of factors including what prices were paid in the recent past for players with similar characteristics.'
The objectivity of the list is perhaps best exemplified in a price range for Tottenham's Gareth Bale of £37m-£43m.
Fans of Spurs and many observers of the game, especially in Britain, are likely to scoff at such a tag, not least when headlines having been screaming for months that the 23-year-old Welshman is worth upwards of £80m.
Ultimately, he will be 'worth' whatever a buying club pays for him. But the model takes into account that, at nearly 24, he has never won anything, has limited Champions League experience (one season, two years ago) and plays (exceptionally well in recent times) for a club that has not finished in the top three in its league.
If he were 23 with a Champions League winners' medal or two he would be worth much more on the basis of having proved himself. But in any case, he is still rated the ninth most valuable player this summer.
Of the 60 highest value players, seven each are currently with Barcelona, Real Madrid and Manchester United, five with Manchester City and Bayern Munich and four with Chelsea and Borussia Dortmund.
Article continues below                           Download this spreadsheet: CIES top 60 for summer 2013              Other data and PDFs here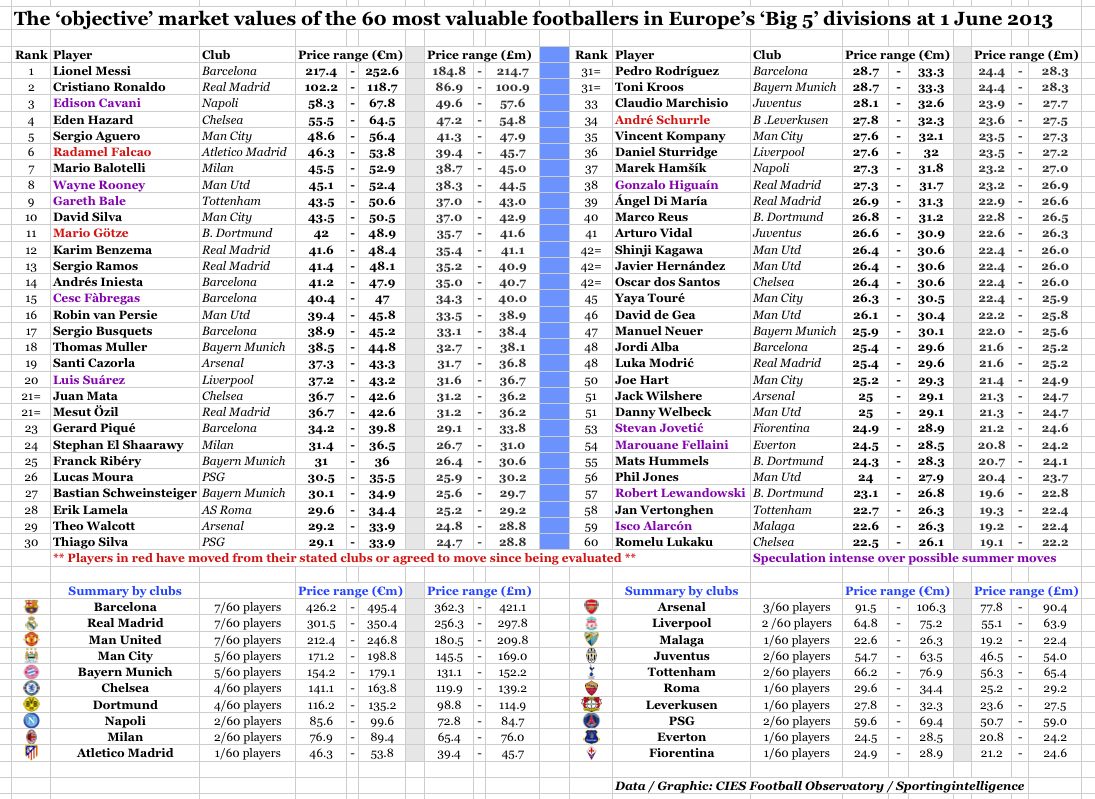 .
The full report lists the top 60 players, as well as the 10 most valuable goalkeepers, full-backs, centre-backs, defensive midfielders, offensive midfielders and forwards, plus the three most valuable players from a variety of different countries. It also lists the top five most valuable players born each year from 1982 onwards.
There is also a league by league analysis of the 'market value' of all the players combined at each club. The Premier League example is below.
.
REVEALED: The best paid teams in global sport
Follow SPORTINGINTELLIGENCE on Twitter
Sportingintelligence home page
.