By Brian Sears
10 January 2013
Arsenal have played 395 games at home in the Premier League, winning 251, drawing 94 and losing 50.
Those 50 defeats have been shared among 21 of the 44 clubs to have visited Highbury or the Emirates over the last 21 seasons.
That means 23 clubs have come and gone without achieving a single coveted away win from the Arsenal.
And the club that has gone home most often winless is Manchester City, who come calling on Sunday for the 16th time in the PL.
In their 15 previous Premier League visits to Arsenal, City have lost 11 and drawn four.
Amid all the brouhaha about the price of Arsenal tickets this weeks, it does become a significant issue as an away fan whether to attend the match or not: £62 is a lot of money.
In fact, £62 could buy a fashionable statistician eight new anoraks. And there would still be £2 remaining to buy a new pack of pencils.
Hence it becomes the £62 question for City fans – do you stay away from the game because of the enormous cost, or do you go in case the result becomes that rare collector's item, a win at the Arse?
In the first graphic below, we list all clubs who have played Premier League games at Arsenal, broken down into the winners on the left-hand side, and the amount of times they've won there, and the 23 clubs who have never won there on the right.
Liverpool and Manchester United have won there most times, six each, in the PL era. Note too that the mighty Blackburn, Leeds and Wimbledon have won three each.
Article continues below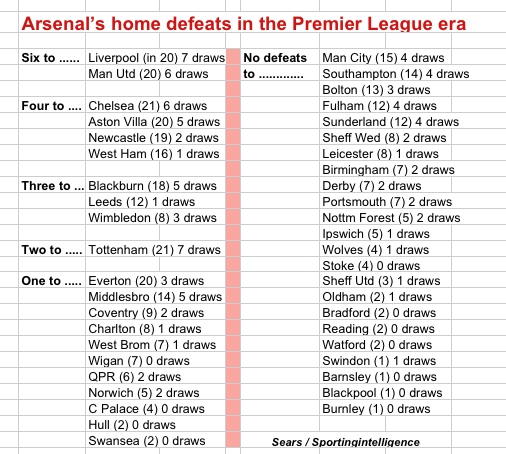 .
City have to go back 17 years before the Premier League began to find the date they last won a league game at Arsenal, on 4 October 1975 when they won 3-2.
Their scorers that day were Asa Hartford, Joe Royle and Rodney Marsh, and the Arsenal goals came from Alan Ball and Alex Cropley.
(For the record the attendance was 24,928 and the price of a ticket was less than 62 quid).
Here are the results in the First Division that day, a Saturday when all the teams played their games at the same time, as usual, and then the table as it looked that evening:
Article continues below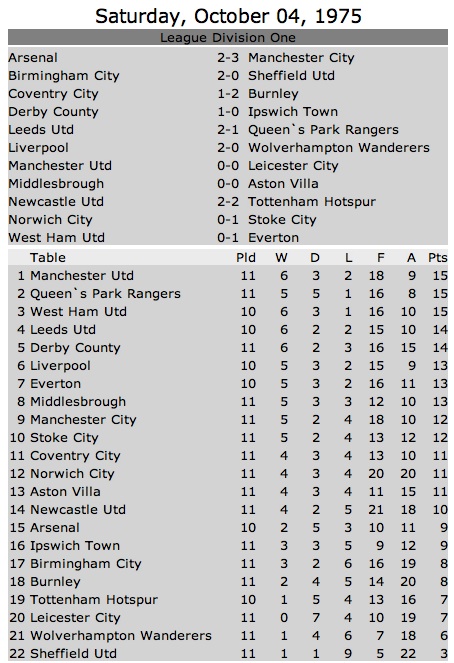 .
At the end of the season, Liverpool won their first major trophy under Bob Paisley – the league title, with QPR in second place.
City were eighth, and Arsenal 17th.
And another thing ….
On the subject of one club being winless against another, Swansea have played 59 Premier League games winning 19, drawing 19, losing 21 and thus gaining 76 points – but none against this weekend's opponents Everton in the PL.
Swansea have taken at least one point from 20 of their 22 opponents in the PL, but not from Everton, or Norwich.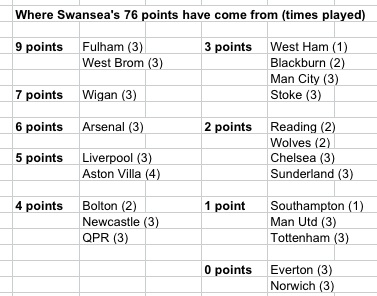 More on Man Utd / Arsenal (or search for anything else in box at top right)
Follow SPORTINGINTELLIGENCE on Twitter