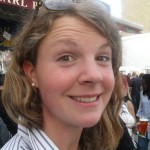 ALEXANDRA WILLIS is the former Deputy Editor of ACE Tennis Magazine, and alongside mag work and an affair with social media, has had the dubious honour of sitting in on a few tennis tournaments from time to time as part of her professional duties. If you happen to bump into her court-side, she'll probably tell you that she went to Oxford (and not just shopping).
.
.
.
By Alexandra Willis at the O2 Arena

23 November 2010
It may sound like barking up the obvious tree, but a tournament like the Barclays ATP World Tour Finals requires rather a lot of different bits coming together seamlessly in the right place at the right time. It's a bit like making a giant cake. First you need the flour, sugar, eggs and butter – so that'll be the players, venue, staff and spectators – whip it all up over a few weeks, bake it overnight, and hey presto, a super-sized tennis tournament that Maison Blanc would be proud of.
But there's also the icing. The tiny little bits of added sugar and cream that make an event more than a few guys battering a ball about. The clouds of dry ice, the tv-style spotlights, the heart beats on crucial points, the music, the rock-star style introductions, the shops, the food…even the do-it-yourself paint splattering…all of these odds and sods mean that this is not just a tennis event, it's a hula-hooping extravaganza.
One of the added extras is the shiny new Fan Zone, free to any visitor to the O2 this week, and complete with a smorgasbord of pointless and not-so pointless interactive devices. You can have your photo taken with the very same trophy that will be presented to the singles and doubles champions at the end of this week. My lifetime ambition. You can watch the world's best singles and doubles players knock up on two superbly thought-out practice courts. You can pad around in sand with a Corona and lime, watched by a guy in overalls sitting in a lifeguard's chair at the Corona Beach Bar. I'll let you be the judge of which one you'd choose.
But there's also the Highland Spring Hot Shots Tour area. Despite what you may think from Corona's offering, this does not involve swigging shot glasses of hot water next to a backdrop of the Scottish Highlands. No. It serves a far more important purpose. I don't know about you, but whenever I watch great people playing great tennis, I have this sudden urge to rush out onto the nearest court as soon as possible, brandishing my not-used-enough racket, and serve like Serena, hit forehands like Rafa, or backhands like Federer. Needless to say I soon remember that I can't do any of that. But I do enjoy it.
So, what better way to take advantage of youngsters and oldsters being caught up in the tennis moment than to get them to actually play? And on the Highland Spring Hot Shots Tour, you don't just hit the ball back and forth. You can whack targets, you can bosh serves, you can even, if you're lucky, meet a real live tennis player. Of course, one child spending a few minutes hitting a sponge ball with Jamie Murray doesn't mean they're suddenly going to be hooked on tennis for life. But it's a start. And when that one child becomes 500 a day, (not to mention the 300 adults), it's suddenly far more than just a fad for fans.
"The Highland Spring Hot Shots Tour roadshow goes out to over 60 events around the country during the tennis season, so it's great for us to help get tennis out on the road," explains Leah Holmes, Sponsorship Executive at Highland Spring. "The interaction for the kids is fantastic – to have a game of tennis with Judy or Jamie Murray, that makes a lot of peoples' days, and lets them take away a very special experience after their visit here."
Managed by Phil Leighton and his Wirral-based Cross Sports team on behalf of Highland Spring and the LTA, the roadshows give many a young gun their first taste of tennis at Davis Cup ties, the summer events before Wimbledon, at The Championships itself, and of course, here at the ATP's season-ending event. It's amazing what happens to a group of 10-year-old boys when you tell them to try and serve the ball harder than each other.
This is not to say that we should have pop-up inflatable tennis courts on every street corner. They'd probably get run over by the Boris bikers. But getting fans, especially the young ones, to pick up a racket on the day they've seen Federer hit a hot dog can only be a good thing.
.
Sportingintelligence home page for all our latest exclusives
.
Want to comment on this story?
The subscription and comments policies of sportingintelligence have recently changed. Any user can comment on any story, however, by emailing using this link and including the story topic in the subject box. Your comments will then be manually posted by an administrator.