By Brian Sears
24 December 2013
Famously the club at the bottom of the Premier League on Christmas Day has always ended up relegated with the sole and notable exception of West Brom in 2004-05.
Sunderland are bottom for Christmas 2013, which statistically makes them 95 per cent doomed to the drop.
But as the Baggies showed in that Great Escape season, there are ways of getting out of the mire. In that fateful season, West Brom lost 0-5 at home to Liverpool on Boxing Day yet went on to gather 24 points from their remaining 19 games, and stayed up as Crystal Palace, Norwich and Southampton went down.
Of the other 20 teams at the bottom of the table at Christmas in past seasons, 14 were still at the bottom at the end, four had moved up one place but went down, and two had moved up two places but were still relegated.
Here's the complete record:
Premier League bottom clubs at Christmas and what happened next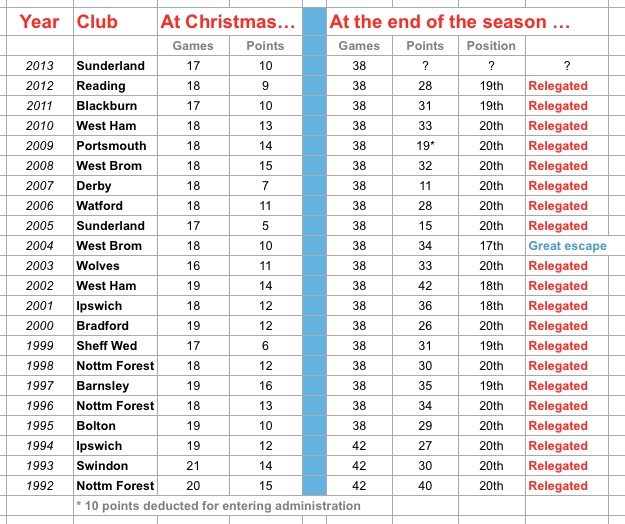 .
More on Man Utd / Arsenal (or search for anything else in box at top right)