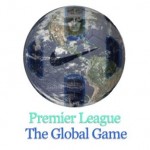 By Nick Harris
SJA Internet Sports Writer of the Year
26 October 2011
England's Premier League is, by far, the nation's most successful sporting export, watched live each week in more than 200 countries, and earning from foreign TV rights alone £1.437bn for the current three-year overseas deals (or £479m a year) as reported by sportingintelligence last year here and here.
But who exactly watches? And where? At home? In pubs or bars?
What channels carry the games? How much does it cost to subscribe? Why do foreign fans tune in?
Is is just popular in a few key markets, or can you really find PL fanatics in Tonga and Papua New Guinea and Gambia and Peru and all points in between?
Over the coming months, we aim to find out, inviting PL viewers from around world (from as many of the 200+ different countries as possible), to share details of a single game watched.
Elsewhere in this series, find out how the League is viewed in:
Kenya, Azerbaijan, India and Sweden (all linked here).
And in the Czech Republic (here).
And in Serbia (here).
And in Israel (where a MUFC fan watched THAT 6-1 defeat to MCFC).
Without further ado, what's it like to watch the Premier League in . . . . .
.
.Montenegro
.
Name: Nikola Mitrović.
Age: 24.
Occupation: Electrical engineer.
Game watched: Liverpool 1 Norwich 1. Date: 22.10.2011. Time: 18:30h local time (17:30h UK).
Where: I watched the game at my home in the district of Bojoviće, Andrijevica in Montenegro.
Who else was watching: My father.
TV Channel carrying the game: Sport Klub Srbija (sportklub.info). It is a channel available via cable and satellite TV which is viewed as a 'first aid kit' for many people who support English and Scottish teams in the Balkans – no other TV company has rights to broadcast EPL and SPL at this moment. There are weekends when I get to watch more than 10 hours of Premier League football thanks to them!
How much does it cost: It comes with a basic package of my cable TV provider and that package costs around €10 per month (about £9 per month).
What's the local tipple and how much does it cost: It depends. When I'm home, I usually don't drink anything. When I'm away from home (where I spend the most of my days because of work), I usually drink beer – at about €2 per pint.
What's the popularity of the English Premier League in the country where you live: Premier League is very popular nowadays. It used to be Italy, like it was the case with my fellow PL fan from Serbia who contributed to this feature series earlier, because of two reasons: a lot of our players were playing in Serie A (Jugović, Mihajlović, Stanković, Savićević, now Stanković, Vučinić and Jovetić) and Italy is very close and people from central and south regions of Montenegro have a strong relationship with it, be it through tourism or work.
However, that has changed in the last 10 years because TV companies were buying TV rights for the EPL on a regular basis and exposing us to the likes of Michael Owen, Paul Scholes and Thierry Henry.
Liverpool, which is the club that I support, has the largest, almost cult-like following in Montenegro, with Manchester United and Arsenal coming close and Chelsea becoming more popular in last five years. Our domestic league [the old Serbia and Montenegro league, Serbian only since 2006 Montegro independence] is very weak and doesn't have a significant following, with the most popular clubs being Partizan Belgrade and Red Star Belgrade by far.
As a Liverpool fan, I can say that I'm grateful that Sport Klub is broadcasting so many games of ours in past three or four seasons. When I can't get to watch a game on TV, internet streams are there to fill that blank. People from UK would be very surprised to see how fanatical followers of English football here can be – I've met a lot of supporters of Liverpool, Man United and Arsenal but there are people here who support West Ham and Aston Villa like they were born at the Boleyn Ground or Villa Park!
Actually, Irish and English national teams, as well as their fans, have been our visitors in Podgorica (the capital of Montenegro) and they were left flabbergasted at the sight of us donning our respective shirts and scarves, singing our songs and frantically stalking the players in order to take pictures with them and their autographs. Not too nice (!), but inevitable since the most of us can't afford a trip to a game in England with all the expenses it includes.
Any other observations: There is just too much money in English football at this moment and TV rights can be too expensive. Players get to earn enormous amounts of money at very young age and it affects their personalities – players like Sami Hyypia and Paul Scholes are becoming a rarity nowadays.
Tactics are not as evolved in PL (outside of big games) as they are in Italy or Germany. It is refreshing to see the promoted sides of last two seasons such as Blackpool, Norwich and Swansea trying to establish themselves as Premier League regulars by playing attacking, free-flowing football. Also, as a Liverpool fan, it's great to see the legend that is Kenny Dalglish and my team getting rejuvenated and hopefully on the way to being restored as a dominant force in a few seasons.
———————-
This feature will be updated on a regular basis. Sportingintelligence invites readers who watch the Premier League overseas to send your own experiences to submissions@sportingintelligence.com, answering the questions posed above, and including a JPEG of yourself. We cannot guarantee to use all submissions (although if we've not had one from your country it's almost certain we will) and we'll be appealing via Twitter from time to time for viewers from specific nations.
.