By Nick Harris
SJA Internet Sports Writer of the Year
13 February 2012
The three-way rivalry in men's tennis between Novak Djokovic, Rafael Nadal and Roger Federer is the closest to perfection the sport has ever seen, according to new analysis by Sportingintelligence of every result in the 175 men's singles Grand Slam tournaments of the Open era since 1968.
A simple Grand Slam title count indicates the current era is special: Federer, Nadal and Djokovic have won 27 of the last 28 Slam singles titles between them.
But in order to obtain an objective idea of how this era compares with others, every Slam player of the past 54 years has been assessed and assigned a rating to show his 'quality' at any point in time.
The precise methodology, explained below, is based on a rolling period like the tennis rankings but focuses solely on the most important tournaments: the Slams.
The research found that at the completion of the 2012 Australian Open, where Djokovic beat Nadal in the longest final in Slam history, and Federer was a losing semi-finalist, the combined 'quality' of the three men had reached an all-time peak for the sport of any three players at one time, or 3,000 'rating points'.
This tally, with Nadal currently on 1,192 points, Federer on 1,008 and the upcoming Djokovic on 800, means the trio are collectively 83.71 per cent as perfect as they can possibly be at the moment.
Perfection be would that the three of them have won every Slam in the past four years between them (of 16), filled all the runners-up spots between them (of 16) and also filled one of the semi-final berths at each of those 16 Slams. In fact they have won 15 of the last 16 Slams, filled nine of the 16 runners-up berths, and had a further 11 semi-final appearances between them.
It might not be of much comfort to Britain's Andy Murray to know he is competing in the greatest era men's tennis has known but the analysis shows unequivocally how dominant the current 'big three' have been.
The research found that the next most high-quality era of the game peaked at the Australian Open of 1990, when winner Ivan Lendl, runner-up Stefan Edberg and semi-finalist Mats Wilander had a combined rating of 2,416 points or 67.41 per cent of perfect.
Prior to that, the next best was the Borg-Connors-McEnroe era, peaking at the US Open final of 1981 when the trio had a combined rating of 2,264 points, or 63.17 per cent of perfect.
The rolling career rankings of the top three and how they have pursued perfection are in the graphic here.
(Article continues below the graphics with best individual streaks, and best-quality rivalries)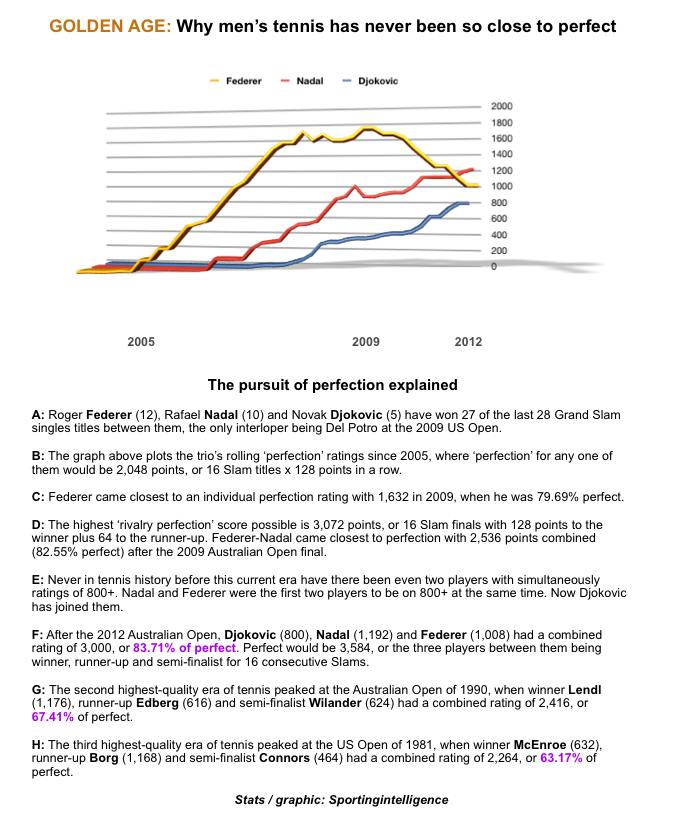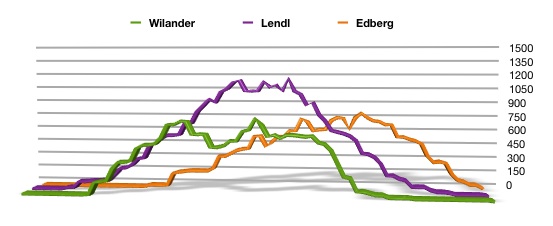 Methodology
1: Sportingintelligence looked at every Grand Slam singles tournament since 1968, awarding 128 points to the winner (in a 128-man draw), 64 points to the runner-up, 32 to the semi-finalists, 16 to the quarter-finalists and eight points to those reaching the fourth round (or, typically, the second week, which is what marks the Slams out from all other events). No points were awarded before the fourth round, nor would they make any substantive difference to the results.
2: We elected to use a four-year period to measure each player's rolling 'quality' as: a) It seemed a reasonable time over which a player has his 'peak' years. b) We modeled data over three years and five years and came up with broadly similar results anyway. c) The most Slams any man has won is 16, and the shortest time in which these could have been won, given 'perfection', is four years.
3: On a rolling basis, every player at any point in time is assigned a 'quality' rating. This could be a maximum of 2,048 for a single player, or 16 x 128 points for winning 16 straight Slams. In fact, Roger Federer's best ever peak was 1,632 points, after the 2009 French Open and 2009 Wimbledon. See below.
4: The most perfect two-man 'rivalry' possible would be 3,072 points, or two players sharing the titles and runners-up slots at 16 consecutive Slams. In fact the best rivalry peak to date was Federer and Nadal's combined tally of 2,536 points after the 2009 Australian Open.
5: The best three-man points tally possible is 3,584 at any given point in time. Djokovic, Nadal and Federer currently have 3,000 points, the highest ever.
.
Roger Federer is the player who has come closest to perfect in Grand Slam tennis, according to the research, as the graphic below shows.
Rafa Nadal, currently, has the second-highest quality rating aside from Federer, while three other players – Borg, Lendl and Sampras – remarkably all shared 'peak' totals of 1,176 points during their respective best four years in their careers.
.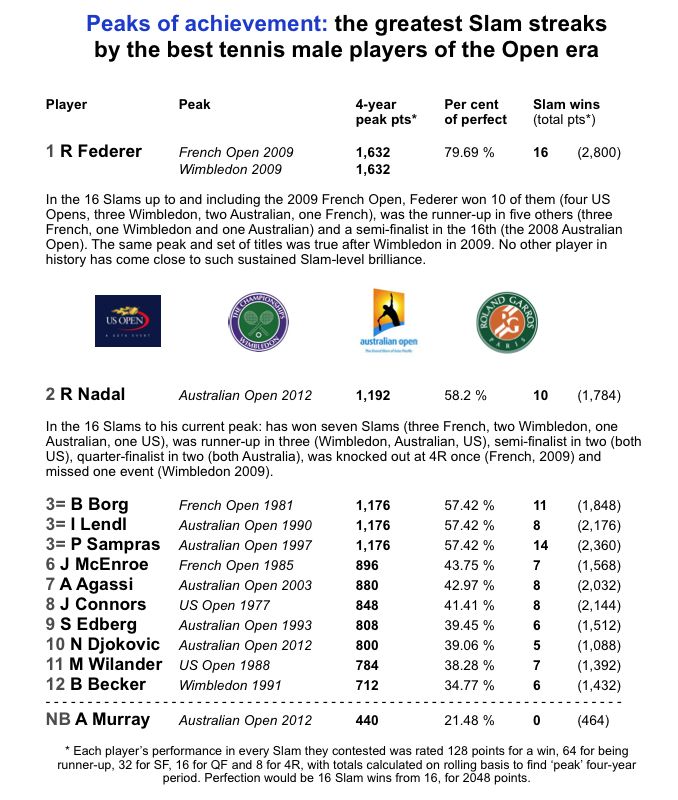 *
The 10 highest-quality rivalries in men's tennis (Open Era), peaked as follows.
NB: These peaks represent the combined ratings tallies of the two at the time of the peak
1 Nadal and Federer Peaked at Australian Open final 2009, with 2,536 points combined.
2 Djokovic and Nadal Peaked at Australian Open final 2012, with 1,992 points combined.
3 Lendl and Wilander Peaked at US Open final 1988, with 1,832 points combined.
4 McEnroe and Borg Peaked at US Open final 1981, with 1,800 points combined.
5 Lendl and Edberg Peaked at Australian Open final 1990, with 1,782 points combined.
6= Sampras and Agassi Peaked at US Open final 1995, with 1,584 points combined.
6= Becker and Lendl Peaked at Australian Open final 1991, with 1,584 points combined.
8= Connors and Borg Peaked at US Open final 1978, with 1,496 points combined.
8= McEnroe and Connors Peaked at Wimbledon final 1984 finals, 1,496 points combined.
10 Lendl and McEnroe Peaked at US Open 1985 final, 1,432 points combined.
.
Follow SPORTINGINTELLIGENCE on Twitter
Sportingintelligence home page