By Brian Sears
4 October 2013
It's 40 years ago that Manchester United embarked on the season that last saw them relegated.  That was the 1973-74 campaign, the first full season in charge for manager Tommy Docherty, and they lost three times in their first five games.
Those defeats were all away from Old Trafford: 0-3 at Arsenal, 0-1 at Leicester and 1-2 at Ipswich, and were immediately followed by the fourth loss, a home defeat to Leicester. So that was four losses in six games, setting a pattern from which they could not escape.
Nobody expects United to be relegated this season, of course. It would be ludicrous to suggest otherwise, even after three defeats inside the first six league games, away at Liverpool and Manchester City, then at home to West Brom.
But to place United's start in context, only three times in the past 40 years have they had worse starts than this season, taking fewer than the current six games to rack up three defeats.
That season in 1973-74 was one of the them. They also lost of the first give league games in 1989, and the worst start of all was when they lost all their first three games in 1986, losing 0-1 at Arsenal and then two successive home defeats 2-3 to West Ham and 0-1 to Charlton. This was prior to Ron Atkinson being sacked and Alex Ferguson being appointed.
Until this season only once before in the Premier League era have three United defeats come inside 10 games, let alone six. That was after nine games in 1994 from which they revived to only have three more defeats all season and finish runners-up to Blackburn.
The highest United have ever finished after losing three matches inside their first six was 11th in 1986-87.
As far as going on to be champions is concerned, and that has happened 13 times in the 21 completed seasons, the fewest number of games taken for the first three defeats is the 12 of a year ago (0-1 at Everton, 2-3 at Old Trafford to Spurs and 0-1 at Norwich) but then the fourth defeat did not come until April 2013 and Man City's 2-1 win at Old Trafford.
Here is the full 40-year record of how long it has taken United to hit three defeats …. and what happened next:
Article continues below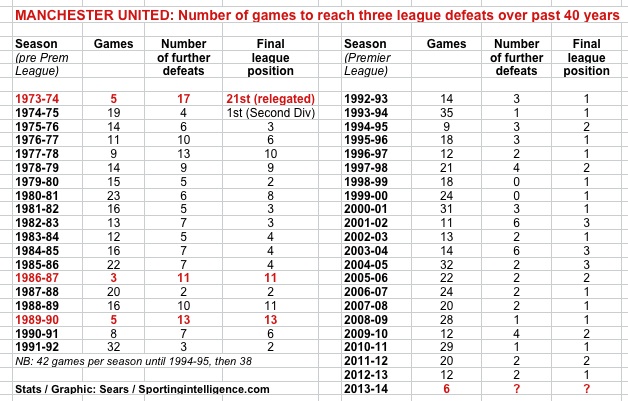 And another thing …
Hull City are in their third season of Premier League football and after six games have climbed to eighth place. But this weekend they host their PL nemesis, Aston Villa, against whom they have not only failed to gain a single point but also failed to score a single goal in their four previous PL games.
30 Dec 2008 Hull 0 Aston Villa  1
4 May 2009 Aston Villa 1 Hull  0
5 Dec 2009 Aston Villa 3 Hull  0
21 Apr 2010 Hull 0 Aston Villa  2
Hull have played Premier League games against 24 clubs – Crystal Palace will make it 25. They failed to gain a single point in their two games with Burnley but of current clubs they only have nil points return from Sunderland, Manchester United  and  … Villa.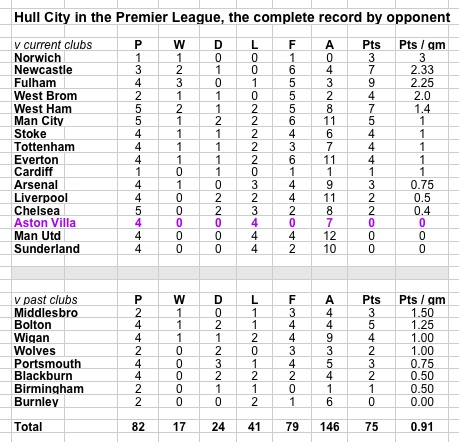 More on Man Utd / Arsenal (or search for anything else in box at top right)
Follow SPORTINGINTELLIGENCE on Twitter