By Brian Sears
23 September 2010
Carling can rarely if ever have been responsible for a regional hangover of such proportions as the one clouding Merseyside today.
First Everton became the penalty shoot-out victims of League One Brentford in the Carling Cup on Tuesday. Now Liverpool are licking their wounds after going down to Northampton, a team from League Two (or the Fourth Division, as it was).
The Premier League form of both Merseyside clubs is also worryingly bad, as an analysis by sportingintelligence of the clubs' respective starts to this season shows.
Only once in the Premier League era (since 1992) have Liverpool amassed as few as the five points they have now from their opening five games. Yes, Liverpool have had some tough games already, including against Arsenal and both Manchester clubs. But you have to go all the way back to that inaugural season in 1992 to find a start as bad as this one.
Then, the five points came from a home win over Sheffield United and away draws at Ipswich and Leeds; two defeats came at Anfield against Arsenal and at Nottingham Forest. In 1992-93, Liverpool "recovered" from their five-point start in five games to finish sixth.
Everton, meanwhile, have just two points from five games. As our main graphic shows, only once in the Premier League era have they won fewer, and that was back in 1994. Joe Royle took over from Mike Walker in late 1994, and Everton's only point in the first five games was from an opening day draw, 2-2, with Aston Villa at Goodison. In fact they had to wait until the 13th game for their first win – 1-0 against West Ham in November. Everton eventually finished 15th in a 22-team division.
As things stand, both Merseyside clubs are in the bottom five, and their combined total of seven points is a third of the combined total of 21 they'd gained together three short seasons ago.
It may be a crumb of comfort for Liverpool that this is the 16th time in 19 Premier League seasons that Liverpool have more points at this stage than Everton.
As our second table shows – and as any Red and Bluenose knows – Everton have finished only one Premier League season above Liverpool in the table, in 2004-05* when Everton were fourth and Liverpool fifth.
Liverpool would appear to have the simpler next couple of fixtures – at home to Sunderland and then home to Blackpool before the international break. Everton travel to unbeaten Fulham and then to Birmingham, unbeaten at home.
Next up after that is the Merseyside derby, on 17 October, at Goodison.
.
*An era earlier, stating 2006, was down to a minion copytaker who has been give 100 lines: "I must pay more attention."
*.
Sportingintelligence home page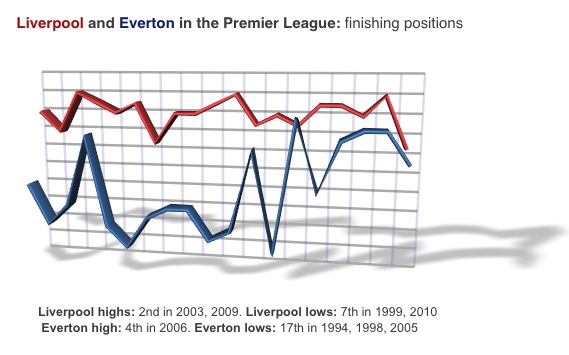 NB: Everton high was, of course, 2005, and low 2004.  See *about minion copy-taker for blame. Apologies etc.