By Brian Sears
27 September 2013
Aston Villa did not manage a single clean sheet between 8th December last year, when they 'enjoyed'  a 0-0 draw at home to Stoke, and last Saturday's 1-0 win at Norwich.
In between those two momentous days for their defence, Villa played out 26 Premier League games in which they conceded at least one goal in every Premier League game.
On 11 occasions they conceded one goal, 10 times they conceded twice, three times they shipped three goals, once it was four goals and once it was, erm, just the eight goals, at Chelsea. That was just before Christmas; the total in the 26 games was 52 goals conceded, or two per game.
In that same nine-month period the next fewest number of clean sheets by a current Premier League club were the four that Crystal Palace achieved while still gaining promotion from the Championship, and the five each for Fulham and West Brom.
In that same period (but with one extra game played each), Manchester City had the most clean sheets, 15, followed by Liverpool, with 14. Coincidentally, it is Clean Sheet City who visit Typically Dirty-Sheet Villa at Villa Park this weekend.
Our first riveting graphic shows the clean sheets kept by the other current Premier League clubs during Villa's non-clean nine months.
We also consider the number of goals that clubs shipped when they did concede. And herein lies a conundrum. City had 15 clean sheets but in the 12 other games, they conceded 26 goals at a rate of 2.17 per game, which is more per game than Villa, and indeed, more per game than anyone but Newcastle.
There could be a lesson here: when Man City concede, they really concede. Get past them once in a match and you'll have them on the ropes.
Article continues below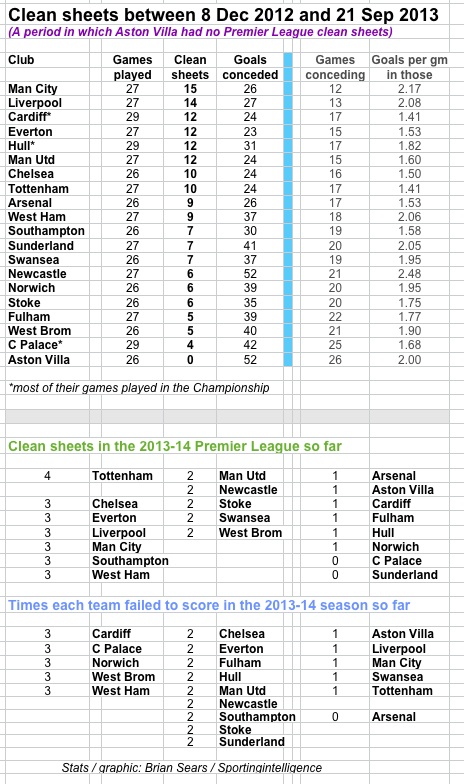 And another thing ….
Away from the Premier League, here are some Football League sequences. They're self-explanatory but it's eye-catching that QPR have not conceded a league goal for almost 10 hours.
And as Leeds and Millwall prepare to meet, the respective form looks far better, sequentially, for one side than the other.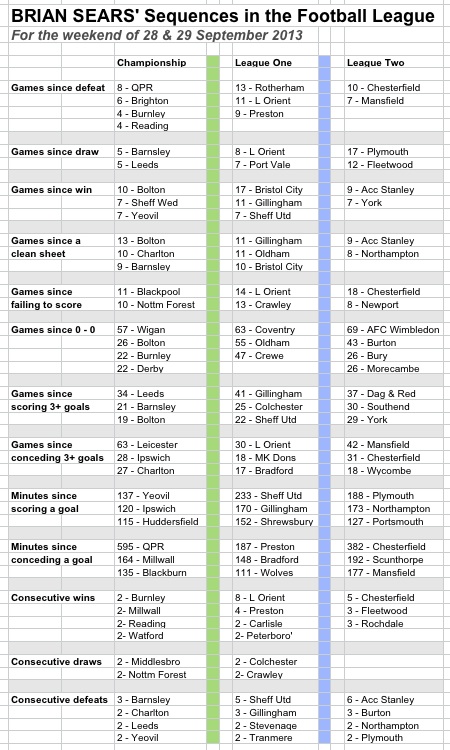 More stories mentioning Aston Villa / Man City / DRUGS / Corruption (or search for anything else in box at top right)
Follow SPORTINGINTELLIGENCE on Twitter