By Brian Sears
9 December 2011
Arsenal are the overall Premier League all-time runners-up to Manchester United in points terms to date, albeit trailing by 202 points (1607 for United and 1405 for Arsenal) in the 20 seasons of the Premier League including this one.
Chelsea are in third place, 39 points behind Arsenal, and Liverpool are fourth, 61 points behind Chelsea.
Arsenal are second, too, when it comes to the gathering of home points. The Gunners have 806 points from their 374 games played at Highbury and The Emirates, which puts them 96 points behind the 902 United have gained at Old Trafford.
At home Liverpool edge Chelsea out of third place, just, with 787 Anfield home points compared to 786 at Stamford Bridge.
Arsenal have gathered more home points from Everton, Saturday's Emirates visitors, than from any other Premier League club past or present: 48. (See first table below, featuring current PL clubs, and second table v former PL clubs). That's 10 points clear of the next highest amount from a single visiting team: Chelsea on 38.
Everton can only look back on one Premier League victory when they have visited Arsenal (and Saturday will be the 20th visit) and that was at Highbury on 20 January 1996 when they won 2-1.
Arsenal had the lead at half-time courtesy of a stunning Ian Wright goal but second-half goals from Graham Stuart (with the Gunners appealing for off-side) and Andrei Kanchelskis (with seven minutes to go) secured the Merseysiders their rare victory.
This Saturday Arsenal need two more points and two more goals to bring both those totals up to 50 in their home Premier League records.
The next best total of home goals achieved by Arsenal is 34 over Middlesbrough in only 14 games.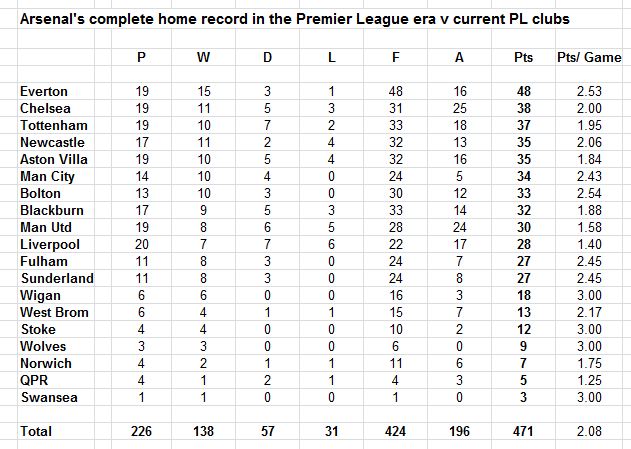 .
More on Arsenal  / Man City / Man Utd / Chelsea / Liverpool / (or search for anything else in box at top right)
Follow SPORTINGINTELLIGENCE on Twitter
 Sportingintelligence home page 
.