By Brian Sears
29 March 2013
QPR face a London derby this Easter weekend that will partly determine whether their season can be resurrected.
That one is played on Monday, and a week later the two clubs from Manchester – champions-elect United and champions (reigning) City – will also meet in a derby, at Old Trafford.
It has been theorised in the past that clubs who face a lot of derbies, regionally, can be at a disadvantage to those that don't, because derbies can be closer affairs than 'other' games if only because the geographical proximity adds people and spice to the atmosphere.
In looking at the regional derby records this season, below we consider the six London clubs on the one hand (that's Arsenal, Chelsea, Fulham, QPR, Tottenham, West Ham) and the five north-west clubs on the other: Everton, Liverpool, City, United and Wigan.
And we conclude that QPR like derbies relatively most in London, while in the north-west, City and Wigan both probably hate them – because they've flopped so badly in regional derbies this season.
Our table below details the points from the derbies, and compares those with each team's points from the non-derbies. In London, there's really not that much difference for any club except QPR, who have won a whopping 0.5 points more per game more from derbies than other games.
And in the north-west, the poverty of results in these games by City and Wigan is startling. City have averaged 2.3 points per game from non-derbies and a derisory (for them) one point per game in north-west games. Wigan's comparable numbers are 1.18 and 0.14.
Continues below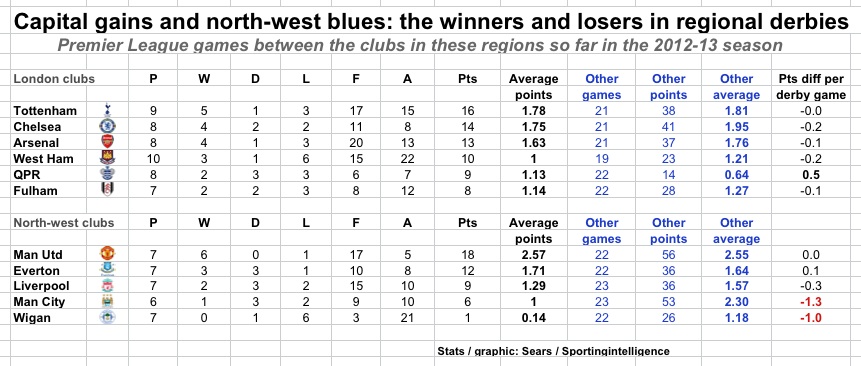 If QPR had maintained their derby form in non-derbies all season, they would have 34 points and be approaching mid-table.
If Wigan had maintained their non-derby form in all their games, they would be nudging towards the top 10 with more than 35 points.
If City had suffered their north-west derby form in all games, they would be in the vicinity of Aston Villa – and in trouble.
And if none of this is anything but theoretical, it still makes you think, no?
Happy Easter, folks.
.
More on Man Utd / Arsenal (or search for anything else in box at top right)