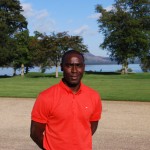 By Andy Cole
29 January 2010
Imagine this scenario: you're in the second leg of the League Cup semi-final, playing against Manchester United, your former club with whom you won the Champions League, and then you score a goal – not a bad goal at all, as it happens – which at the moment you score it looks like it could help you to reach an historic final.
For 2010, read Carlos Tevez, who fits the above description. For 2003, read me. I was in precisely the circumstances described seven years ago. I'd left United, with whom I won the Champions League in 1999, and was playing for Blackburn Rovers. We were in the Worthington Cup semi-final, second leg, after a 1-1 draw in the first leg. Early in that second game I scored to put Blackburn 1-0 ahead on the night and 2-1 up on aggregate. Happy days? Never assume that against United.
We lost 3-1 on the night, as did Manchester City on Wednesday. We were turfed out of the tournament by United then, as City have been now.
So what can I say to Tevez this week? Been there, done that, mate, and you'll learn that it's never, ever, ever going to be easy playing against United at any time. And when you're a former player it's even harder. Because you know they'll probably stay as the top dogs and you'll be someone who has left all that behind.
We will come back to Wednesday night's match in a moment, and what a magnificent advert for the English game and for football in Manchester it was, especially that second half.
But on the subject of being a former United player, you do tend to learn that leaving the club means leaving an awful lot behind. Even among those relatively few players who have later scored against United with a new club, as I did for Blackburn, few if any will have the last laugh.
Sir Alex Ferguson mentioned some former players on Wednesday who he'd recalled scoring against United after leaving: Peter Davenport, Norman Whiteside and Mark Robins.
I can cite more recent examples. In the same season I scored for Blackburn against United, so did Henning Berg, in the league. What happened next? United won that game 3-1, and then won the title.
Before that, Paul Ince famously scored for Liverpool against United in a 2-2 draw towards the end of the 1998-99 season. What happened next? Liverpool ended up trophy-less and we at Old Trafford won the Treble.
Back in the mid-Nineties, Mark Hughes scored for Chelsea against Alex Ferguson's team. What happened next? Chelsea ended up losing 4-1. In fact during that season, Sparky's Chelsea played us three times, including in the Cup, and we won the Double.
So being a former player against United does not give you any great chance of success. All the examples above suggest the opposite. Tevez knows that, for now, first hand.
I still think he's a footballer of huge quality, fit for United, and he showed that with his dangerous play and his goal on Wednesday. The star of the show, though, from where I was sitting, was Wayne Rooney. There was some buzz in that crowd, and when Rooney headed that late deciding goal, it was fantastic. But then you would expect nothing less from a derby.
Wayne's contribution was solid, turning to stellar when it was needed, which is what marks out truly great players – finding the magic required at the right moment on the big occasion. Aside from his winning header he was key to setting in train the move that led to Paul Scholes' opening goal, via Ryan Giggs and Michael Carrick.
Near the start of the season I wrote I could see Rooney being freed, creatively, by the departure of Cristiano Ronaldo, rather than crushed by the pressure of having to assume his duties. So it's proving.
View from the commentary box: Carling final will be huge
The Carling Cup has given us some wonderful occasions already this season and United against Aston Villa in the final should be another.
I worked on Villa's semi-final against Blackburn as a pundit for Sky, albeit for the 1-0 first leg and not that incredible 6-4 win in the return. Gareth Southgate was the other pundit, and it was an enjoyable night.
My main focus is trying to tell it as I see it from the players' point of view, nobody else's. It never ceases to amaze me how little time you actually have to get your points across.
I already do quite a lot of work for MUTV, which is a pleasure because it's my team, and you can't get bigger than my next two assignments, Arsenal on Sunday, then Milan in the Champions League. Bring it on.
Toon army's passion for the cause deserves to be rewarded
Newcastle won again this week to consolidate their position at the top of the Championship and reiterate that they've got a decent chance of making it back to the Premier League at the first attempt.
As someone who played for them  for the best part of two years, I know Newcastle are a fantastic club, and I wish them the best. They've been yearning for success at the highest level for a long, long time and aren't really much closer to achieving it, and it makes you wonder why. Even laying aside the turmoil of the past few seasons, it's curious they haven't done more.
It could be down to geography, partly. We know the huge amount of important foreign players there are in the Premier League now, and let's say they're given a choice between London and Newcastle. They'll generally go for London, because of all it offers. Or say there's a choice between Manchester and Newcastle; well Manchester obviously has the greater football pedigree.
I think there might also be a mentality, therefore, that players have tended to go to Newcastle for the money, because it's needed more money to swing a signing. And if money is a key motivation, that's not necessarily helpful.
When I went there I just wanted to play big-time football and I loved it, so I didn't fall into that category. We had some good times and a decent team. I tell you what I think might be counter-productive, sometimes; that Newcastle is a one-club city. London has loads of clubs, Liverpool and Manchester and Birmingham both have at least two clubs each in the Premier League alone, then you've got Sheffield and Nottingham and other cities with two teams.
Newcastle life, more than in any city I've played in, is geared around one team; 800,000 people on Tyneside or however many it is, all wanting one thing, success. You can never switch off, as a player. You can never go for a quiet meal. The adulation and the support is brilliant, it really is. But the pressure that brings? Incredible.  I'm pleased for the current lads that they're handling it.
.
The fee for Andy Cole's column is donated to Alder Hey hospital and sickle cell anaemia research. He works on charitable projects with the sport and media team at law firm Thomas Eggar.
A version of this column also appears in The Independent.