By Nick Harris
22 April 2013
Manchester United's 3-0 win against Aston Villa in the Premier League this evening secured them their 20th English title, and takes their all-time haul of 'major' trophies to 39, just two behind Liverpool's all-time haul of 41.
For the purposes of this count, the trophies included are the league, the two main domestic cups (FA Cup and League Cup) and European club competitions. A detailed table is below.
No trophies from 'one-off' matches such as the Charity Shield or European Super Cup are included, nor are competitions that were 'one-off' matches at any point, such as the old Intercontinental Cup, which mutated into the Club World Cup.
United have won 20 league titles (a record), 11 FA Cups (a record), four League Cups, three European Cups and a European Cup-Winners' Cup.
Liverpool have won 18 league titles, seven FA Cups, eight League Cups (a record), five European Cups (a record for an English team) and three Uefa Cups.
United hammered Villa in the first half, storming to a 3-0 lead inside 33 minutes thanks to a hat-trick from Robin Van Persie.
Thirteen of United's 20 English titles have come in the Premier League era, since 1992-93. Before the Premier League started, United had the same number of English titles as Villa: seven.
Last night's defeat leaves Villa still mired in a relegation battle, desperate to retain their status of one of only seven 'ever present' Premier League clubs along with United, Liverpool, Arsenal, Chelsea, Everton and Tottenham.
Those seven clubs are also the seven most successful in total trophies in English football history, with Liverpool top (41 trophies), then United (now 39), Arsenal (27), Villa (20), Chelsea (18), Tottenham (17) and Everton (15).
The trophy hauls of each of the different 23 clubs to have won at least one English top-flight title since 1888 are in the table below.
For the purposes of this table, each trophy has been given a 'weighted' value to help rank the clubs; a title win or European Cup win is clearly more important and a bigger achievement than a League Cup win, for example.
On that basis, Liverpool are just ahead of United on points, as well as ahead by two major trophies.
The trophies and points are all self-explanatory and detailed in the graphic below. The weightings are all arguable, of course, but they don't alter the fact that Liverpool, United, Arsenal and Villa are the top four on points and have most trophies in that order.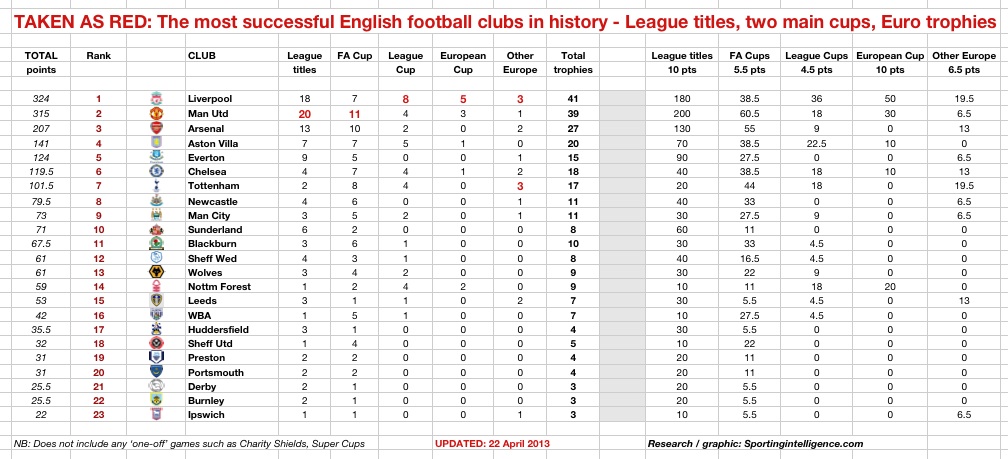 More on Manchester United / Liverpool
Follow SPORTINGINTELLIGENCE on Twitter