By Brian Sears
26 April 2013
Everton welcome Fulham to Goodison on Saturday seeking to maintain perhaps the longest 100 per cent winning run against the same opponent in English football.
Everton have beaten Fulham in 19 straight league games at home now, dating back to 1961.
The last time Fulham even managed so much as a draw in the league at Everton was in a 0-0 draw in 1959.
Fulham have never won at Goodison Park in 24 league meetings, with only four draws to 20 defeats, and those last 19 consecutive defeats.
Certainly no other team has ever put together such a run against any other team in top-flight English football on one ground.
The 19 straight wins have comprised 11 in the Premier League era and eight before that.
So since the 1959-60 season Fulham have visited Goodison 19  times in the league to be defeated each time, scoring 10 goals and conceding 50.
The full winning run record: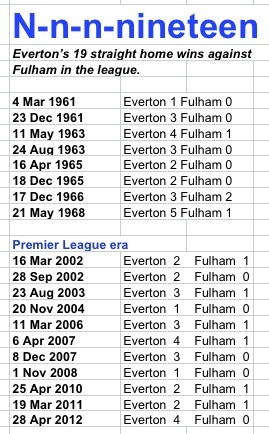 Fulham have had much more success in league games played with Everton in London.  Of the 25 games played there, Fulham have won 14, drawn six and lost five. Indeed after they joined the Premier League Fulham, themselves, went on a seven-game home 100 per cent run over Everton.
If you know of a longer sequence of wins between teams, in any sport or any country but at the same ground in the same competition, do feel free to Tweet to @Sportingintel and we'll add them here.
.
More on Man Utd / Arsenal (or search for anything else in box at top right)