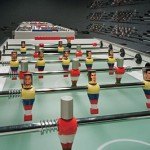 By Keira Daley
15 June 2010
As Switzerland prepare to open their World Cup campaign tomorrow in Durban, against the favourites Spain, some lucky compatriots back home – workers in a Swiss bank – are benefitting from a unique World Cup table football room (see pictures below). The identity of the specific bank cannot be revealed because of secrecy laws surrounding Swiss banking. "That's not a joke, that's serious," said a spokesman for the design company behind the room.
"With three table soccer tables in place, not only can all of the teams participating in the World Cup in South Africa be selected and interchanged, but pictures of the relevant players can also be stuck on using 'Face-Cap', a specially designed head attachment," says a press release from creators, architect-design firm Gessaga Hindermann.
The customisable table football players have been patented, and GH is looking for potential manufacturers.
Sportingintelligence welcomes any contributions, especially illustrated, that explore how the World Cup impacts on economies and businesses globally. submissions@sportingintelligence.com
.
EXCLUSIVE: The details of USA's $20m World Cup bonus
World Cup final 'will vie for record of second most-watched event in human history'
Sportingintelligence home page
.