*
By Alex Miller
and Nick Harris
SJA Internet Sports Writer of the Year
8 October 2012
Manchester United and Real Madrid have sold an average of 1.4m official replica shirts globally each year in the past five years – more than any other clubs in the world.
The commercial giants of English and Spanish football wear kits made respectively by Nike and adidas and those sales numbers are from the 2007-08 season to the 2011-12 season inclusive.
The figures are taken from authoritative new research by a leading international sports marketing consultancy, and are published in full by Sportingintelligence for the first time today.
As the graphic below shows, Barcelona are No3 on the sales list (Nike, average 1.15m sales a year) followed by Chelsea in fourth place (adidas, 910,000).
The top 10 also includes Bayern Munich (adidas), Liverpool (adidas during the research period, now Warrior), Arsenal (Nike), Juventus (Nike), Inter Milan (Nike) and Milan (adidas).
Another article elsewhere on this site today (linked here) explores the value of football shirt income to the clubs, and to the major brands.
Chelsea are the most significant 'climbers' since detailed market statistics were last published by this site two years ago. They were adidas's joint-second best sellers with Liverpool and Bayern Munich two years ago but have moved clear into second place for adidas – and fourth overall – now.
Undoubtedly there was a 2011-12 uplift because of success in the Champions League.
(See the top 10 and equivalent data from a report in 2010 here).
The figures have been compiled by veteran analyst Dr Peter Rohlmann and his team at the consulting bureau, PR Marketing, who have worked as consultants to major brands, leagues and other organisations.
Article continues below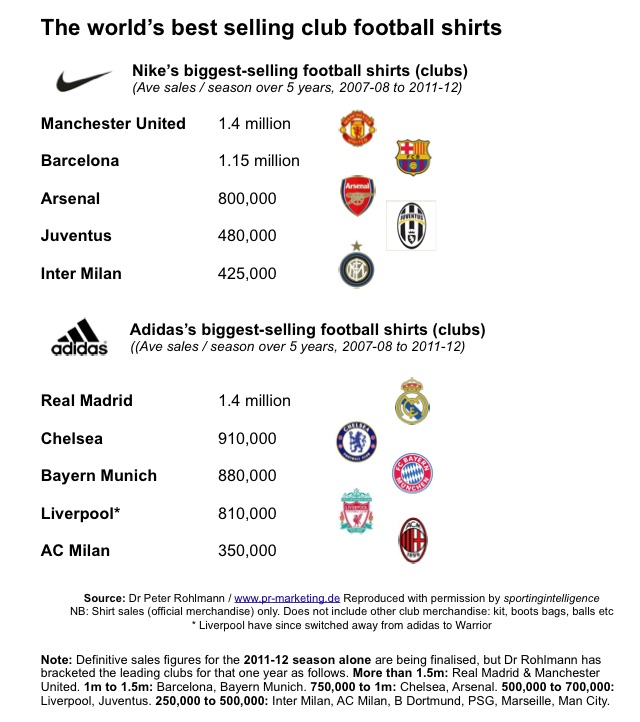 There is a misconception in some quarters that big clubs sell tens of millions of shirts a year but this is simply untrue. As the graphic shows, only three clubs sell more than 1m shirts a year each consistently. The figures do not include counterfeit merchandise.
Taking the five-year view of sales is considered a more reliable indicator of sustainable popularity than one-season snapshots, which hold the likelihood of peaks and troughs caused by individual trophy wins, player transfers or the release of new kits.
As the notes at the foot of the graphic show, Rohlmann has provided a 'bracket' of sales for each club for the 2011-12 season alone. Real Madrid and United both sold more than 1.5m shirts in the year.
The official Manchester United Investor Relations website says that "over five million items of Manchester United branded licensed products were sold in the last year, including over two million Manchester United jerseys".
But it is unclear exactly what period 'last year' refers to – possibly a 12-month period including part of two summer transfer windows – the period when shirts traditionally sell in greatest volumes.
Dr Rohlmann says that for 40 per cent of all United merchandise to be shirts "is extremely high compared to other top European football clubs" and is "outstanding" if for a single 12-month period. There is also no clarity on the United website over whether 'jersey' means football kit shirts or all United shirts, T-shirts and other tops.
Barcelona and Bayern sold between 1m and 1.5m replica kit shirts each in 2011-12, when Bayern reached the Champions League final, played in their own stadium in the home city. Chelsea and Arsenal sold between 750,000 and 1m shirts each while Liverpool sold fewer than their five-year average.
Premier League winners Manchester City sold somewhere just over 250,000, but their five-year average is 175,000 per year – sufficient only to place them 17th in Europe.
Rohlmann says: "Clubs from the last Champions League final saw an increase in shirt sales. Changes of kit supplier and sporting success – as well as global appeal and international presence – are the main reasons for shirt sales."
In terms of overall merchandise sales – the sale of shirts plus other kit, including boots, tracksuits and other clothing, bags and even club-branded balls (not covered in this research) – it is understood that Manchester United and Liverpool remain the two biggest global sellers, outselling their Spanish rivals.
For shirt sales at other 'big' clubs outside the top 10, the following information, first published two years ago, still applies:
Dr Rohlmann's research focussed on the clubs within the major leagues of Europe but also looked at big clubs in small leagues to see how they fare. None of those clubs would, over an extended period of time, match the sales of the top 10 listed today.
The biggest clubs in Turkey, namely Galatasaray and Fenerbahce would sell numbers at the lower end of the 10 in good years but sales of official merchandise in some regions, including Turkey and especially Asia, tend to be damaged by cheaper counterfeit goods.
A "big" club like Ajax in a "small" league like the Dutch league might expect to sell 100,000 shirts and probably fewer in most seasons. Celtic (a Nike club) are believed to be the biggest sellers among Scotland's clubs, with "good year" sales at the lower end of the  top 10, ie: several hundred thousand per year, many of them overseas in North America, Canada and Australia.
.
REVEALED: The world's best paid sports teams
More on Man Utd / Real Madrid / Barcelona / Chelsea (or search for anything else in box at top right)
Follow SPORTINGINTELLIGENCE on Twitter