By Alex Miller
and Nick Harris
SJA Internet Sports Writer of the Year
8 October 2012
Manchester United and Liverpool have the most lucrative kit supplier deals in the Premier League this season, earning a guaranteed £25.4m and £25m respectively from Nike and Warrior – but still trail the sums earned by Spanish giants Real Madrid and Barcelona.
Real's deal with adidas, which lasts until 2020, is worth a guaranteed £31m per year (or 38m euros, or $49m) while Barcelona's deal with Nike is worth £27m per year.
These figures come from new research veteran analyst Dr Peter Rohlmann and his team at the consulting bureau, PR Marketing, published for the first time today by Sportingintelligence.
Elsewhere on this site today, we reveal which clubs sell the most shirts (United and Real on top, Chelsea overtaken Liverpool).
The top 10 supply deals in Europe are detailed in the graphic below.
Article continues below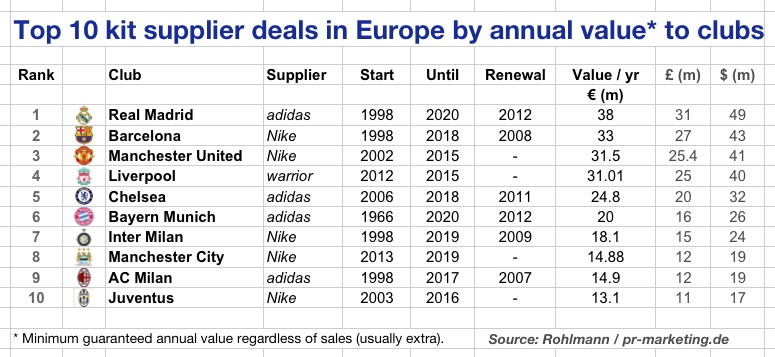 .
Liverpool started a new three-year kit contract with US supplier Warrior this season – the first foray by the supplier into the European football market.
There are four Premier League teams within the top 10 kit deals. Chelsea's recently renegotiated kit deal with adidas means the Londoners now bring in £20m a year from their deal, to put them third behind United and Liverpool, while Premier League champions Manchester City will be fourth in England soon, and eighth in Europe in guarantee revenue – if not sales.
Rohlmann says: "Real Madrid are in front of the top ranking thanks to the renewed deal with adidas. Not far behind one can find Barcelona and the leading merchandising sellers of the UK, Manchester United and Liverpool."
The research also outlines the fierce battle for supremacy between the leading kit suppliers Nike and adidas within the lucrative football market, estimated by PR Marketing to be worth £3.4 billion a year.
Article continues below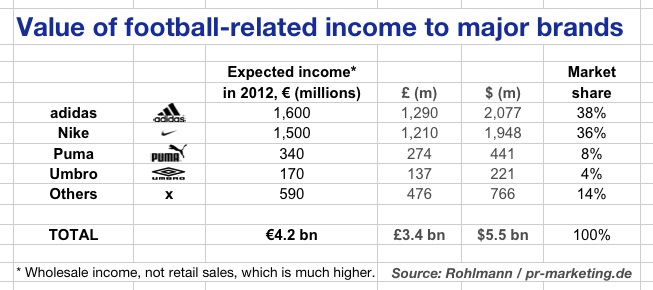 Adidas enjoy a 38 per cent market share worth almost £1.3bn a year, while Nike enjoys a 36 per cent share (£1.2bn a year).
However Nike also owns Umbro, which itself has a 4 per cent market share worth a further £137m to the US kit producer.
.
REVEALED: The world's best paid sports teams
More on Man Utd / Real Madrid / Barcelona / Chelsea (or search for anything else in box at top right)
Follow SPORTINGINTELLIGENCE on Twitter