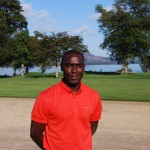 By Andy Cole
28 May 2010
England's phoney war of pre-World Cup friendlies has just one more skirmish left – this weekend's match against Japan – but there are still questions to answer all over the pitch. The most problematic of those in my view is not a new dilemma but one of the oldest: whether Steven Gerrard and Frank Lampard can play to the best of their considerable respective talents in the same team.
To cut a long debate short, I'm not convinced. And if I had to opt for just one above the other then it's Gerrard who would get the nod from me for his all-round flexibility, his capability to conjure something from nothing, and for his proven ability to help get the best from a world-class striker playing ahead of him.
That's not to say that Lampard shouldn't be in the squad – he's an absolute banker, and rightly so – or that he shouldn't be in the team. Fabio Capello has found ways of making the team tick when both have played, not least in the game against Croatia in September last year. Both players scored twice in the 5-1 win and it looked like Capello had cracked it, with Gerrard out wide left and Lampard central.
But to my mind that was an atypical occasion, an oddly successful experiment that hadn't been tried before successfully or replicated so well since, and those positions and the roles the pair played that day went against the instincts of both men.
If you break down what they bring to a team individually then Gerrard is versatile in terms of position, dynamic in terms of making his team tick (at club level with Liverpool at least), and when allowed to roam, playing just off a lethal central striker (Fernando Torres at Anfield), then the danger he presents is frightening for opponents.
Lampard is a wonderful footballer too, not least within a Chelsea system where his defensive responsibilities are limited and he's given licence to get forward whenever he can.
The problem at England level is when England play a 4-4-2 system with Lampard as part of the midfield four, the job comes with inherent defensive responsibilities. And I think Frank would be the first person to tell you that running back is not his biggest strength.
So Capello is left trying to fit two attack-minded central midfielders into the same team. He knows both can win matches and both can theoretically – but not often in practice – be accommodated thanks to Gerrard's positional flexibility. He also knows that exploiting the flexibility means Gerrard isn't used ideally, while Lampard is asked to do something he doesn't do at club level. Hence the dilemma.
As for the solution, that depends a lot on who else is available, which is where Gareth Barry's fitness is so important. If Barry is available, he becomes an obvious central-midfield anchor option, taking some (not all) of the defensive duty options from Lampard. Gerrard is free to play left, and perhaps ideally, given licence to tuck in behind Wayne Rooney going forward. Or maybe there's a more radical option still: Gerrard as part of a two-man attack in a 4-4-1-1 behind Rooney, and four others across midfield, Lampard one of them.
No two games will be the same of course, so no two strategies will be the same. And ultimately it should all revolve around the players, which is why I'll be more confident in expressing a clear match-by-match view of my ideal England XI when Capello has picked his final 23-man squad. Then we'll know who's fit or not, who's in and out, whether Barry is an option that allows flexibility elsewhere or whether England need another rethink.
It's also an obvious statement – but true – that the approach will need to differ as the World Cup goes on. When you face better teams and better players the deeper you travel in the tournament, the emphasis will be on keeping the ball more.
Against Mexico, England didn't actually play very well and didn't keep the ball and still won but that's not a good bet at a World Cup!
By Tuesday we'll know who Capello is going to take, and I'd be surprised if he hasn't already got a fixed 23 in his own mind. I'd think it would take some calamity or wondrous intervention in the last friendly of the phoney war to change things.
We know his goalkeepers. My expectation is eight defenders (Cole, Ferdinand, Terry, Carragher, Johnson, hopefully King, Upson, plus one), eight midfielders (the area of most intrigue but certainly Gerrard and Lampard, and Barry if fit), and four strikers.
Let's get on with it.
.
Blackpool rocked
As I wrote last week, I thought Blackpool might come out on top in the Championship play-off thanks to the maverick Ian Holloway while I expected Inter to beat Bayern Munich to win the Champions League. I said Jose Mourinho would be off to Real Madrid afterwards – and he is – which just leaves the last parts of the forecast: the title for Real in Spain next season, an improvement in their European performances, and then Jose back in England!
I wasn't surprised by Blackpool's victory; they achieved it with team spirit and by taking their chances and keeping their heads when things went against them. They will be a colourful addition to the Premier League.
There will be a lot of talk between now and August about how some of the League's bigger teams will be wary of going to Bloomfield Road and dealing with rough'n'ready dressing rooms, a passionate crowd and a dodgy pitch.
Don't believe a word of it. The big teams will be rubbing their hands at the prospect of going to Blackpool and filling their boots!
Good luck to Holloway and his team. They really deserve it. But don't lets pretend they're not going to get heavily beaten, and probably quite often, next season.
.
Down to a tee
My charity golf day was on Wednesday and it went fantastically well. So thanks to all those who supported it, not least Kevin Keegan, Jamie Redknapp, Dwight Yorke, Les Ferdinand, Jimmy Bullard and Liam Botham to name just a few. As I've written before, footballers and other well-known figures are constantly being asked to help put at these events, so I appreciate the turnout. We raised a lot of money for a great cause, the Prince's Trust.
.
The fee for Andy Cole's column is donated to Alder Hey hospital and sickle cell anaemia research. He works on charitable projects with the sport and media team at law firm Thomas Eggar. Andy Cole's columns, or abbreviated versions, also appear in The Independent.
.