By Brian Sears
27 November 2015
Just over a third of this Premier League season is complete and still the number of away wins remains unusually high, in fact on a par with the number of home wins. Of 130 games played, 48 have been away wins (the same as home wins), with 34 draws.
We keep on expecting the results to 'revert to the mean', or in laymen's terms for home advantage to come into its own again. Over the course of the PL era, 27% per cent of games have ended with away wins; currently that's at 37% for the season.
A perusal of the table below will reveal that a trend towards away wins has been growing over the last fews seasons. Eight clubs are currently picking up more points on their travels than they have at home.  West Ham, Crystal Palace and Stoke have each gained five more points away than in front of their own fans.
Arsenal and Liverpool have four more points, West Brom three, Leicester at the top two and Villa at the bottom one.  Southampton and Watford have both gained half their points away and half at home.
The clubs that have most obviously kept to the tradition of home advantage counting meet this Sunday at White Hart Lane when Tottenham host Chelsea.  Both clubs have gained six more points at home than on their travels. Man City, Swansea and Sunderland are both in credit by four more points from their home games.
Article continues below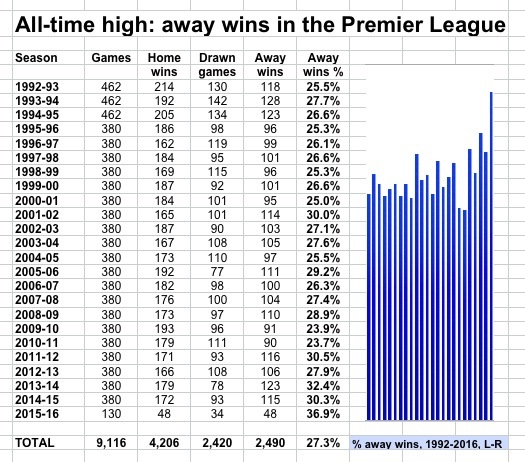 .
And another thing …
This is Crystal Palace's seventh season of Premier League football and 13 games in they are  celebrating their best ever start.  In their first four seasons they suffered relegation each time but now they are enjoying their third consecutive season at the top table of English football.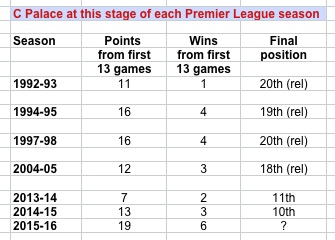 According to history, Palace face a big challenge to their season when Newcastle visit Selhurst Park this weekend. Palace have just the one Premier League victory over Newcastle in 10 attempts and that was away in Newcastle in March 1998.  Palace have yet to record a single Premier League victory over Manchester United or Southampton.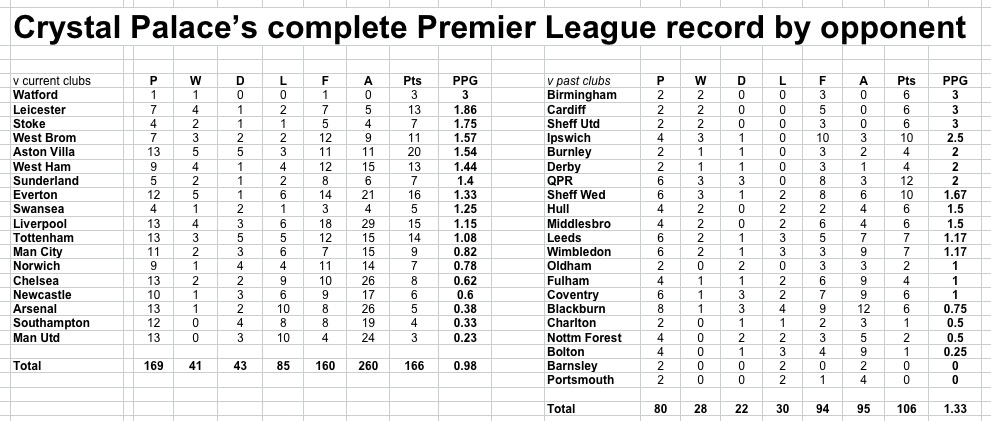 .
…. And finally
The statistics in these pages will often be in relation to the Premier League era when they deal with English football. We know the game is a bit older than that. We know Preston won as Invincibles in the league's first season in 1888-89. But the Premier League is a distinct era if only because of the money that has transformed the picture. This is the 'monied era'.
To get some idea of how the financial situations of these clubs have changed over time – and finance is a big influence in success in football – further reading and related articles spring from Sportingintelligence's annual global sports salaries reports, are linked here. The 2015 edition of the report (right) was published in May.
You can download a free 120-page PDF here.
2014 Report             2013 Report            2012 Report         2011 Report          2010 Report
.
More on Arsenal / Liverpool / Man Utd  (or search for anything else in box at top right)