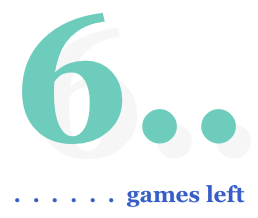 By Brian Sears
2 April 2010
So the Premier League enters the home straight for another season and statistical seers (not to mention Sears) strive to grab a passing morsel of numerical nuance from their historical data.
Most clubs have but six games to go. As a statistician trying to work out what's next (snow, perhaps?), one likes to look at what's happened before. How have the Premier League's 20 clubs performed in their previous six-match "run-ins" in the League?
Last season, for example, three clubs tied with as many as 16 points each from a possible 18: Manchester United, Liverpool and Chelsea were they, and those three finished clear of the field. Hull managed just the one point but even so lived to race another race, even though Phil Brown has since metaphorically  stumbled, like a Grand National horse after too much to drink, into a hedge.
Burnley, of course, in their debut season, are distinguished by having no relevant numbers to record in our table below, which shows historic points from the last six matches in past  Premier League seasons.
Four times in Premier League history current clubs have played out a "perfect finish" of winning all their last six games. Manchester United have done it twice, in 1992-93, and then in 1999-2000, actually winning the last seven and 11 games in those respective seasons. More recently Arsenal in 2001-02 won all their last 13 games, while Liverpool four seasons ago won their last nine.
Sunderland have had the poorest finish of all: they not only lost their last six in 2002-03 but their last 15 games. Ouch. There wasn't much Light in the Stadium that campaign.
Statisticians adore averages so our positioning in the table below is base on average points scored by clubs in their last six games over however many Premier League seasons they have played.
It would have to be that United, Arsenal, Liverpool and Chelsea that are the only clubs to reach an average in double figures, wouldn't it? Oh yes it would.
More surprisingly Fulham, Blackburn, Stoke and Aston Villa are the next quartet. What, Villa? Not atrocious finishers every single year? That's a bit counter-intuitive, but true.
Meanwhile West Ham's final push at the end of a season typically outdoes Tottenham's, though what it all means, who knows. Survival for the Hammers and a hammer blow to Spurs' Champions League hopes? We wouldn't presume to predict.
Wigan, Sunderland and Hull are holding up the rest in our table without even managing to average one point per game. Not one. That's the data for deliberation. That's the cud for chewing. You don't even have to pay your money but you may take your choice.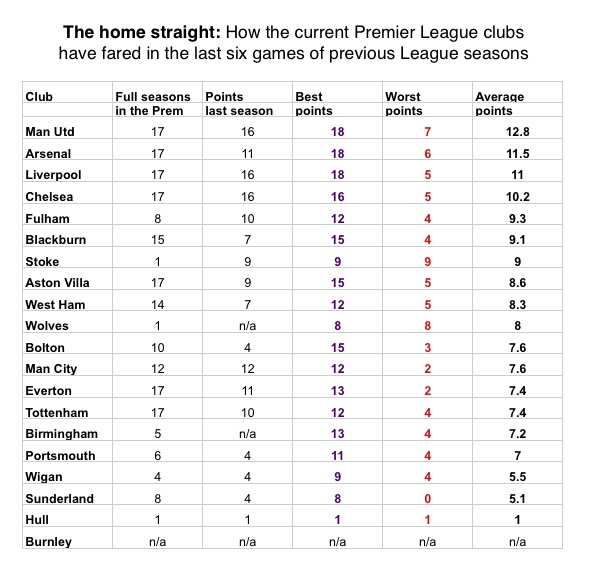 .