By Brian Sears
4 November 2011
Ten of the current Premier League clubs have never won a Premier League game at Old Trafford and on Saturday it will be Sunderland trying to break that duck. In 10 attempts to date, they've won just two points there, from these two games:
14 Apr 2006 Man Utd 0 Sunderland 0
3 Oct 2009 Man Utd 2 Sunderland 2
They've lost their other eight visits. On their 11th Premier League trip to OT they seek redemption.
Among others still waiting for a Premier League at the home of Sir Alex '25 years' Ferguson, Tottenham and Norwich have already had their chance this season to end their barren streaks – and missed out.
Here are the records of the Premier League clubs never to win a Premier League game at Old Trafford, led by Spurs on 20 attempts and no wins: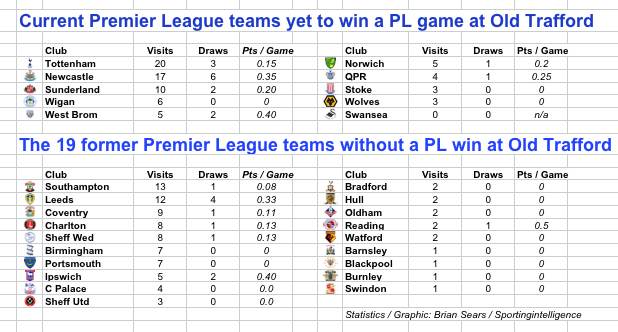 .
More on Sunderland / Man Utd / Man City /Arsenal  / Liverpool (or search for anything else in box at top right)