By Brian Sears 
Arsenal enter the weekend at the top of the Premier League table but here comes an acid test of their title credentials, a game against Chelsea.
The Gunners' recent record against Chelsea has been poor. Worse than poor. Awful. Wretched. Lousy. Miserable. Paltry. Or shocking, hopeless, inadequate, tortured (if you want to get acrostic about it).
Here's how bad they've been, in context. Only 12 current Premier League clubs are playing a fifth consecutive season in the top division. Arsenal haven't won any of their last eight PL games against Chelsea, home or away, since a 5-3 triumph at the back end of 2011.
Since then they've won none, drawn three and lost five, earning just three points as Chelsea have taken 18 points, for a head-to-head deficit of 15 points in that period.
Here is Arsenal's record in their last eight games against all the clubs playing a fifth straight PL season. Notable is how good Swansea have been against Arsenal; and that Arsenal have a better H2H in this period over everyone else except Chelsea and Manchester United.
.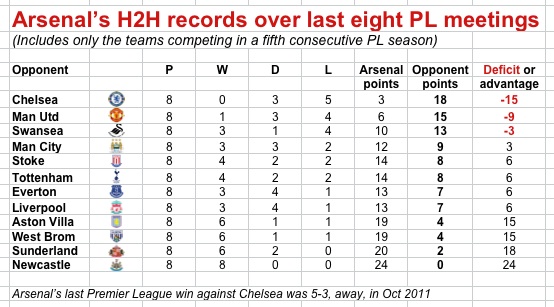 ..
Despite Arsenal's good season so far, for once neither they nor Chelsea are leading the inter-London Premier League table so far, and from four capital games, Arsenal only have a home point from Tottenham and an away win at Palace. 
This weekend's Premier League fixtures contain two London derby games, with Palace hosting Tottenham and Arsenal hosting Chelsea. For Palace it's the completion of their home London derbies but they won't mind that as they've lost the previous three: 1-2 to Arsenal, 1-3 to West Ham and 0-3 to Chelsea.  That leaves Palace at the foot of the inter-London table with their only points coming from their 2-1 win at Stamford Bridge way back in August. 
Meanwhile Tottenham are unbeaten in their four London derbies played after two wins (at home to Palace and West Ham) and two draws (at home to Chelsea and away at Arsenal).  Eleven out of the 20 London derbies have so far been played and here's the current standings. West Ham are holding pole position at this stage but they have no London derby coming up until the beginning of March and then they play four London games in their next five.

.
And other thing …
Swansea and Norwich, both currently on the fringe of relegation places, both face stiff battles this weekend if you take Premier League history as a guide. Swansea have met Everton nine times in the PL and have yet to win. They will be encouraged that their last three encounters have at least been drawn as they go to Goodison this Sunday.
Norwich can claim two Premier League victories over Liverpool but they both came more than 20 years ago. Since that second win at Anfield in April 1994 Norwich have played Liverpool 11 times, losing nine and drawing two.  Again Norwich fans will be consoled that the most recent draw was at Anfield less than four months ago.
SWANSEA v EVERTON in the Premier League
21 Dec 2011 Everton  1 (Osman) Swansea  0
24 Mar 2012 Swansea  0  Everton  2 (Baines, Jelavic)
22 Sep 2012 Swansea  0    Everton  3 (Anichebe, Mirallas, Fellaini)
12 Jan 2013 Everton  0    Swansea  0
22 Dec 2013 Swansea  1 (OG Oviedo)    Everton  2 (Coleman, Barkley)
22 Mar 2014 Everton  3 (Baines pen, Lukaku,Barkley)    Swansea  2 (Bony, Williams)
1 Nov 2014 Everton  0    Swansea  0
11 Apr 2015 Swansea  1 (Shelvey pen)    Everton  1 (Lennon)
19 Sep 2015 Swansea  0    Everton  0
.
NORWICH v LIVERPOOL in the Premier League
25 Oct 1992 Liverpool  4 (Thomas, Hutchison, Burrows, Walters pen)    Norwich  1 (Butterworth)
1 May 1993 Norwich  1 (Phillips pen)    Liverpool  0
5 Feb 1994 Norwich  2 (Sutton 2)    Liverpool  2 (OG Culverhouse, Barnes)
30 Apr 1994 Liverpool  0    Norwich  1 (Goss)
2 Jan 1995 Liverpool  4 (Scales, Fowler 2, Rush)    Norwich  0
29 Apr 1995 Norwich  1 (Ullathorne)    Liverpool  2 (Harkness, Rush)
25 Sep 2004 Liverpool  3 (Baros, Luis Garcia, Cisse)    Norwich  0
3 Jan 2005 Norwich  1 (Jarvis)    Liverpool  2 (Luis Garcia, Riise)
22 Oct 2011 Liverpool  1 (Bellamy)    Norwich  1 (Holt)
28 Apr 2012 Norwich  0    Liverpool  3 (Suarez 3)
29 Sep 2012 Norwich  2 (Morison, Holt)    Liverpool  5 (Suarez 3, Sahin, OG Barnett)
19 Jan 2013 Liverpool  5 (Henderson, Suarez, Sturridge, Gerrard, OG R.Bennett)    Norwich  0
4 Dec 2013 Liverpool  5 (Suarez 4, Sterling)    Norwich  1 (Johnson)
20 Apr 2014 Norwich  2 (Hooper, Snodgrass)    Liverpool  3 (Sterling 2,Suarez)
.
…. And finally
The statistics in these pages will often be in relation to the Premier League era when they deal with English football. We know the game is a bit older than that. We know Preston won as Invincibles in the league's first season in 1888-89. But the Premier League is a distinct era if only because of the money that has transformed the picture. This is the 'monied era'.
To get some idea of how the financial situations of these clubs have changed over time – and finance is a big influence in success in football – further reading and related articles spring from Sportingintelligence's annual global sports salaries reports, are linked here. The 2015 edition of the report (right) was published in May.
You can download a free 120-page PDF here.
2014 Report             2013 Report            2012 Report         2011 Report          2010 Report
.
More on Arsenal / Liverpool / Man Utd  (or search for anything else in box at top right)