By Brian Sears
17 April 2015
The Premier League season could still have significant twists and turns at both ends of the table. When Chelsea host Manchester United this weekend, there's a real chance of one. Or is there?
Manchester United have been ever-present in England's top division since it was revamped to become the Premier League from 1992-93. They have been the dominant club of the PL era. They have faced 45 different Premier League opponents in that time. And they have a positive head-to-head record against all of them in that period … except Chelsea.
As the graphic below shows, United have dominated most teams over the piece, for example winning 107 points in head-to-heads with Aston Villa against Villa's 20 points (from 46 meetings) to winning 49 points in PL games against Coventry, as Coventry picked up a measly four points from 18 meetings.
United have lorded it over everyone from Tottenham to Everton, Bolton to Fulham to Leeds and Arsenal …. and everyone except Chelsea.
The records of all the clubs against United are below, ranked by the sheer number of points by which United have dominated each team in PL games on aggregate. Apart from Chelsea, that is, who have played United 45 times in the PL era and won 62 points from those games compared to United's 56 points.
If United are to upset the apple cart and throw a spanner in the works of Chelsea's title hopes, they will need to do so in the face of historical Chelsea dominance in this fixture.
And if United can win, they will still be in deficit to Chelsea by three points in the PL era.
Article continues below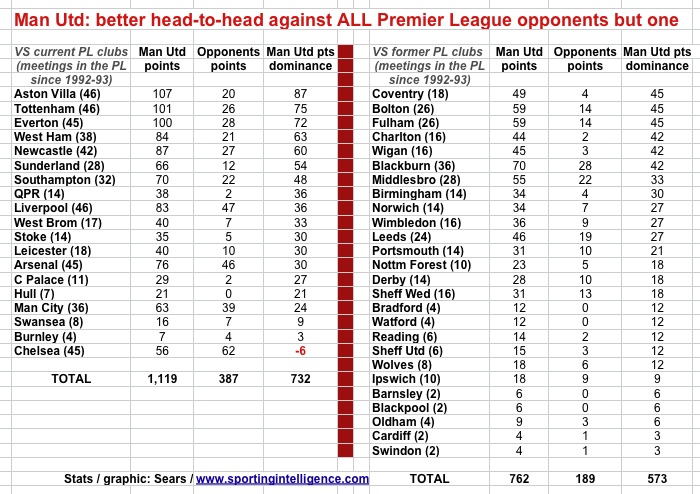 .
And another thing …
Stoke City can already look forward to an eighth consecutive season of Premier League football come August. On the way to that they will be hoping to register their first Premier League victory over Southampton when the Saints visit the Britannia Stadium this weekend. The first four PL meetings of the two clubs were all drawn but Mane's goal gave Southampton victory last October.
Stoke will also be after a first Premier League win over Burnley when they visit Turf Moor in May. But first Premier League wins over Blackpool and Cardiff will have to wait a little longer ….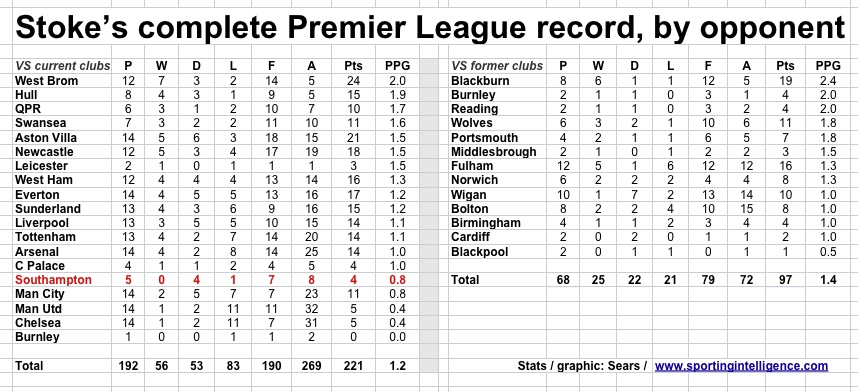 .
…. And finally
The statistics in these pages will often be in relation to the Premier League era when they deal with English football. We know the game is a bit older than that. We know Preston won as Invincibles in the league's first season in 1888-89. But the Premier League is a distinct era if only because of the money that has transformed the picture. This is the 'monied era'.
To get some idea of how the financial situations of these clubs have changed over time – and finance is a big influence in success in football – further reading and related articles spring from Sportingintelligence's annual global sports salaries reports, are linked here:
2014 Report             2013 Report            2012 Report         2011 Report          2010 Report
.
More on Liverpool / Man Utd / Arsenal (or search for anything else in box at top right)
Follow SPORTINGINTELLIGENCE on Twitter