By Nick Harris
SJA Internet Sports Writer of the Year 
21 March 2012
Lionel Messi became Barcelona's leading all-time goalscorer last night when he took his Barca tally to 234 goals. (In non-friendly games).
You can see a video including EVERY goal here.
A Sportingintelligence analysis of the Argentinean genius's scoring for Barcelona shows:
185 of the the goals were scored with Messi's left foot (of which 22 were penalties), 37 with his right, and 12 with his head.
That's 79.06 per cent with his left foot, 15.81 per cent with his right foot and 5.13 per cent head with his head.
His most common 'method' of scoring is to take possession within the 18-yard box, either by running onto a through ball, or by finding space to collect another type of pass or pounce onto a rebound. Of the 234 goals, 145 were scored this way, or 61.97 per cent. These 145 goals include all his 12 headed goals.
His next most common 'method' is a solo run from outside the box ending with a shot unleashed inside the box, accounting for 37 goals, or 15.81 per cent.
Goals from the edge of the box, typically having taken possession in the 'D' then shaping or turning to shoot, mostly with his left foot, accounted for 25 goals, or 10.68 per cent.
Penalties account for 22 more goals, or 9.4 per cent.
Free-kicks outside the box, hit straight into the goal, account for five goals, or 2.14 per cent.
Messi's goals have come against 55 teams in six different competitions.
They are detailed below but first this graph shows his most frequent 'victims':
.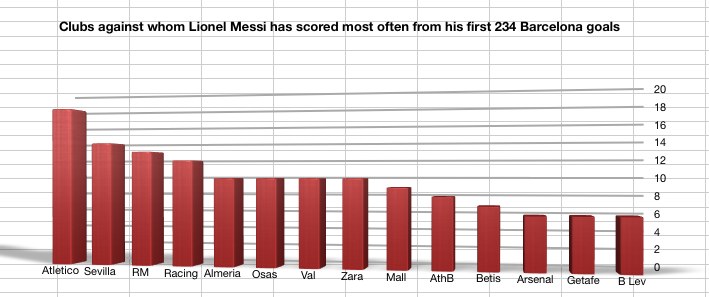 .
Lionel Messi's 234 goals for Barcelona against 55 teams in 6 competitions: a breakdown
153 in La Liga
49 in the Champions League
19 in the Copa del Rey
8 in Spanish Super Cup
4 in Club World Cup
1 in European Super Cup
.
Scored against
18 goals: Atlético Madrid
14 goals: Sevilla
13 goals: Real Madrid
12 goals: Racing Santander
10 goals: Almeria, Osasuna, Valencia, Zaragoza
9 goals: Mallorca
8 goals: Athletic Bilbao
7 goals: Real Betis
6 goals: Arsenal, Getafe, Leverkusen, Malaga, Villarreal
5 goals: Deportivo, Tenerife
4 goals: Panathinkaikos
3 goals: Copenhagen, Espanyol, Granada, Levante, Lyon, Recreativo, Shakhtar, Sociedad, Stuttgart, Valladolid, Viktoria Plzen
2 goals: Basel, Bate Borisov, Bayern Munich, Celtic, Gimnastic, Hercules, Kiev, Man Utd, Numancia, Santos, Sporting
1 goal: Alaves, Albacete, Atlante, Benidorm, Bremen, Celta Vigo, Cueta, Cultural Leonesa, Estudientes, Lisbon, Milan, Porto, Rangers, Rayo Vallecano
.
More stories mentioning Barcelona / Messi
Follow SPORTINGINTELLIGENCE on Twitter