By Nick Harris
SJA Internet Sports Writer of the Year
1 January 2012
Sport, like life, is gloriously unpredictable – and hence predictions are fun at least for those able to mock at leisure when all your predictions go tits up.
Still, Sportingintelligence thinks the following events might jolly well happen in 2012:
Andy Murray will win a Grand Slam singles tennis title.
Manchester United will retain their Premier League title.
Manchester City will win the Europa League.
Germany will win Euro 2012, having beaten England in the semi-finals.
Great Britain will top Russia in the gold medal tally at the London Olympics to finish third in the table behind the USA and China.
Tiger Woods will win a Major, possibly The Masters. Rory McIlroy will also win a Major, his second. And Europe will retain the Ryder Cup.
.
All of the above will contribute to a memorable, glorious year for British sport … and a few of the main events will be:
.
January
At the Australian Open in Melbourne (16 to 29 January), Andy Murray bids to become the first British man to win a Grand Slam singles title since Fred Perry at the 1936 US Open. And if he falls short, he gets three more chances at the French Open (28 May to 10 June), Wimbledon (25 June to 8 July) and the US Open (27 August to 9 September).
Roger Federer will win a Slam, possibly Wimbledon, while Rafa Nadal will win the French Open and Novak Djokovic will win the US Open if he hasn't won the Australian Open. Muzza and Djoko will split those between them in some order. Or maybe Muzza will win Wimbledon after Federer has won in Melbourne. Federer or Murray will win the men's singles gold at the Olympics.
.
April
The Masters at Augusta (5 to 8 April), the first golfing Major of the year, should see strong challenges from a posse of leading Brits including last year's long-time leader and US Open champion Rory McIroy, the world No1  Luke Donald, money list high-flyer Lee Westwood, and recent Major champions Graeme McDowell and Darren Clarke. But Tiger will also be in the mix.
And if one of the Brits don't win the Masters then there will be other Majors up for grabs at the US Open (in California, 14 to 17 June), The Open (Royal Lytham, 19 to 22 July) and the US PGA (Kiawah Island, 9 to 12 Aug). And if none of those produce British victories then there is certain to be a strong British element to the Ryder Cup team who take on the USA at the Medinah Country Club (25 to 30 September) when the defence of the trophy won at Celtic Manor in 2010.
.
May
The conclusion of the club football season. Manchester United will pip City to the Premier League title with Tottenham and Arsenal securing the other top-four places in the Premier League, although not necessarily in that order. The logic to United winning is simple: City have been thrilling, brilliant, cohesive and consistent thus far, while United by their own standards have been a bit meh for much of the campaign. And yet the table shows little between them.
United under Alex Ferguson always finish strong. Always. And City will inevitably have a wobble. Every team does. And City's could coincide with the absence of Yaya Toure at the African Cup of Nations. City will be consoled to some extent by winning the Europa League, against whom I'm not sure, but the final is on 9 May in Bucharest. Barcelona will win the Champions League on 19 May in Munich. Obviously.
.
June
Euro 2012 kicks off on 8 June and will be co-hosted by Poland and Ukraine, ending with the final on 1 July in the Olympic Stadium in Kiev. Fabio Capello's England will go into the tournament as fourth favourites but routinely optimistic despite England never having won a major trophy away from home soil.
England beat the reigning world and European champions, Spain, when the sides last met, and if the Euro 2012 favourites can be beaten, why shouldn't England travel with hope? (That is a rhetorical question, although anyone wanting to post a thesis can email to the usual address).
I won't go into all the whys and wherefores of the tournament but this is how it will unfold: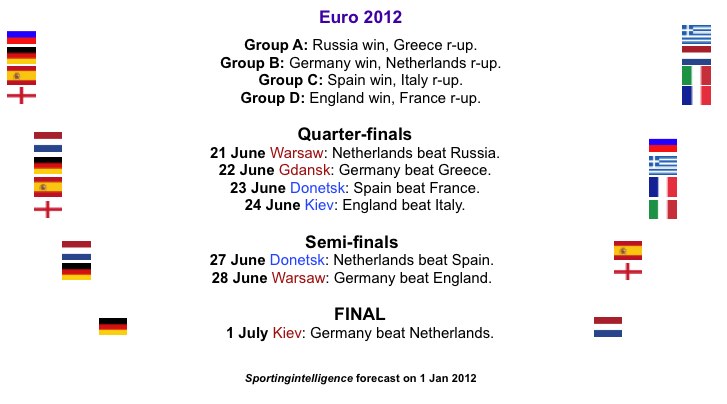 .
July
The Tour De France's first stage proper happens on 1 July, with the Tour concluding on the Champs-Elysees in Paris on 22 July. With Britain's Team Sky having just recruited the 2011 Sports Personality of the Year, Mark Cavendish, to their ranks, hopes are high that the Brits can have a greater impact on the world's most arduous race than ever before. No Brit will win. Obviously. Unless Wiggins comes up with something heroic. But some of the stage wins will be corkers.
.
July-August
The 2012 London Olympics (27 July to 12 August) mark the return of the Games to Britain for the first time since 1948, and provide Team GB with a chance to improve on the 19 gold medals won at the Beijing Olympics in 2008.
That medal haul, which extended to 47 medals in total when 13 silvers and 15 bronzes were added, was enough to give Great Britain the No4 place in the medal table behind only the giants of China (51 golds), the USA (36 golds) and Russia (23 golds).
The No3 spot in London is a tall order for TeamGB but not one that should be entirely ruled out. In fact it should be very much ruled in. TeamGB will win 24 gold medals and lots of other colours.
Many of the following will reach the podium, with those in bold winning gold or coming close, but the law of chance dictates some of those in bold will fail while some not in bold will win:
(NB: most of these sportspeople haven't actually qualified for the Games to date, but that is a mere detail)
Athletics: Jess Ennis, heptathlon. Mo Farah, 10,000m. Mo Farah, 5,000m. Dai Greene, 400m hurdles. Phillips Idowu, triple jump. Tiffany Porter, 100m hurdles.
Boxing: Luke Campbell, bantamweight. Andrew Selby, flyweight. Tom Stalker, light welterweight.
Canoeing: Tim Brabants, K1 1,000m. Liam Heath and Jon Schofield, K2 200m sprint. Ed McKeever, K1 200m sprint.
Cycling: Mark Cavendish, road race. Lizzie Armitstead, road race. Chris Hoy, keirin. Jason Kenny, men's sprint. Victoria Pendleton, women's sprint. Emma Pooley, women's time trial. Shanaze Reade, BMX. Women's team sprint (Victoria Pendleton, Jess Varnish). Women's team pursuit (Wendy Houvenaghel, LauraTrott, Dani King). Men's team sprint (team TBC). Men's team pursuit (team TBC).
Diving: Tom Daley, 10m platform. Tom Daley & Pete Waterfield, 10m platform synchro.
Equestrian: Laura Bechtolsheimer, dressage individual. GB, dressage team. GB, eventing.
Football: Team GB men. Team GB women.
Gymnastics: Beth Tweddle, uneven bars. Louis Smith, pommel horse.
Hockey: GB Women.
Rowing: Katherine Grainger and Anna Watkins, women's double sculls. Helen Glover and Heather Stanning, women's pair. Zac Purchase and Mark Hunter, Men's lightweight double. Men's four (crew TBC). Men's lightweight four (crew TBC). Men's eight (crew TBC). Women's quad sculls (crew TBC).
Sailing: Ben Ainslie, Finn. Iain Percy and Andrew Simpson, Star.
Swimming: Rebecca Adlington, 800m freestyle. Rebecca Adlington, 400m freestyle. Fran Halsall, 100m freestyle. Jemma Lowe, Fran Halsall, Ellen Gandy 100m fly. Jemma Lowe, Ellen Gandy 200m fly. Hannah Miley, 400m individual medley. Keri-Anne Payne, 10k open water. Lizzie Simmonds, 200m backstroke. Gemma Spofforth, 100m backstroke. Liam Tancock, 100m backstroke. Women's 4 x 200m freestyle relay.
Taekwondo: Sarah Stevenson, 67kg. Jade Jones, 57kg. Aaron Cook, 80kg.
Tennis: Andy Murray.
Triathlon: Men's: Alistair Brownlee or Jonathan Brownlee. Women's: Helen Jenkins.
.
The Paralympic Games will also be staged in London, from 29 August to 9 September. Great Britain won 42 golds in 2008 to finish second in the table behind China (89 golds) and will have hopes of beating the Beijing tally.
.
September
Europe will retain the Ryder Cup. Darren Clarke will fill it with Guinness and drain it. More than once. Even if he isn't in the team.
The Twenty20 cricket World Cup will start, and England will begin their defence of it. I'm not sure they'll win it, but they'll certainly finish the year with their No1 Test status intact.
.
NB: Other stuff will also happen along the way. A lot of stuff. 
.
Follow SPORTINGINTELLIGENCE on Twitter