By Brian Sears
28 September 2012
For a club with aspirations to become regular top-four finishers in the Premier League, Tottenham have an absolutely woeful record in the Premier League when playing away against the clubs long known as the 'Big Four'.
In the 20 completed seasons of the Premier League they have played a combined total of 80 games away at Manchester United, Arsenal, Chelsea and Liverpool, and guess how many they have won?
Four out of eighty.
That's one in 20, or five per cent.
And those four have come at Liverpool (two wins in 20 games) and Arsenal (ditto). Spurs have never won at United or at Chelsea in the Premier League.
This is pertinent because on Saturday, Spurs begin their 2012-13 round of visiting the Big Four. It's Old Trafford this week, then The Emirates in November and then a lull until Anfield and Stamford Bridge late on in the season.
Spurs's wins away at the Big Four are so infrequent we can recap them quickly in full: at Highbury (3-1) in the last game of 1992-93; at Anfield 2-1 in August 1993; at The Emirates 3-2 in November 2010; and at Anfield 2-0 in May 2011.
From a possible 240 points away at the Big Four, Spurs have collected 35. From a possible 60 points at Old Trafford, they have won three: from three draws.
Spurs should be given a warm welcome at Old Trafford. United have gained more points there against Tottenham – 54 from 17 wins and three draws – than against any other of their visitors in the Premier League era.
As the graphic below shows in detail, 44 clubs have visited Old Trafford in the Premier League and it's worth listing the records of them all at this most difficult destination in English football.
Spurs have the poorest record in terms of total points handed to United, followed by Aston Villa and Everton, who have each managed a single win in 20 Premier League games there.
United have taken an average of two or more points per game from every visitor except two: Chelsea (whom United have won just 1.55 points per game against) and Middlesbrough (1.79).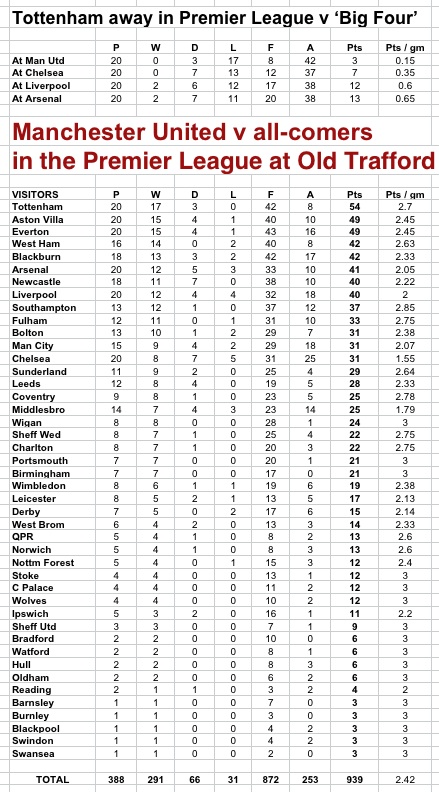 .
And another thing ….
Last season saw a record number of away wins for a 20-strong Premier League season. There were 116 away wins in the 380 games played working out at three for every 10 games played (or 30.53 per cent to be precise).
The two Manchester clubs led the way with double-figure away wins: United had 13 of 19 and City had 10 of 19.
Even Bolton, who ended up relegated, managed six away wins.
The early returns for this season are just 10 away wins in 49 games by all clubs combined, for a ratio of just more than two away wins in 10 games (or 20.4 per cent to be precise).
If that rate were to be continued season-long there would be a total of just 78 away wins – far below the previous lowest number of 90 recorded two seasons ago.
What seems to be happening is that drawn games are currently rife – 17 out of the 49 have ended all square, or more than one in three.
The long-term occurrence of draws in the Premier League is 27 per cent, or much nearer to one in four.
The 10 away wins so far are detailed in the graphic below.
.
More on Tottenham / Man Utd (or search for anything else in box at top right)
Follow SPORTINGINTELLIGENCE on Twitter
.