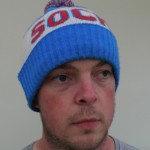 .
Still pining for a festival of sport after the London Olympics and Paralympics lit up the summer? Pine no more. The next Olympics begin in 500 days – in Sochi, Russia, from 7 February 2014. MARK STANIFORTH, left, ardent admirer of all things Winter Games, explains why it's a big deal, and why there are just as many reasons to care. Read Mark Staniforth's blog here
.
.
.
"I didn't go looking for fame, but these days people who've never met me know who I am. My life is radically different from the way it was before February 16, 2002, the night I became an Olympic gold medallist at the Salt Lake City Winter Games.
"The planets came into alignment for me as a tangle of bodies cascaded to the ice in front of me, sweeping me to an unthinkable, unimaginably crazy gold medal. I wasn't the strongest or the best skater in that race, and I knew I was lucky – maybe the luckiest athlete to ever win gold."
Steven Bradbury, Last Man Standing (GEP Books)
 .
By Mark Staniforth
25 September 2012
If there is one athlete who best embodies the uniquely unpredictable and irresistibly anarchic spirit of the Winter Olympic Games, it has to be Steven Bradbury.
The Australian short-track speed-skater embraced outrageous fortune to win gold in Salt Lake City, coming from a good half-lap behind to cross the line first when all four of his rivals crashed on the final bend.
The Delta Center was in uproar: 15,000 Americans, there to witness the crowning of their golden boy Apolo Anton Ohno (who, from a sitting position, thrust a foot over the line to win silver) booed and jeered. The judges conferred. Bradbury mocked the derision by sailing round a victory lap with his tongue stuck out. Finally, the judges confirmed the result would stand.
In a press conference, Bradbury unfurled his extraordinary story: how he almost died on the track at the 1994 World Championships in Montreal, when he fell and impaled himself on an opponent's skate, losing four litres of blood and requiring 111 stitches.
How he broke his neck in a fall in 2000, and had to wear a halo brace for more than a month. Nobody, not even the most jingoistic of Ohno fans up the bleachers, was going to deny Steven Bradbury the right to wear an Olympic gold medal around his neck.
.
Article continues below
.
Nodar Kumaritashvili was not so lucky. The 21-year-old Kumaritashvili lost his life on the luge track at the Vancouver Games in 2008 after being catapulted from his sled, which had been travelling at 89.2mph, and out of the chute, where he collided head-first with a steel support.
The Games had not yet started, and here was a tragic reminder that for all the tumult that makes the Winter Olympic Games so alluring, its risks, which inspire that allure, on the bobsleigh track, the ski slope or the short-track rink, bring its competitors closer to death than most.
To look into Amy Williams' Arctic-blue eyes later that same day was to ridicule the notion that winter sports athletes are in any way less deserving of the title 'Olympian' than their summer counterparts. To dispense with the myth that the (relatively paltry) sums pumped into winter sports simply serve to facilitate the raucous apres-skis of directionless trust-fund twits.
Speak to Bradbury's doctor. Speak to Kumaritashvili's parents. Speak to Williams, a bright 29-year-old from Bath, who was preparing to become one of the first athletes to slide down the track – dubbed, predictably, the 'death track' by British tabloids – since Kumaritashvili's accident.
'As far as the risks are concerned, you are aware of them and you accept them,' Williams said. 'Of course the tragedy is on everyone's mind, but it is a fact that I just seem to do better on faster tracks.'
Later that week, Williams hurtled to Olympic gold, breaking the track record twice in her four runs to beat her rivals by over half a second, a veritable marathon in skeleton terms, and win Great Britain's first Winter Olympic title in 26 years, since Torvill and Dean Bolero'd their way to a string of perfect sixes.
Williams retired in 2012, deciding against a third operation on ruptured knee ligaments. Others persist, like the Isle of Man snowboarder Zoe Gillings, who suffered a freak training accident in 2005 in which she shattered all the bones in her left foot, and had doctors debating whether she would ever walk again, let alone snowboard. Eight months later she went to the Turin Winter Games, and finished 15th.
Gillings will go to Sochi well versed in the vagaries of the winter sports roulette which afforded her a second chance: which lifted Bradbury off the bloody ice to Olympic gold, yet which did not spare the tragic Kumaritashvili.
Such tales of sporting heroism ridicule the notion still propagated by many that the Winter Games do not have a place: that they are somehow silly or, for nations without snow, irrelevant.
The former International Olympic Committee president Avery Brundage was the Winter Games' biggest detractor, devoting much of his 20-year presidential tenure to its banishment. 'The creation of the Olympic Winter Games was a deplorable mistake which has done much to tarnish the Olympic image,' said Brundage, who is more notoriously known for his zealous attempts to prevent a boycott of the 1936 Berlin Olympics despite the rise to power of Germany's Nazi government. 'We should never have created the Olympic Winter Games, but how can we stop them now?'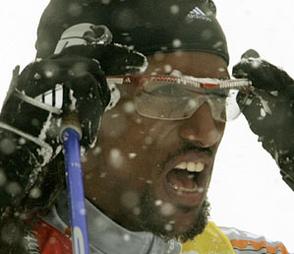 Brundage believed the Winter Games to be 'parochial' and 'far from universal'; accusations which have been challenged in recent years by the participation of athletes from nations whose winter climates are rare to non-existent: the Vancouver Games welcomed skiiers from Bermuda, the Cayman Islands and even Ethiopia, whose sole representative, Robel Teklemariam (right), was born in its capital Addis Ababa, just 500km away from Dallol, which is recognised as the hottest place on earth.
But with this new came a risk of ridicule which has hampered the Winter Games since 1998 in Calgary, when relaxed qualification rules ensured the headlines were made by the relatively hopeless British ski-jumper Eddie Edwards, and the Jamaican bobsleigh team immortalised in 'Cool Runnings': no doubt a great film, but nonetheless pandering to the perception of the Winter Games as more a raucous get-together than an elite sports gathering, and one that could be joined by just about anyone eager enough to pick up a pair of skis.
The reintroduction of curling after a 74-year absence for the Nagano Games in 1998 did not, on the face of it, improve the Winter Games' image: adding to the outclassed African skiers came the so-called 'housewives with brooms'.
Yet many of those who mocked were among a peak British television audience of nearly six million who stayed up beyond midnight in 2002 to watch Rhona Martin's team claim the nation's first Winter Games gold for eighteen years with an enthralling last stone victory over Switzerland.
Perhaps it is the inherent glorious chaos of the Winter Olympics – its heady blend of sporting excellence and crazy good luck; its speed and danger and housewives with brooms and speed-skaters disappearing like dominos – which makes it so compelling. Its unpredictability gives hope to those so-called lesser nations, like Great Britain, whose short-track speed-skaters, as Bradbury proved, need not necessarily become too concerned about finding themselves half a lap off the pace.
That said, 12 years on from Martin's moment, Great Britain will seek to join the winter party in unprecedented fashion. The British skeleton programme, which has yielded medals of every colour over the last three Olympics, as well as overall world champions in Kristan Bromley and his wife Shelley Rudman, is the envy of plenty of ice-bound nations: its champions have been moulded on nothing more than a push-track track at the University of Bath.
The curlers are in with a shout as ever, though the housewives are long gone and replaced by the likes of Eve Muirhead, a poster girl for the 2010 Vancouver Games, and a four-time world junior champion into the bargain. Plus, even before Great Britain's extraordinary Olympic summer had drawn to a close, Sheffield's James Woods had claimed victory in the first Slopestyle World Cup of the new season in Argentina.
It was Great Britain's first snowsport World Cup win in eight years, and Woods' timing could not have been better: Slopestyle will make its Winter Olympic debut in 2014.
With today marking 500 days until the flame is lit over Sochi to signal the start of the latest unpredictable and anarchic winter sports ride, the post-London hangover need not last long.
.
More stories mentioning the 2012 Olympics / Paralympics on this site
Follow SPORTINGINTELLIGENCE on Twitter