By Brian Sears
23 October 2015
Three derbies in the Premier League this weekend have seen recent trends that highlight a turning of the tide between the teams involved. One team in each of the three pairings was clearly a better or stronger or competitive side in their first tranche of meetings in the Premier League, and then something happened for momentum to swing the other way.
The games in question are Sunderland-Newcastle; Manchester United-Manchester City; and West Ham-Chelsea.
Respectively Newcastle and United were definitely long superior to the teams they face this weekend, while West Ham were on a par with Chelsea.
But in recent times, Newcastle have faltered, particularly badly in the derby; while foreign riches at City and Chelsea have fuelled significant advances in their on-pitch fortunes and driven a turnaround in their derby fortunes.
This weekend's games will be a barometer, to a greater or lesser extent, of how much Newcastle, United and West Ham might be regaining their mojo in these particular head-to-heads; or whether in fact the latter dominance of the teams they face is something that will last a while long.
Looking at each case in more detail, we'll start in the north-east.
In their first 19 Premier League games with Newcastle, Sunderland gained just 16 points and enjoyed only three wins. But in the last seven north-east derby games, Sunderland have gone unbeaten (five wins, two draws), and gained 17 points.
Article continues below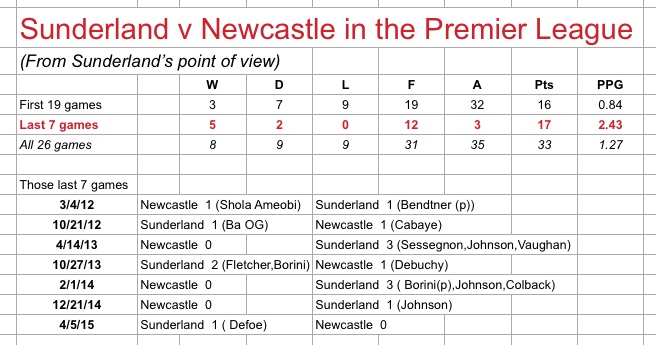 .
Before there is too much excitement that Big Sam is about to guarantee another three points in this head-to-head, it should be remembered Sunderland have yet to win a game this campaign while Newcastle broke their duck last week in some style.
It was the seventh time in Premier League games that Newcastle have scored six or more goals and here's a record of those seven results.
March 94 Newcastle 7 ( Beardsley 2,Lee 2, Watson 2, Fox) Swindon 1 (Moncur).
October 95 Newcastle 6 (Howey, Ferdinand 3, Clark, Albert) Wimbledon 1 (Gayle).
December 96 Newcastle 7 (Shearer 2, Ferdinand 2, Lee 2, Albert) Tottenham 1 (Nielsen).
September 99 Newcastle 8 (Hughes, Shearer 5, Dyer, Speed) Sheff Wed 0.
March 02 Newcastle 6 (Shearer, Cort, O'Brien, Solano 2, Bernard) Everton 2 (Ferguson, Alexandersson).
Aug 10 Newcastle 6 (Barton, Nolan 2, Carroll 3) Aston Villa 0.
Oct 15 Newcastle 6 (Wijnaldum 4, Perez, Mitrvic) Norwich 2 (Mbokani, Redmond).
Meanwhile in Manchester ….
In the first 14 seasons of Premier League Manc derbies, City only gained 21 points and five wins from the 28 games. But in the last four seasons City have gained 18 points and six wins from the eight games.

And in London ….
For the first 10 seasons of Premier League football between West Ham and Chelsea, the Hammers held their own, scoring 30 points to Chelsea's 27. But in the last nine seasons, West Ham have only gained one win from the 18 games played.

.
…. And finally
The statistics in these pages will often be in relation to the Premier League era when they deal with English football. We know the game is a bit older than that. We know Preston won as Invincibles in the league's first season in 1888-89. But the Premier League is a distinct era if only because of the money that has transformed the picture. This is the 'monied era'.
To get some idea of how the financial situations of these clubs have changed over time – and finance is a big influence in success in football – further reading and related articles spring from Sportingintelligence's annual global sports salaries reports, are linked here. The 2015 edition of the report (right) was published in May.
You can download a free 120-page PDF here.
2014 Report             2013 Report            2012 Report         2011 Report          2010 Report
.
More on Arsenal / Liverpool / Man Utd  (or search for anything else in box at top right)