By Brian Sears
29 August 2014
Manchester United travel to Burnley for the Premier League's lunchtime match on Saturday with a single point from two games so far, with Louis Van Gaal still trying to sort out the mess he inherited and with the British record transfer signing – £59.7m Angel Di Maria – in their ranks.
Their fans will also remember, clearly and painfully, the last time they went to Turf Moor, on 19 August 2009, when they lost 1-0 in a game that was every bit as joyful for Burnley fans as it was terrible for United. As one contemporary report described it: 'Burnley marked the return of top-flight football to Turf Moor after 33 years with a memorable win against Premier League champions Manchester United. Robbie Blake's explosive first-half volley crowned a night of high emotion as Burnley mixed passion with their trademark passing style to inflict defeat on Sir Alex Ferguson's side.'
The upside for United is that in 28 Premier League games since against promoted teams, they have not lost, winning 23 of those matches and drawing five.
The harsh reality for clubs who have come up from the Championship is that more often than not they will get beaten by the 'big' clubs. As the table below shows, Chelsea, United, Arsenal and Liverpool have all average pretty much two points per game against promoted clubs over 22 years. Chelsea and United have average 2.3 points per game.
Article continues below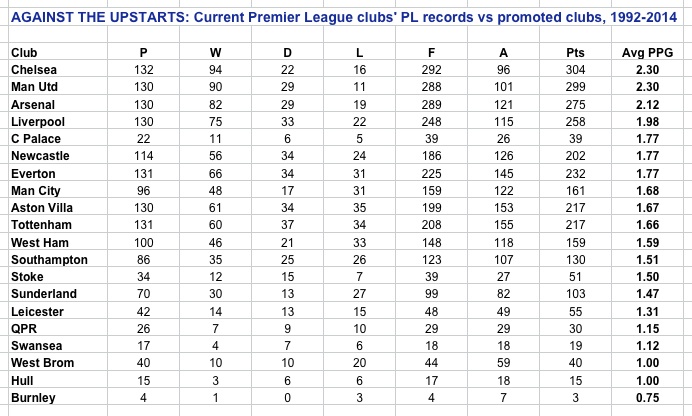 .
The three promoted clubs this season (Leicester, Burnley and QPR) are still struggling to find their feet at the top table, unsurprisingly. Leicester have at least gained their first point (at home to Everton) but then lost to Chelsea and next they are visited by Arsenal, who the table shows have the third best historic record of gaining points from promoted clubs.
Indeed in the last two seasons Arsenal have won 11 of those 12 games played and drawn the other one, a 1-1 draw at Southampton on New Year's Day 2013. Then again, three  seasons ago Arsenal lost 2-3 at Swansea and 1-2 at QPR in the first three months of 2012.
Chelsea's wins this season over Leicester and Burnley have put them marginally ahead of United in our table.
After the international break, Burnley will be away at Crystal Palace who have a surprisingly successful record of their own when it comes to taking on the promoted sides. Of 22 games played Palace have won half of them and only lost five.
QPR, like Burnley, are also pointless and play Sunderland this Saturday. According to our table, on paper at least they must a sniff of a first point this season. They should make the most of it because a fortnight later they will be at Old Trafford and, probably, up against it.
.
More on Man City / Liverpool  /Arsenal / Chelsea (or search for anything else in box at top right)