By Brian Sears
20 September 2012
I'm no entomologist and I'm certainly no apiologist but as a statistician with an eye for the weird and wonderful in football, I can't help but notice a lack of Bs in the Premier League this season.
The relegation last season of Bolton and Blackburn following hard on the heels of Birmingham and Blackpool the season before means there are no clubs beginning with 'B' in the Premier League – for the first time in the revamped top division's 21-year-history.
This is especially notable because 'B' is the most common first letter for football teams among the 92 clubs in England's  four professional divisions. No fewer than 15 of them start with 'B' – so that's one in six.  See graphic below
At any one time, therefore, one might expect three or more 'B-teams' in the Premier League but the buzz has gone: there are none.
Way back in 1958-59 there were as many as five clubs beginning with B finishing in the top 10 places in the top division that season: Bolton(4th) and then Burnley, Blackpool, Birmingham and Blackburn 7th to 10th respectively.
The 1971-72 season was the first post-war season without a B-team in the First Division.  Then B-teams were around until 1984-85 when again they migrated.
Birmingham returned for just the 1985-86 season until there followed a six-season season spell without a B at the top table and then came the Premier League with Bs beginning to swarm.
After B-word names come C-word clubs (11 of them) and S-word clubs (11) then W and M.
The Bs are currently swarming in the Championship, where no fewer than eight of them are poised there for a possible Prem comeback.
In the 66 completed post-war seasons, only twice have the champions of England begun with the letter B : Burnley in 1959-60 and Blackburn in 1994-95.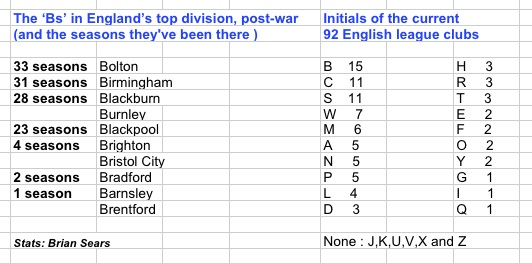 .
And another thing …
Swansea have the opportunity to crack one of their Premier League 'ducks' when Everton visit their Liberty Stadium this Saturday.  With 42 games gone in their Premier League adventures so far, the Swans have only failed to collect a Premier League point from three of their opponents: Everton, Norwich and Manchester United, all of whom did the double over Swansea last season.
As Norwich and United do not venture into Wales until December the arrival of Everton gives the Swans this early chance to rid themselves of one unwanted duck. Swansea's club by club record is in the graphic below.
.
Want more on ANY CLUB?  (Then search for anything in the box at top right)
Follow SPORTINGINTELLIGENCE on Twitter
.