By Brian Sears
and Nick Harris
SJA Internet Sports Writer of the Year
20 September 2012
It's been the biggest domestic fixture in English football for the best part of four decades, and in terms of global interest in the two teams involved, it still is.
Liverpool versus Manchester United remains a fixture that resonates, a contest between the two most successful clubs in the history of English football.
They are the No1 and No2 all-time trophy winners in English football across all competitions. (See here)
They sell more merchandise, including shirts, than any other English clubs. (This is from 2010 but the core facts remain the same).
United draw more TV viewers around the world than any club, and Liverpool from any knowledgeable viewpoint remain the only other English club with a similar (though lesser) worldwide appeal. (A background on United's TV pull).
This is all the more remarkable, at least as far as Liverpool are concerned, because they have gone so long without winning England's football league; 22 years and counting.
Indeed the past 40 years in English football might reasonably be described as 20 dominated by Liverpool (who won 11 titles between 1973 and 1990) and then 20 dominated by United (winning 12 titles since 1993).
This graphic depicts the two eras of domination. (Article continues below)
.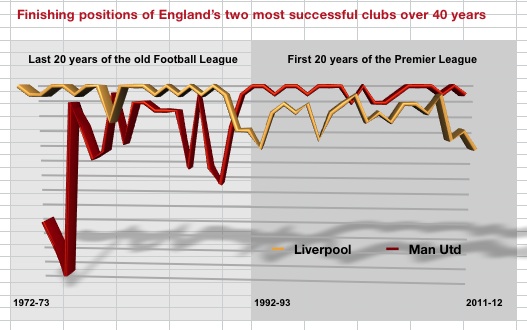 Both clubs, of course, are now owned by American groups – United by the Glazers since 2005 and Liverpool by John W Henry's Fenway group since 2010.
They respectively own the Tampa Bay Bucs (NFL American football) and the Boston Red Sox (MLB baseball) teams, which in a recent extensive study by ESPN The Magazine in the USA were ranked as the 97th and 117th (of 122) sports franchises in major US sports (NFL, NBA, MLB and NHL).
The headlines of those findings and rankings are linked here and consider all kinds of factors from value to money to title chances to fan relations to the honesty and openness of the owners.
The challenge for the Glazers and Fenway in English football is to maintain (or restore) the historic dominance of United and Liverpool – and on the pitch at least that looks to be a much greater challenge at Anfield these days.
Sunday sees the latest installment in the biggest match in English football when Liverpool host United. And the Premier League era at least shows the fixture has been dominated by United.
United have won nine of the 20 Premier League meetings at Anfield (45 per cent) while Liverpool have won only seven (35 per cent) with four draws (20 per cent).
These numbers make United by far the most successful visitors to Anfield in the Premier League era in league games.
As our graphic below details, Liverpool have played 388 league games at Anfield in the Premier League era, winning 236, drawing 96 and losing 56 of them.
United have won nine of those 56, followed by Arsenal with next most wins (six from 21 games) and then Aston Villa and Chelsea (four each).
See graphic below for details of all other opponents.
Liverpool will want to concentrate on recent history: three of their wins at home against United in the Premier League have come in the last four seasons and last season the result was a 1-1 draw.
Manchester City's Anfield record is in stark contrast to their Manchester neighbours. City have now visited Anfield on 16 Premier League occasions, only managing one win: a 2-1 victory in May 2003 when Anelka scored twice after Liverpool led through Baros.
West Ham have had the most Premier League visits to Anfield without a single win: 16.  The Hammers have to wait until April for their 17th opportunity to seal that elusive Anfield victory.
Barnsley and Blackpool share the distinction of having the only 100 per cent records on Premier League visits to Anfield: one win each from one visit.
.
More on Liverpool  / Man Utd (or search for anything else in box at top right)
Follow SPORTINGINTELLIGENCE on Twitter
.