By Nick Harris
7 March 2010
Aston Villa's transfer spending since the start of last summer has been bigger than assumed and has probably been close to £50m in that period.
A note in the most recent accounts of Villa's parent company, Reform Acquisitions Limited, which were released just before the weekend, says the "net cost" of transfers since 31 May 2009 has been "approximately £29.4m".
In the period in question, Villa sold Gareth Barry to Manchester City for a sum widely reported at £12m, sold Zat Knight to Bolton, for around £4m, and then sold Craig Gardner in January for an initial fee of £3m. Together they brought in £19m.
If the net cost of player purchases since 31 May 2009 has been £29.4m, as the accounts state, then Villa have presumably spent some £48.4m on transfer fees and costs (including agents' costs). Add VAT and the total gross outlay jumps above £50m.
The relevant note in the accounts says: "Since 31 May 2009, a subsidiary company has contracted for the purchase and sale of various players. The net cost of these transfers, taking into account the applicable levies but excluding value added tax, is approximately £29.4m."
The players coming in who cost money were, in descending order of assumed expense, Stewart Downing from Middlesbrough (reportedly for £12m), Fabian Delph from Leeds (£8m), Stephen Warnock from Blackburn (£7m), Richard Dunne from Manchester City (£6m), James Collins from West Ham (£5m) and Habib Beye from Newcastle (£2m).
If those reported fees were correct, that would total only £40m, so either the fees or the brokering costs (or both) were actually higher. Or the income from those sold was lower, which seems less likely.
The bottom line is that Randy Lerner is investing heavily in the club, and especially in the wage bill. Below is the relevant section of Reform's accounts to 31 May 2009 that shows salary costs. Staff costs for all staff combined have leapt a massive £20m in one year, from £50.447m to £70.577m.
This sum covers the pay of personnel including 134 "players, football management and coaches", 168 commercial, merchandising and operations staff, 99 people working in maintenance and admin, 44 staff in community projects and 953 part-time employees on match days.
As regular readers of sportingintelligence will know, the headline figures in 'Staff costs' only bear some resemblance to what the players receive. When pension and social security costs are removed, Villa paid a combined £63.135m to 1,398 staff in the year to 31 May 2009.
Of course the first-team squad got a big lump of this between them, but by no means all of it. By sportingintelligence's calculations (as used in our sports salaries database), the average first-team salary at Aston Villa in 2008-09 had jumped to £2.41m per man per year, or £46,253 each player per week.
This put Villa in the top six payers in the division per first-team average, and they finished in sixth place.
That total wage bill of £70.577m does not include any of the players mentioned who signed last summer and it can be assumed it will rise again in next year's figures.
The other headline figures in the accounts (in the second scan below, with club accounts on the left and Reform accounts on the right) were club turnover of £84.2m, and an annual loss on ordinary activities for the Group of £46.2m.
The accounts also show Lerner's loans to the club standing at £84.5m, and interest paid of £4.5m. Lerner's US-based holding company was also paid £7,652,748 in "management charges".
The American billionaire has, however, showed no signs of being anything but a generous and benevolent owner to date. The accounts show he has injected £12.5m more cash into Villa this season already.
.
A sample of other stories on sportingintelligence, most of them mentioning Villa
See what's on sportingintelligence's front page
For those new to these pages: a quick-start site map
.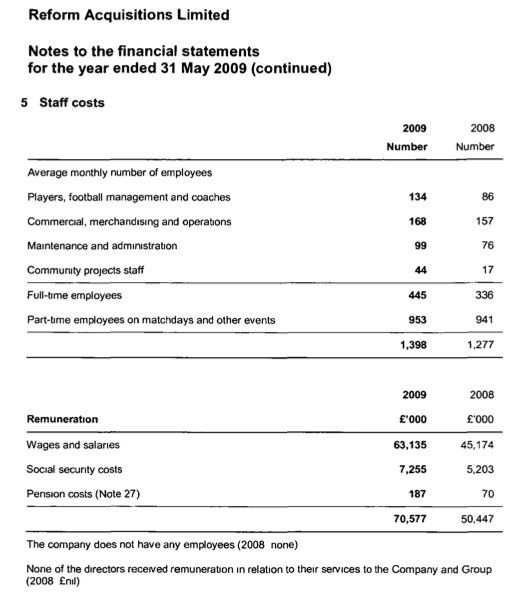 .