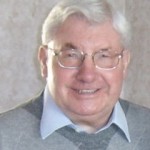 JOHN ROBERTS wrote for the Daily Express, The Guardian, the Daily Mail and The Independent, where he was the tennis correspondent for 20 years. He collaborated with Bill Shankly on the Liverpool manager's autobiography, ghosted Kevin Keegan's first book, and has written books on George Best, Manchester United's Busby Babes (The Team That Wouldn't Die) and Everton (The Official Centenary History).
.
.
By John Roberts
7 March 2010
Eighty five years ago Everton paid Tranmere Rovers £3,000 for centre forward William Ralph "Dixie" Dean, who went on to score 349 league goals in 399 matches over 13 years, including league 60 goals in the 1927-28 season, a record that still stands.
Dixie died 30 years ago this month, in March 1980, at the age of 73,  but a couple of years earlier I had the great pleasure of spending time with him so he could talk me through that historic 1927-28 campaign, goal by goal, while I was researching Everton: The Official Centenary History.
I spent an afternoon with Dixie at his daughter Barbara's home in Moreton, Wirral. I still have the tapes of Dixie's recollections, and below, for the first time, is a detailed transcript of our conversation that day about a very different era.
As Dixie told me of goal celebrations: "There was no pulling me about and all that in those days, there was a bit of a knock on the shoulder or a touch of the hand or something but there was never any of this here love-making going on."
But fan fervour hasn't changed. As Dixie explains in his own words below, the day he scored his 60th goal, he left the pitch early to avoid being mobbed, and asked the referee to tell the other players that he'd gone for a 'Jimmy'. The ref duly obliged.
.
In conversation with Dixie Dean: Part One
JR: Everyone talks about the 60 goals, which was such a marvellous achievement. How big a part did the wingers play in your era?
DD: Well, as regard to wingmen, they anticipated my movement in the middle of the field knowing I'm watching them when they've got the ball and vice versa. They're watching me when I've got the ball and I always wanted a good, fast ball because when that ball comes over at what, say 50mph, [the goalkeeper's] got no chance. You only need a flick and it's in the corner.
I think myself that if I'd have had Peter Thompson and Ian Callaghan, who played for Liverpool, if I'd have had them in my prime I'd have got 160. I was in a public house one night, watching them play a Spanish team at Anfield and the balls that came over there, I'd scored three before half-time. Standing at the bar, so you can tell…
JR: Just made for you were they?
DD: Absolutely, yes. And you can't get away from the fact that Liverpool have always been noted for goalkeepers, especially goalkeepers. Everton are always noted for centre-forwards. You can go right back in the history of them and find that's right. The one I had to leave it to was Tom Lawton who, of course, was captain, and played a few times for England, did Tommy. Of course, the war ruined his career.
JR: The war it took a big chunk out of Lawton's career.
DD: It was a great pity.
JR: The season that you scored the 60 League goals, I mean, did you feel at the start that it was going to be any different?
DD: Then, I never really thought of breaking the record, or getting 60. I was simply in the team and we used to get £2 bonus, that's what we were after mostly, of course.
JR: That was for a win?
DD: £2 for a win, £1 for a draw. And nowt if you lost.
JR: And your wage would be about…
DD: £8. When I first went to Everton I was only on £6, because I was too young you see, 18, one of the youngsters, so it went up £1 the following season and soon afterwards they gave me the full £8.
JR: So you'd only have been about 20 years old in the 1927-28 season.The season before that Everton had a bit of a bad run in the League, and you arrived in March 1925.
DD: Yes, well I played my first game against the Arsenal on the following Saturday, at Highbury, and I nodded a goal there and it didn't count. I'd headed this goal, the goalkeeper pulled [the ball] out of the side-netting and threw it up the field. And when I turned around, the referee says 'play on.' And, of course, he hadn't seen it. It had gone in so quick. I didn't get it…
JR: You didn't get it?
DD: No, no…
JR: That is amazing … didn't you make a protest to the referee?
DD: Well, it's no use cribbin', the game was going on again.
JR: Didn't the goalkeeper ever admit it afterwards?
DD: Yes, he turned around and told me, he fronted me when we were going off at half-time. He turned around and told me then, 'it was in the top of the net,' he said, 'I pulled it off the top.'
JR: Was it from one of those fast crosses you were talking about?
DD: Yep, yep, one from Sammy Chedgzoy, er, England international outside-right.
JR: And you just met it?
DD: Just met it, and butted it straight. It went so quick, as I say, it went in the top of the net but the goalkeeper had gone across for it and caught it inside the net and threw it up the field.
JR: An amazing start…
DD: Yeah … well that was the first game [of my Everton career] and then the last game of the 1927-28 season, the 60-goal season, was [also] against the Arsenal. So I got my own back [that day].
JR: That was at Goodison.
DD: Yeah.
JR: You needed three goals [to beat George Camsell's record of 59 league goals], and it finished 3-3.
[Note: Dixie scored the hat-trick he needed to get to 60 goals in that 3-3 result].
DD: The last goal came about three or four minutes off the end. The ball came across from Alec Troup, the outside-left, a corner-kick I butted this one in.
JR: When you scored that goal, did your team-mates just shake your hand?
DD: That's all, yes. There was no pulling me about and all that in those days, there was a bit of a knock on the shoulder or a touch of the hand or something but there was never any of this here love-making going on.
JR: But the ground must have been exploding with noise.
DD: Well yes, of course that's what did happen, because I turned round to the referee and I said: 'Look, I'm going off, if you don't mind, tell them I'm going off for a "Jimmy" or something.' And he said: 'Listen, if I were you I'd be in there now.'  I went off, and that was that, because I would have got murdered.
JR: In fact, two guys came on, didn't they, when you got the goal?
DD: Oh aye, two fellas came on and one of them had whiskers like, er, one of those things you see, what do you call 'em, crawling on the ground with the whiskers, spikes on…
JR: Oh, yeah .. hedgehog.
DD: Hedgehog … Scotland Road hedgehog.
JR: And he gave you a wash and brush up.
DD: Aye, he came trying to rub them, but I'd had enough of that and away I went.
JR: And you went off before full time?
DD: See, we were being presented with the League trophy in the stand, so, of course, you see it was all right. I was going up again to the stand.
JR: But it saved you from being mobbed on the pitch.
DD: Yeah.
JR: To look back now and think that you did actually score 60 league goals, it seems to get more incredible as time goes on, doesn't it, the way football has developed?
.
To be continued . . . Part Two is here
.
Some material from the interview also appears in 'Everton: The Official Centenary History' and 'The Legendary Dixie Dean' CD book.