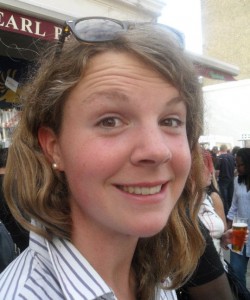 ALEXANDRA WILLIS is the Deputy Editor of ACE Tennis Magazine, and alongside mag work and an affair with social media, has the dubious honour of following British players to Grand Slam qualifying from time to time as part of her professional duties. If you happen to bump into her court-side, she'll probably tell you that she went to Oxford (and not just shopping).
.

.
.
.
By Alexandra Willis
24 September 2010
.

I have a confession to make. Football has never been my greatest love. I have watched it for years, perching on the corner of the sofa while my father whooped and applauded the ant-like figures on the television screen, urging them on with a bellow or a roar. Euro 96 – that was an exciting one. Shearer and Sherringham combining to score four goals for England against Holland. What scenes.
And then there was the 2002 World Cup – England to face Brazil in the quarter-finals. Would you believe it, we petitioned our school to put a screen up so we could watch it. Either that or leave the teachers sitting by themselves in assembly.
.
So I did follow it. I moaned and groaned at most of England's matches on TV. I dipped my toe into the waters of the Premier League, the Champions League and the FA Cup. I even set up a Fantasy Football team (it has not been a success). I tried to understand the offside rule. I took great interest in the 1999 Man U treble. And no, David Beckham did not have anything to do with it.
But I never supported a team. I never went to a match. I never experienced that unfathomable pull of a fan putting their lung capacity into cheering on 11 men they don't know. I didn't trust it I suppose. Didn't understand it.
Now for the shocking part. Last weekend I went to a Premier League football match. And I loved it.
.
It's all twitter's fault really. I was idly skimming through the people I follow, (something I do on an almost-hourly basis), and up popped Right To Play, an athlete-based international organisation that uses sport to improve the lives of children in disadvantaged areas of the world.
They were offering tickets to watch Chelsea play Blackpool, and all you had to do was re-tweet. So I did, more out of habit than any yearning desire to actually win. I never win anything. Just ask the curator of the school raffle. But not this time. 48 hours later, I found myself sitting at the top of the West Stand at Stamford Bridge, surrounded by so much royal blue I felt like I was in the requisite aisle at Uniqlo.
The first thing that struck me was the noise. A constant hum and thrum from the minute I began the climb up to my seat, some of it songs, some of it chants, some just chatter. Who knew what they were saying, but it sounded fervent. And that was before there was sight of a player on the pitch. The Blackpool contingent, small, but clearly visible in their radioactive orange, were tucked away in a corner, hemmed in by more stewards than there were in the rest of the stadium, and singing their hearts out just as loudly.
I'm afraid I couldn't tell you the minutiae of the match. I was too busy trying to work out who was who. Chelsea, as has been their wont this season, scored immediately, Salomon Kalou (I was told) finishing at the far post after 72 seconds. Up on their feet went the 41,761-strong crowd (minus the Blackpool fans and me), screaming, cheering, waving fists, arms, legs. Gosh. No one had told me that would happen.
.
No matter, I was prepared for the next goal, a low-flying scorcher from Florent Malouda. The ball hit the back of the net, and I was standing on my chair, copying the Didier Drogba shirt-clad five-year-old in front of me. The injured Frank Lampard, watching from the stands, may have been yawning, but I certainly wasn't.
There were two more goals – outrageous trickery from Drogba, helped by Ashley Cole, and a Drogba-Malouda combo that allowed the Frenchman to flambé Chelsea's fourth past the hapless Blackpool keeper.  True, the second half may not have yielded any more scores from the azure army, but by then it was too late. I was a convert.
It was entertaining enough listening to the embattled orange fans refusing to back down. 'You've only got four,' they teased to the tune of Sloop John B.
.
The question is now, who should I support?
.
Sportingintelligence home page for all our latest exclusives
.
Want to comment on this story?
The subscription and comments policies of sportingintelligence have recently changed. Any user can comment on any story, however, by emailing using this link and including the story topic in the subject box. Your comments will then be manually posted by an administrator.