By Brian Sears
10 April 2015
Manchester City have been brilliant at times in recent seasons, thrilling to watch as they've scored at will and won two of the past three Premier League titles.
But lately they've looked old, inconsistent and brittle, as well as costly in more senses than one.
The defeat at Crystal Palace was a case in point. It highlighted City have the oldest squad in England's top division. Eight of the starting XI were aged 29 or older, and one of those under 29, Vincent Kompany, turns 29 today (10th April). If this XI isn't quite on its last legs then it is creaking and in need of fresh blood. Joe Hart is one of those with good years ahead at 27, turning 28 this month, while Sagna is 32, Kompany is 29 today, Demichelis 34, Clichy 29, Navas 29, Toure 31, Fernandinho 29, Silva 29, Aguero 26 and Dzeko 29.
Costly? We all know City's title-winning sides have been expensively assembled. City fans are hugely grateful to Sheikh Mansour's largesse. The flip side is that when they lose to well-heeled rivals, they are open to jokes, costly jokes, at their expense. Palace's starting XI combined at less than £19m cost less than half of the price for Eliaquim Mangala alone. He sat on City's bench at Palace, his £42m price tag* weighing heavier by the week.
Brittle? Gary Neville opined City have a 'mentality problem', saying they are a club who cannot sustain success. The result at Palace highlighted that they have lacked backbone in specific situations away from home …. for 20 years. One quite remarkable statistic arose from the Palace defeat: City have not won an away game in the Premier League since 1995 where they have trailed at half-time. Leaving aside the five years City went meandering to the lower divisions, that's still a lot of away games with no comebacks after falling behind by the break.
As they prepare to face one of their most intense fixtures of the season, away at Old Trafford, it is certainly worth posing the question: Have City passed peak oil?
For now let us just restrict the question to the Manchester derby, a fixture they fared so badly in for many years in the Premier League era before dominating it of late. As we noted in October, City have won five of the past six Manchester derbies. That remains the case. United have not won a Manchester derby on their own turf since February 2011. Victory that day, courtesy of  Wayne Rooney's spectacular late overhead kick, extended City's dismal sequence of only one league win in their previous 27 visits to Old Trafford.
Since then, City have won at Old Trafford in the league in 2011-12, 2012-13 and 2013-14 as well as beating United on their own ground in three of the last four league meetings there.
City have been well and truly in control of local bragging rights recently, despite only 11 PL wins to 18 in the PL in total, despite 10 derbies without a win at the start of the PL era and despite United being the bigger, richer and better (higher-placed) club in every Premier League season bar the two in which City have won the title.
But United sense change. They are on a run of five consecutive Premier League victories for the second time this season. And City are trying to avoid a fourth successive away Premier League defeat, after losing to the mighty Palace, Burnley and Liverpool.
The last time City lost three PL games away from home in a row and went into a fourth seeking to stop the rot was the end of the 2005-06 season (when they lost at Blackburn) and the first games of the 2006-07 season, when they lost at Chelsea and Reading. Then the fourth game of that streak was at Blackburn. And they lost.
Article continues below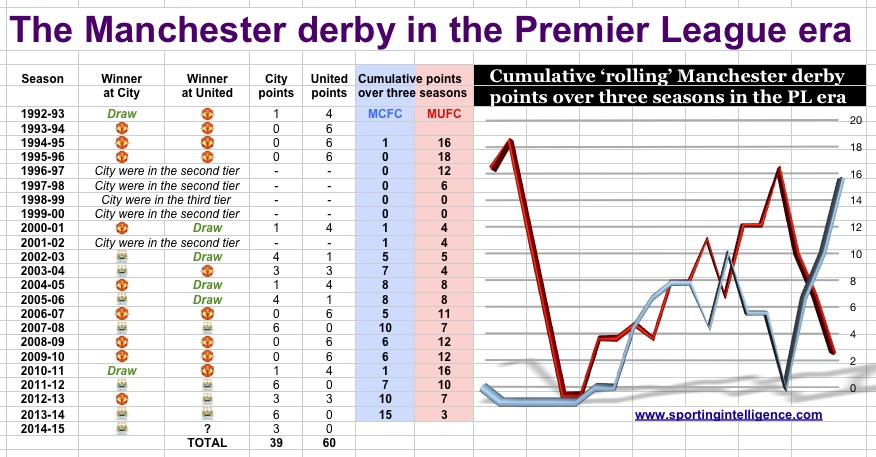 .
* On Mangala's price tag, oft disputed by ill-informed City fans who believe 'the media' is out to 'get them', Porto released an official statement to the Portuguese Stock Exchange verifying their own take of €30.5m for 56.67% of the player (that's here), while two third-party entities, Doyen and Robi Plus, have confirmed to journalists they received the proportionate sums for their own shares in the player. That means Mangala cost City €53.8m, or £42m at the prevailing exchange rates, plus agent's fees to Jorge Mendes. For reasons unknown, City erroneously briefed some journalists last summer that Mangala cost £32m. It wasn't true and isn't true, as those same journalists now acknowledge and as official documents including the club's own accounts now show. (The "post-balance sheet events" show spending on players since the accounts ended and any fan adding up the player purchases and sales can see Mangala must have cost a lot more than £32m to make this legal document stack up).
 .
And another thing … Swans find Toffees leave a bitter taste
Swansea are spending a fourth consecutive season in the Premier League and are guaranteed a fifth in August. They have already welcomed 27 different clubs to Wales for PL games but there's only one club that has a 100 per cent record against the Swans on those visits on their own turf. That's this weekend's visitors: Everton.
Indeed, home and away the Swans have only managed to gain two points in total from seven games against the Toffees, both at Goodison, from goalless draw last November and another goalless draw there in January 2013.
Only against Tottenham and Chelsea have Swansea won fewer points per game than the 0.29 they have won in PL games against Everton. And the two points against Chelsea and one against Spurs have both been won at home.
The table below shows Swansea's all-time PL record by opponent (current up top, former below), ranked in each case by points per game, and noting the percentage of points won against each opponent that were won at home. Swansea's haul of 181 Premier League points from 145 games to date equates to 1.25 per game, with 108 of those won at home, or 60 per cent.
Article continues below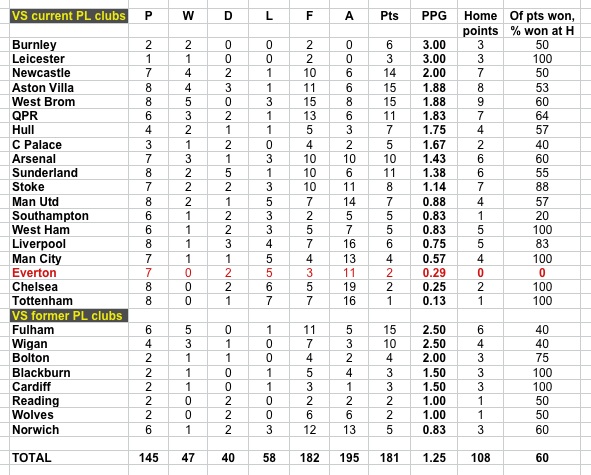 …. And finally
The statistics in these pages will often be in relation to the Premier League era when they deal with English football. We know the game is a bit older than that. We know Preston won as Invincibles in the league's first season in 1888-89. But the Premier League is a distinct era if only because of the money that has transformed the picture. This is the 'monied era'.
To get some idea of how the financial situations of these clubs have changed over time – and finance is a big influence in success in football – further reading and related articles spring from Sportingintelligence's annual global sports salaries reports, are linked here:
2014 Report             2013 Report            2012 Report         2011 Report          2010 Report
.
More on Liverpool / Man Utd / Arsenal (or search for anything else in box at top right)
Follow SPORTINGINTELLIGENCE on Twitter