By Brian Sears
3 April 2015
Manchester United play at home against Aston Villa this Easter weekend seeking a resurrection of their Champions League participation from next season. United could arguably not wish for better opponents when all-time Premier League records are considered. United have won more Premier League points against Villa – or 104 in 45 PL games – than against any other team since the top division was revamped in 1992-93.
That equates to 2.31 points per game for United from 31 wins in those 45 games, plus 11 draws. Villa meanwhile have taken just 20 points in total from those games, from three wins and 11 draws, equating to 0.44 points per game. Villa have only ever won once in the PL at Old Trafford, and that was back in December 2009, with their other two wins at home, and those back in 1995 and 1992 respectively.
It was on 15 December 2013 when United beat Villa 3-0 that United chalked up the first century of points from any Premier League head-to-head pairing. In March 2014, United completed the double over Villa for that season and then last December the 1-1 draw at Villa Park took United to 104 points.
Last October, United beat Everton 2-1 at Old Trafford to record a second century of Premier League points against another club. And two weeks ago, United's 3-0 victory at Old Trafford over Tottenham completed the third century.
It is not mathematically possible for another century of this type to occur now until next season at the earliest, and that will only come about if Arsenal achieve the double over Everton next season. Here are the current biggest head-to-head tallies in the PL era.
Article continues below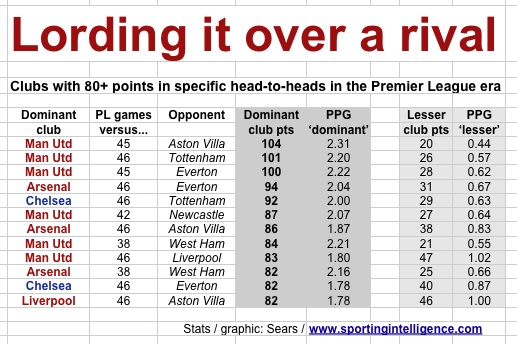 .
.
And another thing …
Jose Mourinho first became manager of Chelsea in June 2004.  He remained at the helm until September 2007, famously not losing a home league game at Stamford Bridge in that spell. He did, however, have to settle for draws in 14 of the 60 home games played in the league. That set a pattern Chelsea have largely followed since: losing rarely at home but drawing a sizeable minority of their home games.
In the 11th season since Mourinho's first advent and in 204 home league games in that time (with and without Jose), Chelsea have only lost 12 of them but home draws now total 44.  The pattern has persisted since Mourinho's return. In his present spell he has had 33 home games with only the one defeat but six draws.
Over 11 seasons, Manchester United have gained 13 more home points than Chelsea, and more points per game, while suffering 22 home defeats. United have won 11 more home games than have Chelsea and drawn fewer. Only eight clubs have been ever-present in the PL since 2004-05. Here are their respective home records for the era.
Article continues below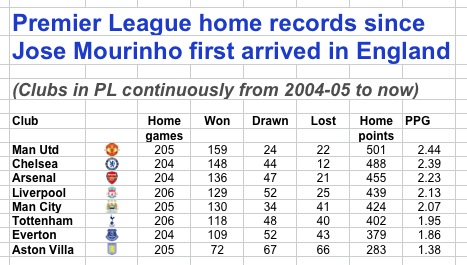 .
Chelsea are at home this Saturday to Stoke.  Stoke have visited Stamford Bridge six times in Premier League action and have lost all six games. Here is the Chelsea home record against all 45 clubs they have entertained at Stamford Bridge in the Premier League. Chelsea have only failed to win at least half of the possible points against two teams at the Bridge in PL games over the era: Oldham and Sheffield Wednesday, albeit from a limited number of games.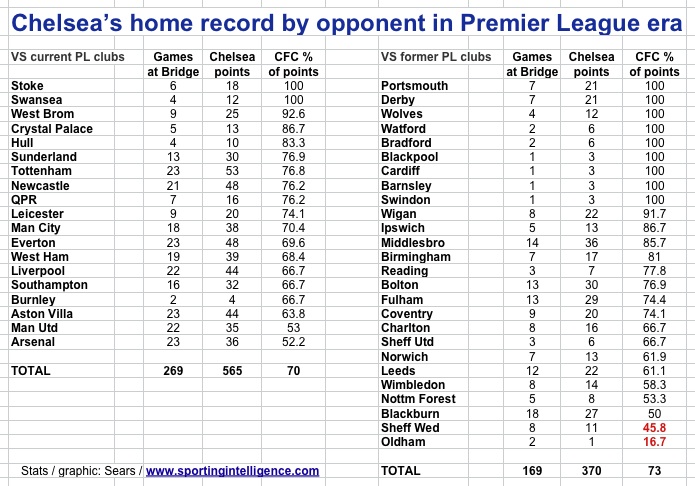 .
And another thing …
There's a big game in the north-east this weekend when Sunderland host Newcastle in the Tyne-Wear derby. Whatever happens it's highly likely Newcastle will finish the season as the 'better' north-east club, higher up the table.
In the Premier League era as a whole Newcastle have been the 'biggest' and objectively the best club in the north-east.  They're been in the PL for 21 of the 23 seasons, for a start. They're finished as the best north-east side in 13 of the 22 completed PL seasons. They've won 1,142 PL points at a rate of 1.43 per game, which is far superior to Middlesbrough in second place in the north-east (1.19 pts per PL game) and Sunderland (1.04).
Sunderland have finished highest up five times, and Middlesbrough four times. Sunderland are on a par with Middlesbrough in terms of PL seasons played: 14. One of that pair, perhaps both, could be adding a 15th PL season next year. Then again, neither might. Before we look at this weekend's match, here is a summary of the north-east clubs in the PL era.
Article continues below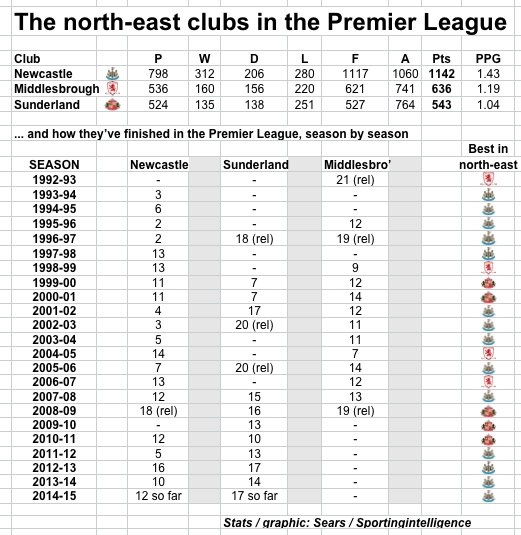 .
Sunderland and Newcastle meet at the Stadium of Light this weekend. Sunderland have played second fiddle to Newcastle in their derby games until the most four meetings, all won by Sunderland; 1-0 at Newcastle in December, 3-0 at Newcastle in February last year, 2-1 at home in October 2013 and 3-0 at Newcastle in April 2013.
But overall, Newcastle still have a better head-to-head record in the PL against Sunderland than vice versa. Newcastle have won nine and draw nine of the 25 PL meetings to date; Sunderland have won seven and drawn nine, winning those last four on the bounce.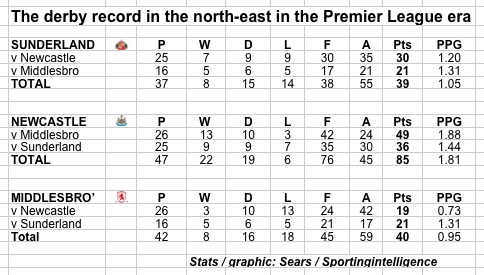 …. And finally
The statistics in these pages will often be in relation to the Premier League era when they deal with English football. We know the game is a bit older than that. We know Preston won as Invincibles in the league's first season in 1888-89. But the Premier League is a distinct era if only because of the money that has transformed the picture. This is the 'monied era'.
To get some idea of how the financial situations of these clubs have changed over time – and finance is a big influence in success in football – further reading and related articles spring from Sportingintelligence's annual global sports salaries reports, are linked here:
2014 Report             2013 Report            2012 Report         2011 Report          2010 Report
More on Liverpool / Man Utd / Arsenal (or search for anything else in box at top right)