By Brian Sears
12 December 2014
Manchester United have the best home record across the Premier League era of any of the 46 clubs to have played in the Premier League, whichever measure is used.
They have played 432 PL games, won 320, drawn 70 and lost 42.
That's more wins than anyone (320); a higher win percentage than anyone (74.1 per cent); a lower loss percentage than anyone (9.7 per cent, the only single-digit loss percentage rate of the era); more goals than anyone, and more goals per game than anyone; fewest goals conceded per game than anyone. And on and on.
Things have not been so brilliant in recent times, admittedly, with seven home defeats last season alone. But even with that anomalous season, United have, on average, lost fewer than two home games each season across the Premier League era as a whole. That's fewer than two games a season for more than 22 years. And that is a large part of why they have won the Premier League so many times and been the dominant English team of the PL era.
Before we consider those teams who have been able to overcome them most often on their own turf, here is how United's home record in the Premier League era compares to other teams.
Article continues below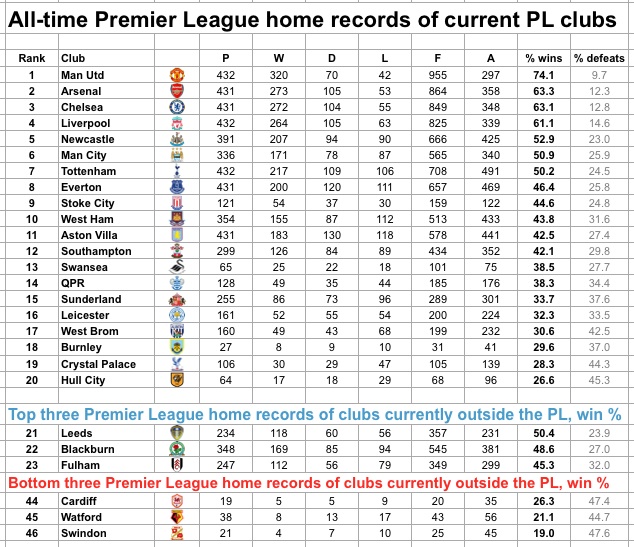 .
United's 42 Premier League defeats have come at the hands of 20 different opponents, with Chelsea winning at Old Trafford most often in the PL era (six times), then Liverpool (five times), Manchester City (four times), Middlesbrough and Arsenal (three times each), then six clubs on twice each and nine clubs on once each. Article continues below

Of this season's Premier League teams, seven started the season without any Premier League win at Old Trafford. Swansea put that right on the opening day. Four other teams have played there and failed to change that stat by losing: QPR, Crystal Palace, Hull and Stoke lost. Southampton (in January) and Burnley (in February) are the other current PL teams without any PL win at United but yet to have a chance to change that this campaign.
Sunday's match at home to Liverpool gives United a chance to put one over on one of their most successful opponents. It took Liverpool nine seasons to get a first win at OT in the PL era, and they have added four more since 2002. In Liverpool's five wins, Danny Murphy scored the only goal in 1-0 away wins in December 2000, January 2002 and April 2004; Liverpool got their best win there with a 4-1 victory in March 2009 and then Steven Gerrard (with two) and Luis Suarez (one) gave Liverpool another win in March this year.
United's only home league defeat this season was that opening game to Swansea. Any sustained revival of fortunes will inevitably be reliant on turning Old Trafford back into a fortress. Repelling Liverpool's raiders will be a sign that is already happening.
.
More on United / Liverpool (or search for anything else in box at top right)