By Brian Sears 
For the last 20 completed seasons the Premier League has had 20 teams and been played over 38 rounds. The eventual champions in all 20 of those seasons have been the club with the most points or second-most points from the first 28 games. The table below gives full details by season.
If this season runs true to that consistent pattern, then the title race will be a two-horse race between current leaders Leicester and the club in second place, Tottenham.
Some will point out that this is a peculiar season with a particularly low amount of points being amassed by the leading teams. Well maybe, but only to an extent. The leaders after 28 games have averaged 63.8 points and Leicester have 57.
But in three previous seasons of those 20, the leaders have had 57 points from 28 games: Manchester United in 2001-02, United again in 1998-99 and United again in 1996-97.
In 1997 and 1999 United went on to win the title, and in 2002 they didn't as Arsenal won it. The twist in the tale is Arsenal also had 57 points from their first 28 games, so there is nothing per se about 57 points at this stage to signal things will go wrong.
In fact the eventual champions have also had 57 points or fewer from 28 games in other years too: United in 1996 (with 57), Arsenal in 1998 (with 54) and United in 2003 (with 55).
Others might point out that this season is particularly close, not least in the top four, with a relatively small gap between the top four with 10 games to go (or 11 games to go in Manchester City's case).
In several seasons there have been huge gaps between the first and fourth teams after 28 games. Arsenal with 70 points from 28 games in 2003-04, for example, were 27 points clear of fourth-placed Charlton at this stage. (Yes, Charlton). Chelsea the next season were 20 points clear of fourth-placed Everton with 10 games to play, and the season after that they were 23 points clear of fourth-placed Tottenham.
So yes, this season is relatively close with Leicester on 57, Tottenham on 54, Arsenal on 51 and City on 47.
But in 2001-02, there were just four points between United in first (who had the same as Arsenal in second) and Liverpool in fourth after 28 games each (57 v 53). And though it wasn't obvious at the time, two seasons ago the leading four teams all had tallies within four points of each other after 28 games, from Manchester City on 63 via Chelsea on 63, Liverpool on 59 and Arsenal on the same. It wasn't obvious because they hadn't played the same number of games at the same time, but it was a close race. City had the best record after 28 games and won the title.
In 14 of the past 20 years, the team with the best record from 28 games has gone on to win the title, and the team with the second-best records have won the other six. So on that basis Leicester have a 70 per cent chance of making history, and Tottenham 30 per cent.
It's not quite that simple, obviously, as we'll explore after this story of the past 20 years in graphic form.
Click on it to enlarge; story continues below.
.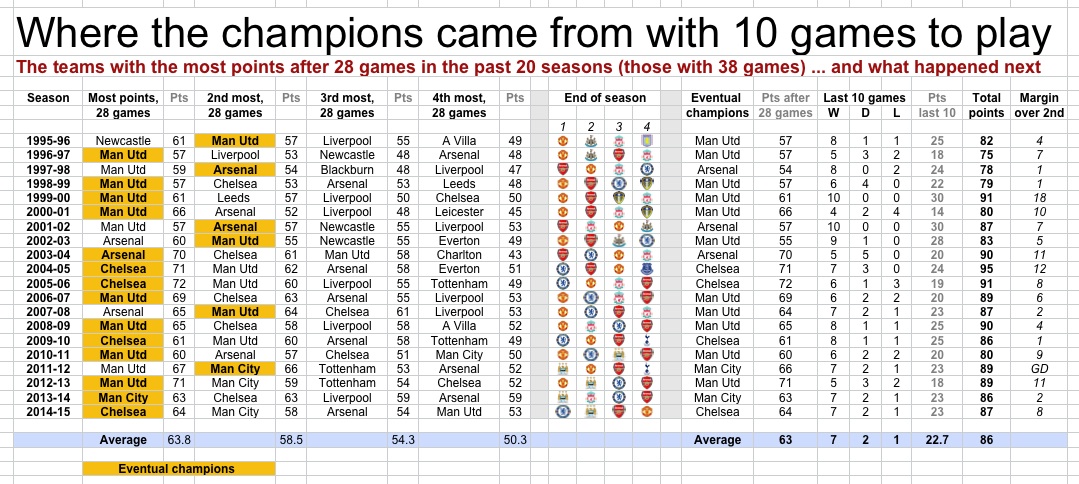 .
The best finishes by title winners of the last 20 years were the perfect (last) 10s recorded by the Manchester United team of 1999-2000 and then Arsenal side of 2001-02. Both Alex Ferguson's Treble winners and Arsene Wenger's Double winners gained 30 points from 30 available in their last 10 league games.
But on average the eventual champions have won seven, drawn two and lost one of their last 10 games of their title-winning seasons, for an average 23 points, or 22.7 to be precise.
The average number of points to win the title in the last 20 seasons has been 86 points, although that was as high as 95 points in 2004-05 (by Chelsea), and as low as 75 points in 1996-97, by United, when they had the same 57 points after 28 games as Leicester do now.
It's also interesting to note that United won only five of their last 10 games, drew three others and lost two in that 1996-97 season. Newcastle in second, Arsenal in third and Liverpool in third all finished on 68 points. So there is a clear precedent for a team with relatively few points from 28 games holding on to win the title without even steaming through their final fixtures.
With that said, below are the remaining games for the current top four.
Can Leicester perform as well as the average leaders at this stage, winning seven, drawing two more and losing just one, to win the title? Or perhaps win just five, draw three, lose two and do the same?
Can Tottenham?
Or will a team with a points record not the best or second-best at this stage but third or fourth or even worse become the first from such a 'lowly' spot to win the Premier League title?
Who knows?! And that is the brilliance of this remarkable 2015-16.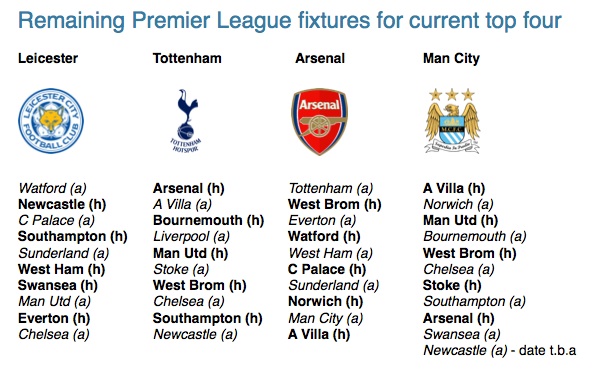 .
…. And finally
The statistics in these pages will often be in relation to the Premier League era when they deal with English football. We know the game is a bit older than that. We know Preston won as Invincibles in the league's first season in 1888-89. But the Premier League is a distinct era if only because of the money that has transformed the picture. This is the 'monied era'.
To get some idea of how the financial situations of these clubs have changed over time – and finance is a big influence in success in football – further reading and related articles spring from Sportingintelligence's annual global sports salaries reports, are linked here. The 2015 edition of the report (right) was published in May.
You can download a free 120-page PDF here.
2014 Report             2013 Report            2012 Report         2011 Report          2010 Report
.
More on Arsenal / Liverpool / Man Utd  (or search for anything else in box at top right)
Follow SPORTINGINTELLIGENCE on Twitter