Screen Break

By Martin Kelner
21 March 2016
One of the toughest jobs in sports broadcasting is the immediate post-match interview, the one where the coach or captain is dragged in front of the sponsors' boards, and some poor sap with a hand-held mic seeks instant reaction.
What do you ask?  After England's grand slam success in Paris on Saturday, Sonja McLaughlan asked coach Eddie Jones: "How proud are you?"  
Jones, being something of a pro with the media, took the wise course of continuing to smile widely and winningly, and answering an entirely different question. 
But just once I should like someone on these occasions to take the Q at face value.  "How proud am I?  On a scale of one to ten?  Well, using the scoring system they use at international ice skating events probably something like a 6.7, but taking Strictly Come Dancing as a template, an 8 or a 9, although obviously if Craig Revel Horwood is judging, a 7 with a withering aside.
"Put it this way, I'm as proud as a the owner of a labrador at Crufts whose animal wins in its category but misses out on Best In Show, but probably just slightly less proud than a university student who manages to get a 2:1 despite doing nothing for three years other than sitting in front of Pointless wearing ludicrous trousers, eating microwave egg fried rice (the student, that is, not the trousers)."
The poser Sonja lobbed at Owen Farrell was arguably even tougher: "Just describe for me your emotions as that final whistle went." I've tried to write fiction, and describing emotions is something even an effete pinko liberal, white-wine-quaffing wordsmith like me has trouble with, he wrote, feeling preternaturally calm but at the same time strangely enervated.
"Chuffed," was the word Farrell chose. "I'm just chuffed for the boys," he said. "I'm chuffed for everyone." Which sounded about right in the flat vowel sounds of the East Lancs Road. We don't do emotions in a big way in that part of the world. We're more about tea and Eccles cakes.
She also asked Farrell, "How special is this?" and despite encouragement from my sofa, he disappointingly failed to answer: "Compared to what?"
Not only do I find it difficult to describe emotions, even feeling them can be a problem at times. Take the programme Famous, Rich and Homeless on BBC1, about people living rough on the streets of London. 
Clearly it was meant to pull at heartstrings, and foster the feeling, "There but for the grace of God …" and so on. And initially, that was  how I felt.
I mean, there was former TV host Nick Hancock, begging for money for fish and chips – London fish and chips, that is, not even the decent stuff – hunkering down in a sleeping bag in the stairwell of a depressing inner city flat block, the same Nick Hancock who used to present that excellent sports comedy quiz They Think It's All Over in the heady days of Britpop and lads' mags in the late Nineties.
My god, I thought, that's shocking. Sure, we've recognised the folly of our ways and put all that laddishness behind us now, but no-one wants to see him reduced to this? Who next, Damon Albarn? 
It was only then I realised Hancock was merely pretending to be homeless for a week, one of four television personalities taking that challenge; because apparently the viewing public is incapable of understanding or feeling anything these days unless experienced through the medium of celebrity.
Alongside Nick was Kim Woodburn, who seemed like she might be Katie Hopkins's mother, someone called Julia Bradbury (no, me neither), and snooker's Willie Thorne, who because of his own well-advertised gambling addiction, bonded quite touchingly with a well-spoken alcoholic. Not that it stopped him bunking off to spend a night in a hotel. That can't be right, I thought, he's got his moustache to keep him warm.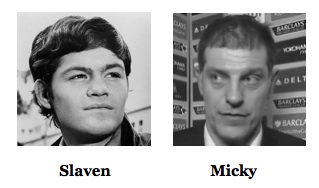 Finally, on the subject of hair, you may recall Screen Break three, in which I poked some mild fun at Steve McClaren's vain attempt to mask his incipient baldness. As a West Ham fan, I have been advised to look closer to home for the Premier League's most ludicrous cover up, in the person of our coach, the sainted Slaven Bilic. What he has is not so much a combover as a combunder. 
Strands of hair are combed directly forward, as Micky Dolenz of the Monkees might have done, circa 1965 (Google images, kids), and then chopped off in a straight line at the front, possibly by his mum using a pudding basin, assuming his mum's eyesight is going. 
And I hadn't even noticed until it was pointed out to me. Which proves, Premier League managers, that the best baldness camouflage is an energetic, creative midfield, and a solid central defence. 
. 
Screen Break ran in The Guardian for 16 years, and then in the Racing Post. The first two episodes in its current incarnation can be found here, and here. Last week's column, featuring the wacky world of Jonny Wilkinson, is here. The Screen Break that cost Steve McClaren his job is here. Also well worth a read is the most amusing 'My celebrity death match'. This piece is also a MUST READ. And you can follow Martin Kelner on Twitter@MartinKelner
.