Screen Break

By Martin Kelner
7 March 2016
I used to live between Chepstow and Monmouth on the B4293 (I didn't actually live on the road, I had a small house). The point is the road was unlit, so when I was out in the car at night I frequently encountered rabbits caught in the headlights, but I never saw one that looked like Steve McClaren.
I only mention it because Martin Keown on Match Of The Day on Saturday used the well-worn simile to describe the floundering Newcastle United manager, and I'm not sure it fits.
For a start, I never saw a rabbit that looked like it spent as much money on its hair as Steve McClaren. Unlike his team, the manager's barnet is in exceptional order at the back. The exquisitely clipped hair tapers for the last two-and-a-half inches and concludes at the neck in a slick carefully ordered line.   Sculpted, I think, is the word.
I have never been a hairdresser – I was never that interested in people's holiday plans – but I am confident this is no five quid haircut. Forty-five quid minimum, I should say, and if only newspapers these days were prepared to spend money on investigative journalism, somebody would be going through Steve's dustbin right now to find the receipt.
It's an important issue for Newcastle fans, because that 45 quid – 55 possibly, if he was in one of those hipster retro places and went for the hot towels and the wet shave – is pointless expenditure.  Nobody, apart from a hard-working old-fashioned newspaperman like me, is looking at the back of Steve's head, given what's going on up top.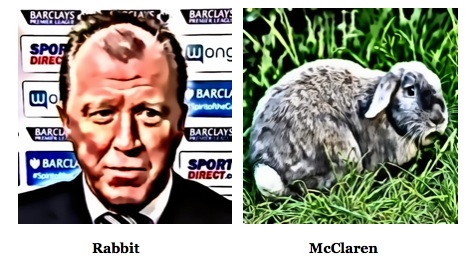 Steve has been going bald for a number of years, but by carefully arranging a few strands of hair into what unkind tonsorial commentators have dubbed the McClaren Island – though I would say it is more of a peninsula – he is fooling himself into believing he is beating nature. 
Before our very eyes, those of us who have been watching Match Of The Day for the past decade, the peninsula is shrinking, like one of those tiny islands in the Pacific, where sea levels rise and destroy the islanders' natural habitat, though in Steve's case scientists are unable to prove it's anything to do with climate change. 
Your man on the Jesmond omnibus, therefore, must be wondering, if the boss is prepared to throw so much good money after bad down the barbers, does the same kind of policy apply to transfers? Also if Steve has so little luck in preventing or even delaying the inevitable, how is he going to prevent the Geordies going down?    
Keown played under McClaren for England, when McClaren was assisting Kevin Keegan, and took the view that while he's a perfectly good coach he is not a manager, an opinion for which there is no shortage of supporting evidence.
McClaren, of course, may very well have been defenestrated by the time you read this and replaced by a manager with a full head of hair, in which case feel free to ignore the above and go elsewhere on the internet where I am pretty sure you will find adorable pictures of a cat that looks like Hitler.
Meanwhile, we turn to another, er, Newcastle legend, Jermaine Jenas, this week's comedy booking on Question Time. His was a less than commanding presence, and I suspect some of you tuning in to the programme for enlightened political discourse – a vain quest at the best of times, I should have said – might have asked yourself what he was doing there.
I assume it's some sort of exchange scheme under which Iain Duncan Smith will get a go as a pundit on Match Of The Day. Either that, or they've run out of stand-up comedians to fill the left-of-field seat on the show, and Jermaine being young, non-white, and not a politician, ticks a satisfying number of boxes.
It may not startle you to discover he had nothing to say.  No, less than nothing.  The first question, about Europe, he answered with some complicated analogy, which involved Wayne Rooney's agent falsely telling Manchester United he was wanted by Real Madrid, in order to bump up his wages.  Apart from the fact Madrid happens to be in Europe, it stumped me.
Not that I'm likely to be swayed on the Europe issue by Jermaine Jenas, fine box-to-box midfielder though he was. I'd really need to hear what Kieron Dyer and Scotty Parker have to say on the subject first.
.
Screen Break ran in The Guardian for 16 years, and then in the Racing Post. The first two episodes in its current incarnation can be found here, and here. Also well worth a read is the most amusing 'My celebrity death match'. And you can follow Martin Kelner on Twitter @MartinKelner
.
Follow SPORTINGINTELLIGENCE on Twitter