By Brian Sears
15 March 2013
It's run-in time in the Premier League with every team having nine or 10 games remaining. Those at the bottom end of the table are nervous, fretful, adding up the possible points that can get them to safety. Those around the top four are hoping to edge into it and gain Champions League football among the runners-up to champions-elect Manchester United.
So who has the toughest run-in and who has the easiest?
Swansea have the hardest set of games, and Liverpool have the easiest – using a simple equation of the average current placings of their remaining opponents.
The smaller the number in the right-hand table below, the harder the run-in:
Article continues below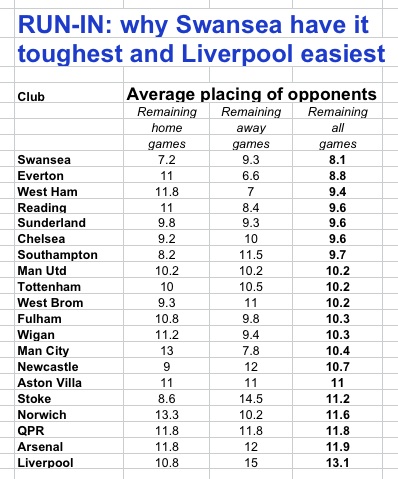 .
Swansea's run-in is truly tough: they still have to play all of the top five: Arsenal, Tottenham and Manchester City at home, and away to Chelsea and Manchester United.
On this basis, Liverpool's 'easiest' run-in sees seven of their nine remaining opponents currently in double figures in league placement.
The contrast on Merseyside is clearest when it comes to away games facing Liverpool and Everton. All five Liverpool away games are at clubs currently 10th or lower but four of Everton's five away days will be to clubs in the top six.
When it comes to clubs apparently most vulnerable to relegation the paper run-in seems to favour QPR and Aston Villa.
Our next table looks at the points amassed by each club they still have to face in the earlier reverse fixtures this season. The Manchester clubs are clear of the rest, but then Liverpool also had decent results against those still left to play – and arguably at a time when their form was poorer than it is now.
Sunderland, Reading, Southampton and QPR are the four clubs last time round to have managed less than a point per game from the clubs they still must face.  They managed just a single win each over their nine opponents still to come: Sunderland won away to Southampton, Reading won at home to West Ham, Southampton won at home to Reading and QPR won at home to Fulham.
Article continues below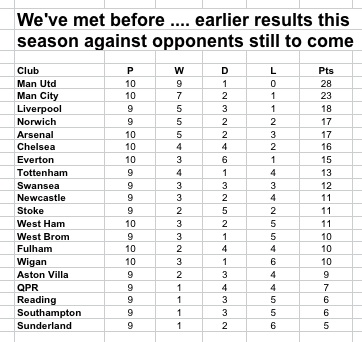 And another thing …
Wigan seem to have been in our statistical eye of late.  Perhaps they deserve the attention.  After all they only became a Football League club in 1978-79; then  27 seasons later they made it to the Premier League where they have stayed for eight seasons and already they are in the semi-final of this season's FA Cup.
This Sunday they welcome Newcastle to their DW Stadium.  No club has found life so difficult there as have Newcastle.
Our table of Wigan's home results clearly shows that.  Wigan have more home wins and more home points gained than against any other club.
The only blemish at home for Wigan was in January 2011 when Shola Ameobi scored the only goal of the game for Newcastle.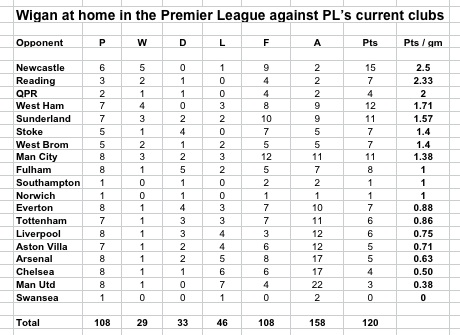 .
More on Man Utd / Arsenal (or search for anything else in box at top right)