*
IT would be nice to think that definitive answers exist to every question, that truth is absolute and there is only one way to see things – because then we could always be clear and what is right, wrong, true, false. But life isn't like that, not any walk of life from medicine to the law to sports journalism. As one newspaper takes the rare stance of a prominent mea culpa for getting a story wrong, Ian Herbert explains that the whole story is most often found in the shades of grey
.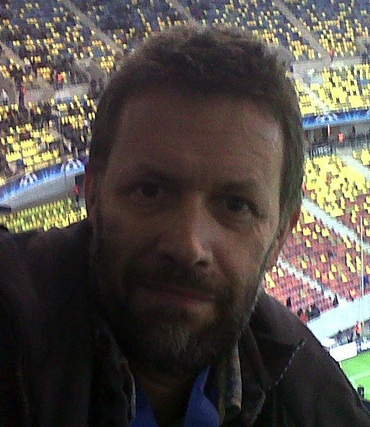 By Ian Herbert
18 March 2013
I've been in journalism for 24 years and I admit that I sometimes still deliver information with less than 100 per cent certainty – and sometimes get it wrong.
I said that Nicolas Gaitan of Benfica was probably coming to Manchester United; that Kaka was almost certainly coming to Manchester City; and that a Chinese businessman called Kenny Huang had the financial muscle to buy Liverpool. None of it true.
None of those days were my best at the office. I'd like to say that the biggest contributor to these errors was the shifting tide of events – by that I mean the information was right when I wrote it, but things don't always turn out how they seem – which would ease me of the hook. But that wouldn't be true. It was the contacts who didn't turn out to be quite what they seemed to be. I'm not alone in that.
Don't get me wrong – this is not serial offending. I have written 5,000 newspaper articles and you cannot tell me many of them were wrong at all.
But everyone makes mistakes in good faith sometimes. And this whole area has now become a topical thing to write about in the hours since The Times acknowledged it was duped into running a story about the state of Qatar proposing a lucrative new summer football tournament.
It admits that its London office had not been stringent enough before rushing to publish a story by Oliver Kay, the paper's chief football correspondent, whose combination of contacts, knowledge, magisterial writing and prodigious output really make you wonder why you bother getting out of bed some mornings.
But it wasn't this case that sent me off in the direction of writing about this subject. That happened when I found myself bestowed with the privilege of being asked to speak about my job, last week, at the burgeoning literary festival which has become an important event in the calendar of my home town, Oswestry.
I wasn't sure how the evening would go. This year's programme, including the writers Rachel Joyce and Michael Morpurgo, reflected the growing reputation of The Oswestry Festival of the Word, now in its fourth year.
I wasn't much inclined to mention on social media that I was doing a turn, given that football writers rarely feel the love and I didn't want to bring any hate to the place I call home. But the venue – the town's very fine library – was full, the discussion was full and frank and the most excellent part took us, unscripted, into the territory of degrees of certainty and uncertainty in football journalism.
The context was easy to communicate. How the days of footballers talking to players – "Treat the press as you would a policeman," as Matt Busby once put it – are now gone, and that you're viewing the game as if from the bottom of an ocean and drawing information from around the edges as best you can; contacts twice or three times removed, agents with an agenda, chancers masquerading as something else, and plain chancers.
We had lingered for a time on this topic, knocking it this way and that, with the general message being that readers will take the shades of grey, thanks very much.
So how many in the audience would want a story whose writer was 50 per cent sure of it? About 50 per cent, it seemed, from the show of hands, which didn't include the man shaking his head in the back row.
"I'm a scientist," he said. "I can't work on guesswork. I need certainties." To which, a reply from across the room. "That would just be boring…"
And so it went on; a bit of spikiness but deference also, given and taken in equal measure. Later, I met the excellent scientist and we'd reached an accommodation on 50 shades of grey, so to speak, before we parted. 
Which leads me to ask you: what profession actually does operate on 100 per cent certainty? A lawyer can no more tell a client that 12 good men and true will acquit him than a doctor can entirely predict the future for a patient. We're all operating in slippery places.
The next morning, I met reporters from North Wales Newspapers and the local Oswestry and Border Counties Advertiser, the title I first worked on in the summers of the mid 1980s, whose editor Susan Perry is to grow the sales of three weeklies simultaneously – while presently seeing off the threat of a competitor who, as far I can see, have got away with pinching the name of one of them by launching a free Oswestry and Border Counties Chronicle.
Talking to her reporters David Lawson, Richard Jones, Jonny Drury, Dominic Robertson and Emily Davies offered a new window onto a fine and indefatigable industry in the post-Leveson era.
The ripples effects of telephone hacking are palpable here, where attempted vox pops elicit more suspicion and the time-honoured practice of working through the phone book can bring questions about hacking.
But these reporters were able to deliver extraordinary papers when the town encountered two cases of filicide barely a year apart because of the reporters' relationships with that list of people they need to call in a crisis. It is a list to fret over, in constant need of renewal. And the renewal of this list is what Premier League football reporters do – more, I would say, than any other branch of the profession.
Barney Ronay wrote recently that everyone is a football writer now, such is the supporting cast of thousands who tweet, blog, tactically analyse and over populate press rooms. But let's make the distinction between the 'writer' and the 'reporter' because the latter category – the ones who ring and build and probe and deliver details previously unpublished – are a very different specimen from those who just expound – and who generally make a lot more noise on Twitter.
"Where are the quotes to prove it? Lazy," someone tweeted me the other week, as if any of the best information is actually going to come with the source's name in lights. That was more of the ground we covered last Thursday.
It's what degree of certainty to publish on that remains the very big question. You can palpably feel how those percentages rose, higher and higher, for The Times, when you read back today's explanation. And when the fullest version of how Rob Beal played a substantial role in duping The Times is finally told, my guess is the average reader too will realise this wasn't some slapdash caper by the paper.
There is already some hand-wringing in some parts of the industry, today, about reputational damage, much of it delivered with a heavy dose of schadenfreude.
Should the paper have published a graphic? Should it have shut up shop when immediate scepticism kicked in? Probably not, probably so.
But there but for the grace of God. It's the world we're occupying.
Shades of truth and lies and no simple calculus to work through it.
. .
Ian Herbert, who was shortlisted as Sports Journalist of the Year in the prestigious Press Awards, and is shortlisted as the SJA Sports News Reporter of 2012,  is The Independent's Northern Football Correspondent (see archive of his work here). Follow Herbie on Twitter here.
.
Follow SPORTINGINTELLIGENCE on Twitter
Sportingintelligence home page