By Brian Sears
4 April 2014
Only twice in the 21 completed seasons of the Premier League have all three promoted clubs avoided relegation. That was in 2001-02 when Fulham, Blackburn and Bolton all lived to fight another season, and then two seasons ago when Norwich, Swansea and QPR all survived.
Only once have all three promoted clubs filled all three relegation places, and that was in 1997-98 when Bolton, Barnsley and Palace were all 'one-season wonders' in the same season.
The 'one-season wonders' (OSWs) phenomenon is pertinent this weekend particularly because two of this season's promoted clubs meet: Cardiff and Crystal Palace. And because Palace have been OSWs more than any club previously in the Premier League. On all three previous occasions that they have been promoted to the Premier League, they have lasted just one season. Here is a list of all the OSWs in Premier League history:
Article continues below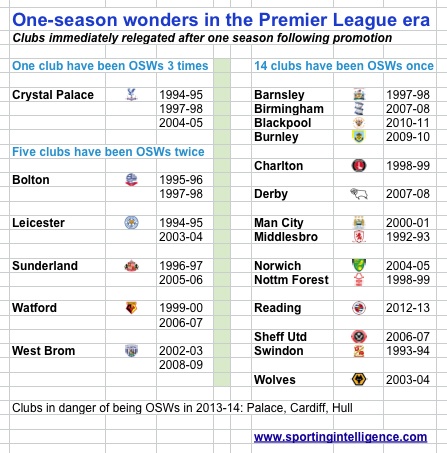 .
All three promoted clubs – Hull, Palace and Cardiff – are in the bottom seven in the table ahead of this weekend's action. Hull are seven points clear of the relegation zone, Palace five points clear, and Cardiff bang in it, second from bottom.
As Cardiff prepare to host Palace, our next graphic shows Palace have had the upper hand so far in the mini-league of promoted clubs, winning all three of their games so far against the other two.
Article continues below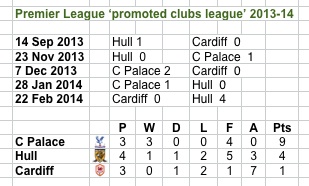 And another thing …
One club undoubtedly in a parlous position now are Fulham, long-time residents of the Premier League whose top-flight status is in peril.
Except for the seven ever-present Premier League clubs (Arsenal, Chelsea, Villa, Everton, Liverpool, Man Utd and Spurs) no other club is enjoying a longer unbroken spell in the top division than Fulham, residents for a 13th straight season currently.
But with just six games to play they are rooted at the foot of the table,  five points and a vastly inferior goal difference away from safety.  True, their home form has saved them in seasons past and their remaining home scraps with Norwich, Hull and Palace give good chances for points, but even all nine points would not guarantee survival.
Not only that. Their away form is often awful, and their remaining trips are to Aston Villa (this weekend) and then to Tottenham and Stoke. In their 29 previous Premier League visits to those three destinations combined, Fulham have managed just three wins and nine draws along with 17 defeats.  Villa Park has not provided them with a single win in 12 attempts.
As our final graphic shows, Fulham might wish for visits to Sunderland, Man City, Newcastle or Norwich, but they have already happened and provided two of this season's wins. In contrast Fulham will be relieved that there is no further visit to Goodison to come: they have a frankly astonishing blank record there in all 13 Premier League trips and further back to boot.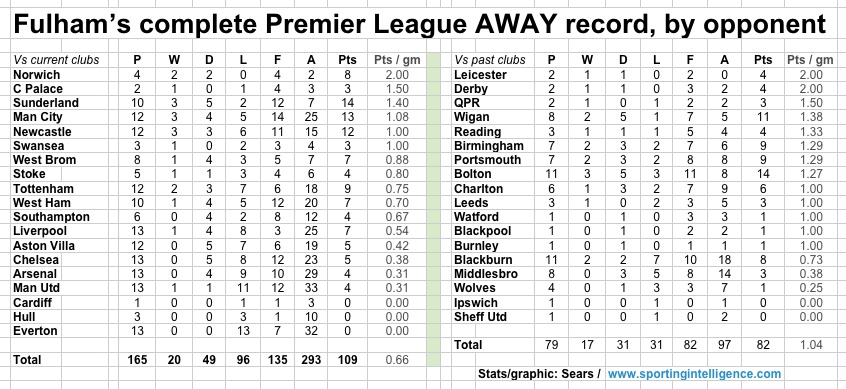 .
More on Man City / Chelsea / Liverpool / Arsenal (or search for anything else in box at top right)
Follow SPORTINGINTELLIGENCE on Twitter