By Brian Sears
1 February 2013
Premier League draws are happening at record rates – and the midweek spate of six draws in 10 games has only cemented that pattern.
In the 8,086 Premier League games played since the era of the revamped top division began in 1992, there have been 2,182 draws, or 27 per cent.
This season there have been 75 draws from 240 games, or 31.25 per cent.
The level dipped in December with just 11 draws in 59 games; but this month is back above 40 per cent of matches: 17 of 42.
The monthly draw rates, the club by club draws this season and the historic Premier League draw rates of this weekend's matches are in the first graphic below.
Note Stoke are the draw masters this season (12 this season) while Manchester United have fewest draws: two.
Using historic Premier League meetings, the likeliest draw this weekend is Manchester City versus Liverpool.
Article continues below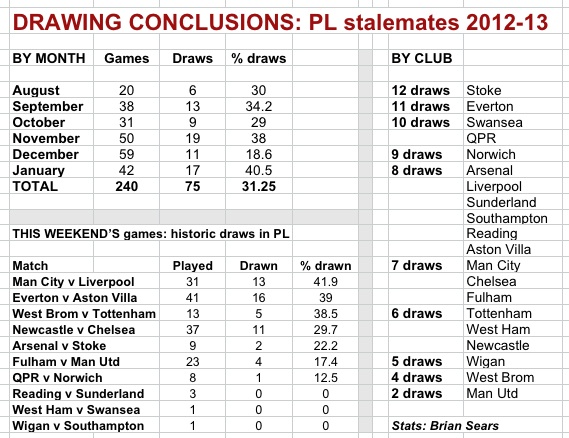 This season's draw levels are on course to match the record Premier League levels of 1996-97 when as many as 119 of the 380 games (31 per cent) in that whole season ended level.
At the other extreme, seven seasons ago there were 77 draws all season (against 75 already this season).
Stoke are leading the way this season with precisely half of their games so far played being drawn (six at home and six away). Everton, Swansea and QPR have also reached double figures.
Part of United's success throughout the whole of the Premier League era (see second graphic, below) is winning games, not drawing as many as their rivals.
Of all the 45 clubs to have made a Premier League appearance only Barnsley and Burnley have managed a lower percentage of drawn games than United – and that for very different reasons!
.
For stories on Kangaroos / Doping / Pin-ups (or search for any club or subject else in box at top right)
Follow SPORTINGINTELLIGENCE on Twitter