By Brian Sears
12 April 2013
Three north-east clubs have played in the Premier League in its 21-year existence and though their fortunes have ebbed and flowed, one club has clearly been the regional dominant force over that time – Newcastle.
In the 20 completed Premier League seasons, Newcastle have finished the best of the north-east on 11 occasions, ahead of Sunderland (highest placed five times) and Middlesbrough (four).
Starker still are the statistics that show Newcastle's dominance in the games where the intensity of competition burns most fiercely, the north-east derbies. Newcastle have played 47 of them in the Premier League era to date, losing just six (three to each rival), and taking a mammoth 1.81 points per game on average from those derbies over the years.
In this context, Sunderland's visit to St James' Park this Sunday for a noon kick-off is not an occasion the visitors will relish. Newcastle are a slender five points clear of Sunderland as we approach the weekend, but Sunderland do not have history on their side and are encumbered with the pressure of being clear of a relegation spot only on goal difference from Wigan.
Newcastle's dominance over time and the clubs' overall records are shown in this first graphic.
Article continues below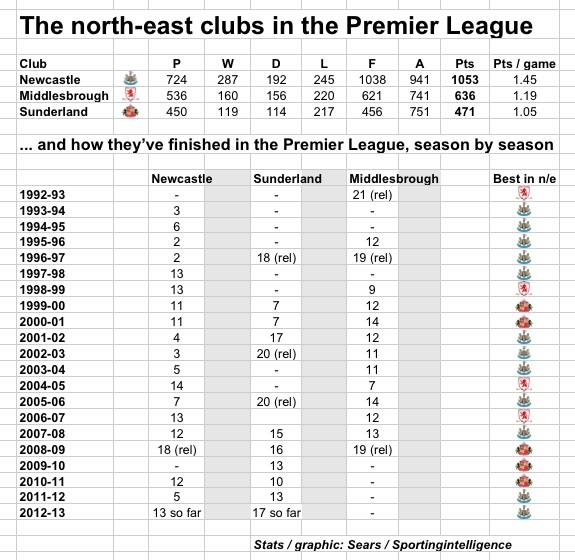 Newcastle have banked more than 1,000 points in the Premier League, despite missing two seasons, at a rate of 1.45 points a game.
On that basis Boro come second at 1.19 points per game played and Sunderland third with 1.05 points per game played.
Four seasons ago all three clubs figured in the Premier League but that season both Newcastle and Boro were relegated.
Now with only six games to go Sunday's derby game promises to be a tense affair as both clubs seek to prevent another relegation.
As the second graphic (bottom) details, in their 47 north-east Premier League derbies, Newcastle have only known six defeats, three to Boro (1-2 at home in 2000-01, 0-1 away in 2002-03 and 0-1 away in 2006-07), and three to Sunderland  (1-2 at home in 1999-2000, 1-2 at home in 2000-01 and 1-2 away in 2008-09).
Newcastle have gained 1.81 points per derby game, Boro 0.95 points per derby game and Sunderland have only managed 1.05 per derby game.
. .
More on Newcastle / Sunderland / Boro (or search for anything else in box at top right)
Follow SPORTINGINTELLIGENCE on Twitter
.