By Brian Sears
4 December 2015
In Arsene Wenger's reign as the manager of Arsenal they have gained as many as 36 Premier League points from the first 14 games of a season (in 2007-08) and as few as 21 (in 2012-13) but the average for the Wenger era is 27. That's the amount they've got so far this season after 14 games; bang average for the Frenchman.
Indeed this season is uncanningly like the season before Wenger was employed. That season, too, Bruce Rioch oversaw eight wins, three draws and three defeats in the first 14 games, and Arsenal finished fifth. One expects them to finish higher than that during this campaign. Famously, of course, Arsenal have not finished outside the top four with Wenger at the helm.
Article continues below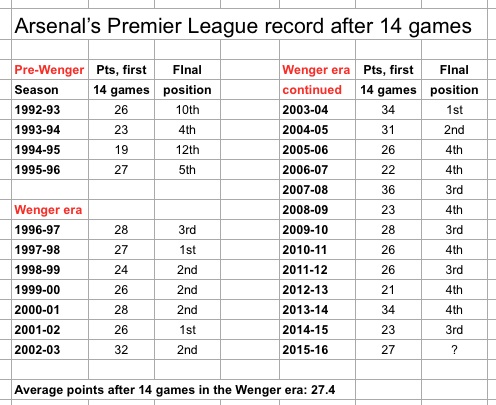 .
Arsenal's next game is Saturday's hosting of Sunderland, themselves fresh from back-to-back wins over Crystal Palace and Stoke. Arsenal have not won against Sunderland in their last three meetings, with five straight wins before that.
But Sunderland have made 14 Premier League visits to Arsenal without a single win. This will be Arsenal's 450th home Premier League game; they've won 285, drawn 109 and losing 55. Here's a list of those 55 defeats, by opponent.
Arsenal's Premier League defeats at home
(number of visits)
7 to Man Utd (24)
6 Liverpool (24)
5 Aston Villa (23); West Ham (20)
4 Chelsea (23); Newcastle (21)
3 Blackburn (18); Leeds (12); Wimbledon (8)
2 Tottenham (24); Swansea (4)
1 Everton (24), Man City (18), Middlesbro (14), Coventry (9), West Brom (9), Charlton (8), Wigan (8), Norwich (7), QPR (7), Crystal Palace (6), Hull (4)
No PL wins at Arsenal
Southampton (in 16 visits), Sunderland (14),Bolton (13), Fulham (13), Leicester (9), Sheff Wed (8), Stoke (8), Birmingham (7), Derby (7), Portsmouth (7), Ipswich (5), Nottm Forest (5), Wolves (4), Reading (3), Sheff Utd (3), Bradford (2), Burnley (2), Oldham (2), Watford (2), Barnsley (1), Blackpool (1), Cardiff (1),  Swindon (1)
Unexpected facts sometimes emerge when researching these pieces. The list of Arsenal home defeats prompted me to look up these three. Crazy, eh? Or rather, crazy gang.
Feb 1993 Arsenal 0 Wimbledon 1 (Holdsworth)
Dec 1995 Arsenal 1 ( Wright) Wimbledon 3 ( Earle 2, Holdsworth)
Feb 1997 Arsenal 0 Wimbledon 1 (Jones)
.
…. And finally
The statistics in these pages will often be in relation to the Premier League era when they deal with English football. We know the game is a bit older than that. We know Preston won as Invincibles in the league's first season in 1888-89. But the Premier League is a distinct era if only because of the money that has transformed the picture. This is the 'monied era'.
To get some idea of how the financial situations of these clubs have changed over time – and finance is a big influence in success in football – further reading and related articles spring from Sportingintelligence's annual global sports salaries reports, are linked here. The 2015 edition of the report (right) was published in May.
You can download a free 120-page PDF here.
2014 Report             2013 Report            2012 Report         2011 Report          2010 Report
.
More on Arsenal / Liverpool / Man Utd  (or search for anything else in box at top right)