By Nick Harris
23 March 2010
*
*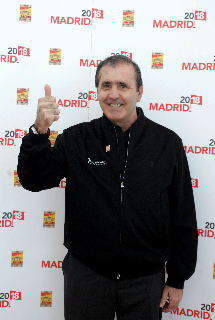 Seve Ballesteros has tipped Tiger Woods to overcome the pressures heaped upon him by the recent turmoil in his private life and says the American has a "good chance" of winning the Masters next month.
Ballesteros, 52, a five-time Major winner with three Opens and two Masters to his name, was talking in Madrid at the official launch of Spain's bid to host the 2018 Ryder Cup.
Though frail because of his fight against cancer – he has had four operations on a brain tumour, diagnosed in 2008, plus chemotherapy – he attended the launch in his capacity as bid patron.
On Woods' return, Ballesteros said: "I am pleased to see that Tiger Woods made the decision to come back and has finally decide to compete. I think that this is the best news that golf can have right now and I wish him good luck. He has a good chance to win the Masters this year, of course.
"If he decides to compete in the Masters it is because he knows that he has a good chance. We all know his potential and Augusta is a very long course. He is very used to playing long off the tee and he knows the golf course very well so I think he has a great chance to win."
On becoming a bid patron for 2018, he added: "I feel very pleased and very happy. It is a great honour to be patron of the Ryder Cup bid and I am really looking forward to seeing Madrid win the right to host the 2018 Ryder Cup.
"Spain has been the heart of golf not only in Europe but in the Ryder Cup for the last 20 years and it is a great honour for me to be part of Madrid's bid for 2018 and obviously Madrid offers everything that the Ryder Cup will need."
.
Sportingintelligence's front page
More articles mentioning Tiger