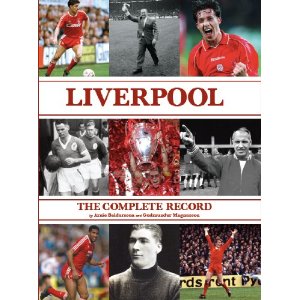 BOOK REVIEW
By Alex Miller
25 August 2011
The great Bill Shankly played his one and only game for Liverpool during World War II, a Merseyside derby in May 1942, when he appeared as a guest player in a performance that left Everton totally outclassed.
Shanks also turned down the Liverpool manager's job in 1951 due to a major snag. Club directors said they would scrutinise his team selections and alter them if necessary, as was the norm in those days. His response was: "If I don't pick the team, what am I manager of?"
Thankfully the club's directors' attitudes had shifted sufficiently eight years later when they approached Shankly again in 1959. This time he did make the move from Huddersfield. The rest as they say, is history.
Though a Liverpool supporter, there were numerous things I didn't know about Shankly's life and times at Anfield, before reading the latest – and arguably the most comprehensive and original – history of the club, just published.
'Liverpool: The Complete Record', is written by Arnie Baldursson and Gudmundur Magnusson, the Icelandic editors of LFCHistory.net, and it's a treasure trove.
With Liverpool's 2011-12 cyan and white third kit causing something of a ruckus among a number of fans after its launch in June, officials said it was a tribute to the heritage if the club. Indeed it is, Liverpool were the Blue and Whites for the first four years of their existence (1892-1896) before swapping to the famous red shirts.
Kenny Dalglish, John Barnes, Kevin Keegan and Ian Rush have graced those jerseys over the years, but some others greats got away. Shankly tried unsuccessfully to sign both Jackie Charlton and Dave Mackay. Despite being assured the board was as ambitious as he was, this was not proving to be true until Eric Sawyer, an accountant with Littlewoods Pools, was appointed to the board. Sawyer proved to be a man who did not run away from signing cheques.
During his troubled time as Liverpool manager in the early 1990's, Graeme Souness turned down Michel Platini's suggestion to sign a young French forward who was having problems in France and who would love to play for Liverpool. His name was Eric Cantona.
Several months later Cantona signed for Leeds United before moving on to inspire Manchester United's period of dominance. Souness instead signed Hungarian Istvan Kozma from Dunfermline.
Meanwhile, Gerard Houllier didn't sign Nicolas Anelka permanently from Paris SG because Anelka's brothers, also his agents, were pleading with Arsenal manager Arsene Wenger to take the French striker back to north London – despite him being on loan at Liverpool.
Another tale from more recent times (well, only 18 years ago) is how Liverpool managed to get Peter Schmeichel sacked by Manchester United manager Sir Alex Ferguson in 1993, while he was still in his prime as a goalkeeper. The Dane was blamed for allowing Liverpool to draw a game 3-3 after being 3-0 down. Unfortunately Schmeichel was reinstated, going on to be their best ever goalkeeper.
If you want to know everything from the John Houlding era through to the John Henry era – and everything in between, this 592-page opus is an absolute must read.
It is the definitive account of every minute of every minute of every match and includes every goal and every appearance for the club, 18 league championships, five European Cups and much other silverware.
Baldursson explains: "Such a book hasn't been published in over 20 years, which is incredible for a club of this size. As to the narrative, we tell the club's story in a different way than others. The whole point of the book is to bring the players of the past to the present so they will gain their worthy place in the club's magnificent history!"
The book uses a smart lay out, with all stats and information wrapped around the content rather than simply dumped at the end of the book. But it is the author's attention to detail that really stands out.
They have acknowledged that goal scorers from certain historical matches have been hard to confirm because local press reports sometimes differ – and official league records historically did not have confirmed goal scorers.
As a result the book's authors have taken executive decisions on which source would likely be most reliable.  At the same time the authors have recognised that in bygone days, club directors picked teams days in advance of a game and reporters at the Liverpool Echo were in such a rush to file their reports that original line-ups were often printed without last-minute replacements being mentioned.
Once every so often a sports book comes along that truly raises the bar. Liverpool: The Complete Record does just that.
.
Liverpool: The Complete Record is by Arnie Baldursson and Gudmundur Magnusson and is published by deCoubertin books, hardback £25, and is available now. The book has its own dedicated website at http://www.liverpoolbook.com/, where you can see preview pages, and order direct from the publisher at a discount rate.
.
More news, features and statistical pieces mentioning Liverpool on this website
.
.
The following is an edited extract from an interview with the book's co-author Arnie Baldursson, available in full here on deCoubertin's website
.
Coming from Iceland, what made you a fan of Liverpool Football Club?
I got Derek Hodgson's history of Liverpool as a birthday present in the late 1970s and I just fell in love with the club. I must have read the book about twenty times in my childhood. Its contents just resonated with me in such a powerful way and I tried to visualize the games and past glories. The first game I remember seeing live on TV was the Liverpool – Manchester United League Cup final in 1983, never forgetting Ronnie Whelan's beautiful curler into the top right-hand corner in extra-time. Until then you were lucky to see highlights of one Liverpool game a month on Icelandic TV, a week after it took place.
How accessible was the information of the club's history to you whilst constructing the website and the book?
The pioneering work of Brian Pead has contributed a lot to the statistical documentation of Liverpool Football Club and formed the basis for all LFC historians' research. He published his last Complete Record in 1990 and since then a book of its type has been sadly lacking. The local papers such as Liverpool Mercury, the Courier, the Echo and the Daily Post are a treasure trove for the likes of us but it's a very time-consuming process going through them at the library. Eric Doig's research and the incredible help we've had from Chris Wood, Kjell Hanssen, Adrian Killen and Alan Hindley has also been vital to the website's and the book's progress. LFChistory.net now has the distinction to being available in book form, where each season is even more accessible than via the Internet.
Which era of the club's history did you most enjoy researching?
The formation of the club in the 1890s was very eventful and it was fascinating to research the drama surrounding it. I think we have succeeded in portraying it in a clear and concise manner. The Good Friday scandal in 1915 when players from Liverpool and Manchester United fixed a game in United's favour has not been highlighted as it should have been, but you can read all about it the book. It was an astonishing turn of events.
What surprised me the most is that the fans back then are so similar to the current fans. People singled out players from their own side for criticism, taunted the opposition (sometimes chasing them down the street after games), sang popular tunes to support their team – although they did that initially mostly off the field. People went to their local before games to have a pint with their friends and had a regular spot at the stadium. The players used to like to have a good night out and sometimes got in trouble with the press reporting on their lewd behaviour way back when. It was also a common criticism of the club that it failed to deliver when expected which has unfortunately been the case now for the last two decades.
The book contains previously unseen photographs, including this one of Liverpool's first world-class star, Alex Raisbeck. Who is your all time Liverpool hero?
When I started following Liverpool Kenny Dalglish showcased his talents at Anfield and I had never ever seen such a glorious player. I had posters of him all over my room and he was and is still my biggest idol really.
There have been many other publications about the club. Why should people buy Liverpool: The Complete Record?
The book contains every goal, goalscorer, line up, attendance, and a huge array of other statistics in one handy volume. Such a book hasn't been published in over twenty years which is incredible for a club of this size, so that's a good reason for starters!
As to the narrative, we tell the club's story in a different way than others have, instead of looking back we want the reader to relive history as it happens. We offer valuable insight into what the local and national press thought of the club at the time and we hear from the players and the managers themselves.
Donald Mackinlay was as true a Red as Robbie Fowler (stating in a interview in 1923 that is in the book that "Red is my colour") and Walter Wadsworth makes Jamie Carragher and Tommy Smith look like kittens in comparison, even attacking a fan in the stand in 1923 a la Eric Cantona because he had taunted him. In a priceless article that's included in the book he defends his actions not expressing any regret.
After reading Liverpool: The Complete Record you will never even contemplate leaving goalkeeper Elisha Scott and winger Billy Liddell out of your greatest-ever Liverpool XI. You will regard them as old friends after reading their insightful views of their time at the club. The whole point of the book is to bring the players of the past to the present so they will gain their worthy place in the club's magnificent history!
We didn't want to recycle the same old stories and photos that we have seen in other books about Liverpool as there would be no point in publishing that. Rare articles and stories were provided by many for which we are very grateful. With great help from families of such legends as Walter Wadsworth, Alex Raisbeck and Billy Liddell and fans, we have quite a number of never-before-seen images that will amaze you.