By Brian Sears 
Barring victory for Aston Villa this weekend combined with defeat for Norwich, then Villa's relegation to the Championship will be confirmed as mathematical fact on Saturday. The seven 'ever present' clubs of the Premier League era will be six and we dealt with Villa's demise here.
You don't need to go out on a limb to state: Villa will be relegated this weekend. And historical performance backs that up. There is a certain appropriateness that Villa will go down after visiting Old Trafford. They have only ever beaten United three times in 47 Premier League meetings, and only once at OT. 
In fact, among all Premier League head-to-heads of the past 24 years, the fixture that has been most lopsided in total points terms is United versus Villa. United have gained 110 points to Villa's 20 in their 47 games. 
Only three other fixtures have totted up a three-figure points score for one club: 106 points for United over Everton, 104 points for United over Tottenham and 100 points for Arsenal over Everton.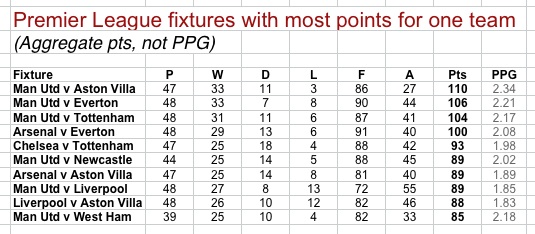 .
For those Villa fans of unshakeable belief, here are the wins against United in the PL era:
7 Nov 1992 Aston Villa 1 (Atkinson) Man Utd  0
19 Aug 1995 Aston Villa 3 (Taylor, Draper, Yorke pen) Man Utd  1 (Beckham)
12 Dec 2009 Man Utd  0 Aston Villa  1 (Agbonlahor)
.
And another thing …
Early this season we highlighted the trend of away wins being more frequent than typical. See that piece here. We would normally expect things to 'revert to the mean' or in laymen's terms, return to normal, of the course of the season. But they haven't.
Premier League points away from home are still running at record levels for the Premier League era and there's only 56 games left to be played. Already there have been more away wins recorded than in 12 of the 20 completed 38-game seasons and the current percentage of 45.8% of all points coming from away points is up even on the high levels of the last four seasons.
Furthermore scrutiny of the Premier League table shows that it's the away form – or lack of it – that is sorting out issues at either end. Leicester lead Tottenham by seven points overall and that's precisely their lead in the above table.
Everton, 12th in the Premier League table are the only side along with Leicester and Tottenham to have lost only two away games all season. At the othe end of things Sunderland and Newcastle have only won two games away from home all season and Aston Villa only the one at Bournemouth on the first day of the season.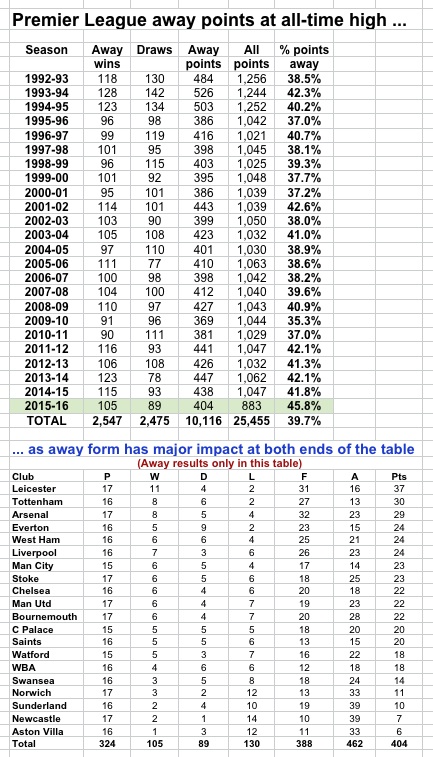 .
…. And finally
The statistics in these pages will often be in relation to the Premier League era when they deal with English football. We know the game is a bit older than that. We know Preston won as Invincibles in the league's first season in 1888-89. But the Premier League is a distinct era if only because of the money that has transformed the picture. This is the 'monied era'.
To get some idea of how the financial situations of these clubs have changed over time – and finance is a big influence in success in football – further reading and related articles spring from Sportingintelligence's annual global sports salaries reports, are linked here. The 2015 edition of the report (right) was published in May.
You can download a free 120-page PDF here.
2014 Report             2013 Report            2012 Report         2011 Report          2010 Report
.
More on Arsenal / Liverpool / Man Utd  (or search for anything else in box at top right)